Who Is John Lennon's Killer Mark David Chapman?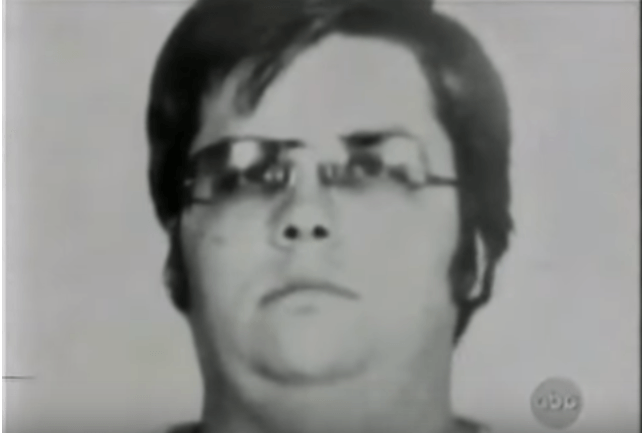 The music world lost a legend on the night John Lennon was gunned down outside his apartment building in New York City. And, 38 years later, the man who pulled the trigger has been denied parole for the 10th time.
In August 2018, a three-person board panel rejected Mark David Chapman's latest parole bid writing in a letter, "The panel has determined that your release would be incompatible with the welfare and safety of society."
Lennon's widow, Yoko Ono, was with the rocker that night he died and has always requested that the board keep her husband's killer behind bars.
Chapman shot the musician four times as he was walking into his residence in The Dakota on Dec. 8, 1980. He was sentenced to 20 years to life in 1981 and all of his bids for parole since 2000 have been denied for the same reason.
There are so many chilling details about the man who killed one of the most famous people in the world because he wanted to gain notoriety. Here's what we know about Mark David Chapman.
Early years
Chapman was born in Texas in 1955. His mother was a nurse and his father was a sergeant in the U.S. Air Force.
When he was a freshman in high school Chapman started skipping school and using drugs regularly but he changed his behavior when turned 16 and became a born-again Christian. He later read J.D. Salinger's novel The Catcher in the Rye about teenage alienation and reportedly wanted to model his life after the book's protagonist, Holden Caulfield.
His wife
In 1978, Chapman embarked on a six-week trip around the world and the following year married his travel agent Gloria Abe, who had helped him plan that trip.
The couple is still together today despite Chapman being locked up. He is registered in the prison system's "family reunion" program and is able to have conjugal visits with her.
Gloria has admitted that Chapman told her of his plans to kill Lennon but claims she didn't take him seriously.
The murder of Lennon
Before murdering the former Beatles member, Chapman spent all day outside of the singer's apartment. He met Lennon's son, Sean, who was 5 years old at the time, and even got an autograph from the "Imagine" artist.
As Lennon returned home from a recording studio with Ono that night Chapman shot him in the back with .38 caliber revolver.
Chapman never made any attempt to flee the scene and when police arrived he was reading The Catcher in the Rye. 
Life behind bars
Chapman was transferred from Attica in 2012 and currently resides at Wende Correctional Facility in Alden, New York, just east of Buffalo.
The Daily News reported that he is kept in protective custody and let out of his cell for a minimum of three hours per day.
The publication also noted that he works as an administrative clerk in the prison.
Other stars he considered killing
Chapman reportedly became enraged after learning that Lennon was rich and lived in a luxurious apartment. He also thought about killing a few other celebrities who he believed had elite lifestyles.
In 2010, Chapman stated that he had considered shooting Johnny Carson or Elizabeth Taylor instead, however, he figured Lennon would be the easiest target as he could get close to him outside his building. According to some reports, other high-profile names on his hit list were David Bowie, Marlon Brando, and Jackie Kennedy Onassis.