Who Is Kamala Harris' Husband Douglas Emhoff?
Sen. Kamala Harris (D-California) was pushed further into the limelight when Democratic presidential candidate Joe Biden selected her as his running mate for the 2020 election. As she continues to attract headlines, it's likely her husband will receive more attention as well. But who exactly is Douglas Emhoff?
Here's everything you need to know about the guy who could be the "First Man" of the United States — from his career highlights to his relationship with Harris.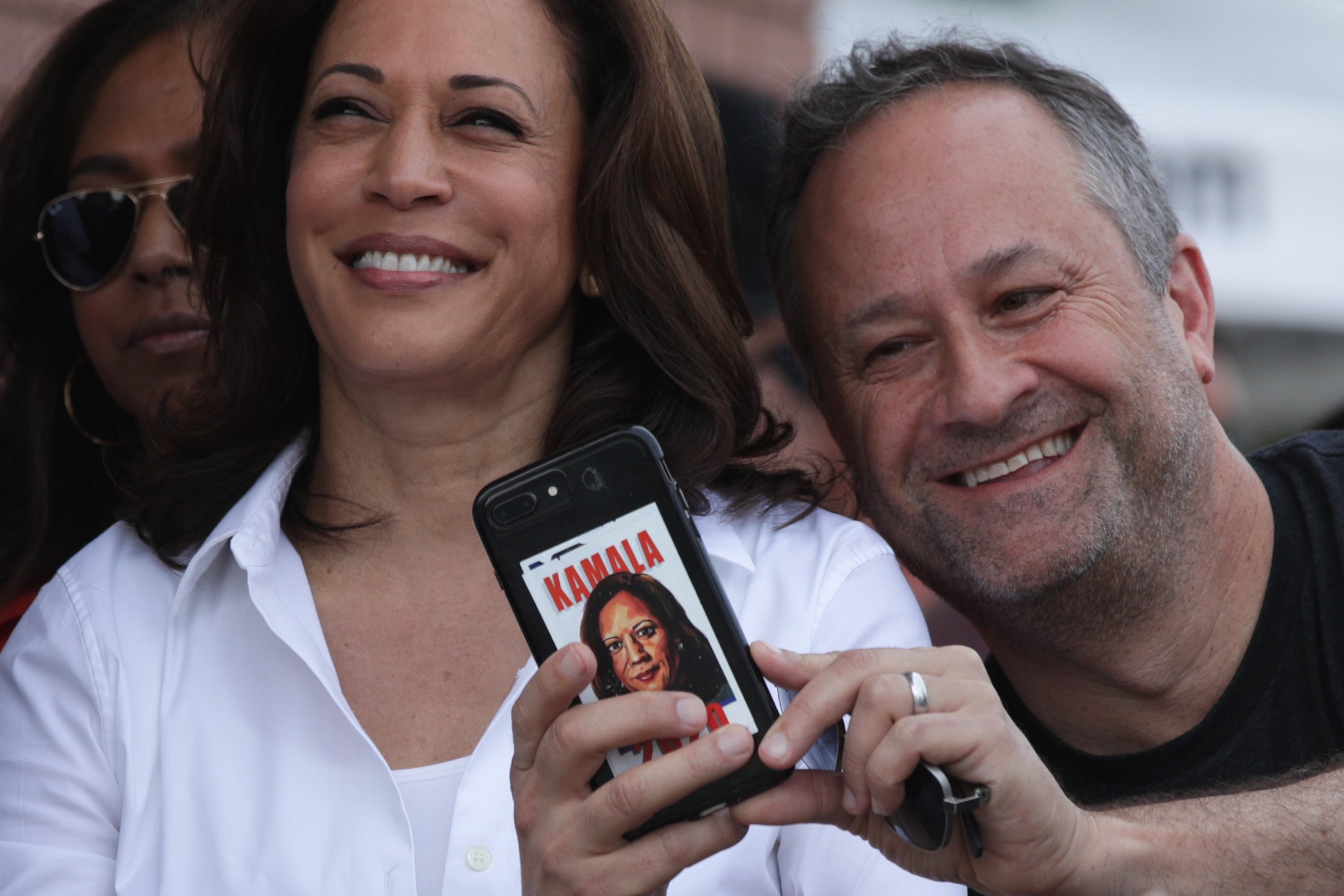 Who is Douglas Emhoff?
Emhoff, 55, is a prominent entertainment lawyer. Born in New York and raised in California, he graduated from The University of Southern California's Gould School of Law and went on to become a partner at the firm DLA Piper.
Emhoff's biography on the company's website says, "For over 25 years, Doug has proven himself in courtrooms and boardrooms across California and around the country. He represents large domestic and international corporations and some of today's highest-profile individuals and influencers in complex business, real estate and intellectual property litigation disputes."
On a more personal level, Emhoff comes off as a regular guy, describing himself in his Twitter biography as a "dad, @kamalaharris hubby, lawyer, wannabe golfer, advocate for justice and equality."
Douglas Emhoff's relationship history
Before his relationship with Harris, Emhoff was married to his first wife, Kerstin Emhoff, with whom he shares two children: Cole and Ella. In a 2018 interview with Vogue, Harris noted that Cole was a graduate of Colorado College and that Ella had been pursuing a degree at Parsons School of Design.
It is unclear why Emhoff and Kerstin split, but it appears that they are on good terms. At the time of this writing, both of them even appear to be following one another on Instagram.
Harris signaled that things were good in the aforementioned Vogue interview, saying: "We sometimes joke that our modern family is almost a little too functional."
Kamala Harris's relationship with Douglas Emhoff began after he split from his wife
After splitting from Kerstin, Emhoff was set up by a mutual friend on a blind date with Harris, 55, in 2013, per The Hollywood Reporter. They soon began dating and married in a 2014 courthouse ceremony.
Of Emhoff, Harris told Now This: "I love my husband. [Douglas] is funny. He is kind. He is patient. He loves my cooking. He's just a really great guy."
Emhoff was by her side throughout her campaign for the 2020 presidential election before she dropped out in December 2019. When Harris was announced as Biden's running mate on Aug. 11, Emhoff quickly showed his support by tweeting a photo of the pair along with the caption, "America, let's do this."
So in addition to being a lawyer, "wannabe golfer" and everything else, Emhoff is a guy that appears to be the perfect hype man as Harris embarks on the road to the White House.
RELATED: Maya Rudolph Reacts to Biden's VP Pick: Will She Play Kamala Harris on 'SNL' This Season?