Who Is Kansas City Chiefs Kicker Dustin Colquitt's Wife?
The Colquitt family is among the unsung football families who have made playing in the NFL the family business. While the Matthews family has more representation around the league and the Mannings once had two quarterbacks in constant contention for a Super Bowl, the Colquitts are lurking in the background as punters. Dustin Colquitt who is fresh off his Super Bowl win with the Chiefs, could not be where he is, however, without the support of his wife, Christia.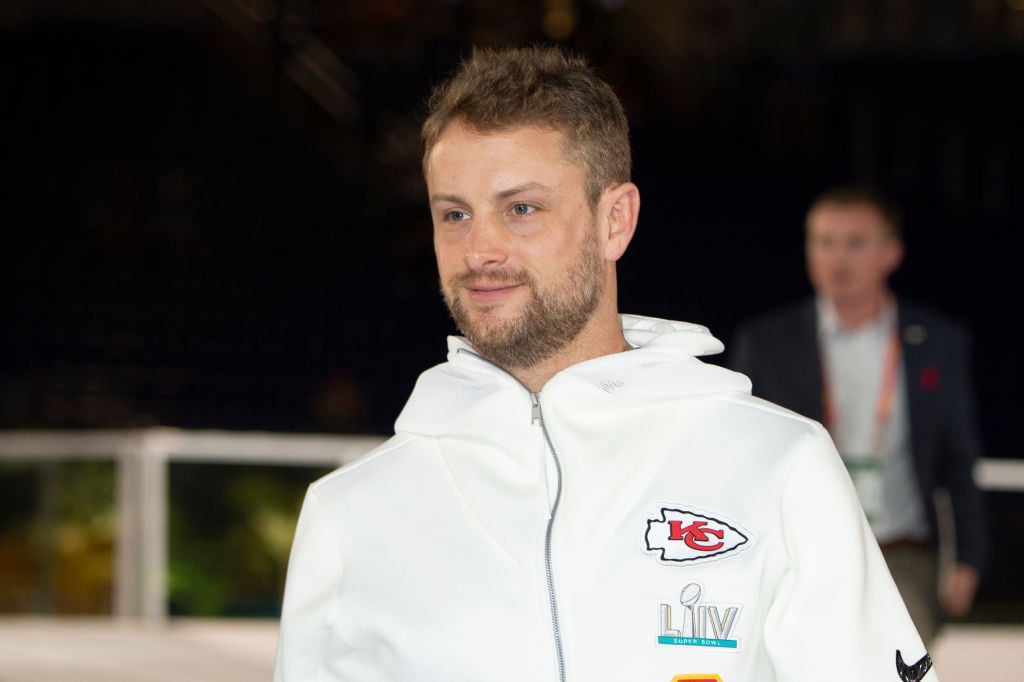 The kicking Colquitts
Dustin and his brother Britton are the second generation of NFL punters in the family, although their father, Lester, was a storied punter in his own right. Lester was offered a scholarship from Alabama for his punting, but a military obligation meant that he had to bypass it to serve his country. Lester instilled a love for punting into his son, Craig, however, and a dynasty was born.
Craig Colquitt was a punter with the Pittsburgh Steelers from 1978 to 1984 and won two Super Bowls during that time. Aside from Dustin, who was drafted by the Kansas City Chiefs in 2005, Britton has been kicking in the NFL since 2009. The pair is among the highest-paid punters in the NFL.
Who is Dustin Colquitt's wife?
Dustin met his wife, Christia, at a fraternity boxing tournament. At the time, Dustin was on the verge of being drafted into the NFL and Christia was still a student at UT, where she had a full dance scholarship. According to a piece on LoProfile.com, Christia was on the verge of going to dental school. After falling in love with Dustin, however, her plans changed, and the two got married in 2005.
Because of the timing of the wedding, which took place in July of 2005, the honeymoon was quite short, as Dustin had to go off to training camp the next month. Christia bypassed going to dental school, but the two were madly in love and made it all work out.
What does Christia Colquitt do?
Christia is now a stay at home mom, but she passes the time by blogging. Christia, who made the most out of her dance scholarship by receiving her degree in biochemistry. According to her bio on Serendipity and Space, Christia was on the verge of following through on her dental school dreams, but "God had other plans."
Now, as a faith-based parenting blogger, Christia tackles several issues in her blogging career. From speaking candidly about her mental health to offering tips on how to get the kids to do their chores, Colquitt has built quite the writer's portfolio from her unexpected job. Colquitt speaks passionately about how important it is for parents to be good role models for their children.
How many kids do the Colquitts have?
A look at her presence on Instagram and social media shows her supporting her Super Bowl-winning husband alongside their kids, but it also shows the family enjoying trips and playing with the family pets. With five kids, however, there is not much time for leisure in the Colquitt house.
Dustin and Christia have five children, all of whom have interesting names. The oldest, Brinkley, 8, was named for Christia's father. Colston, 6, is named after NFL star Marques Colston. The family's only daughter, Hartley, 4, is named after a greenhouse maker. Kinsler, 3, is named after MLB star Ian Kinsler, and the youngest son, Cannon, is named after what Dustin's parents originally wanted to name him.
How much is Dustin Colquitt worth?
NFL punters don't get the lucrative deals that quarterbacks and other position players do, but that doesn't mean that the Colquitt family is hurting. Thanks to a long career, Colquitt is worth $20M. With such a large family, he can be grateful to have that much money, too.
The Colquitt family has been kicking footballs for decades, and with four sons of his own, Dustin's children could continue in the family business. He and Christia are passionate about their families, and as Colquitt approaches 40, he may soon have more time to spend with his wife and children in the near future.