Who Is Kevin Love's Fiance Kate Bock?
Kevin Love is a lot of things — he's a great three-point shooter and rebounder as a member of the Cleveland Cavaliers. He's also the winner of an NBA championship. Love's rebounding performance in game seven of the 2016 NBA Finals helped LeBron James and the Cavs beat the Golden State Warriors that season. 
Love also seems to be lucky in love. Let's take a closer look at Love, his longtime girlfriend and new fiance Kate Bock, and their relationship.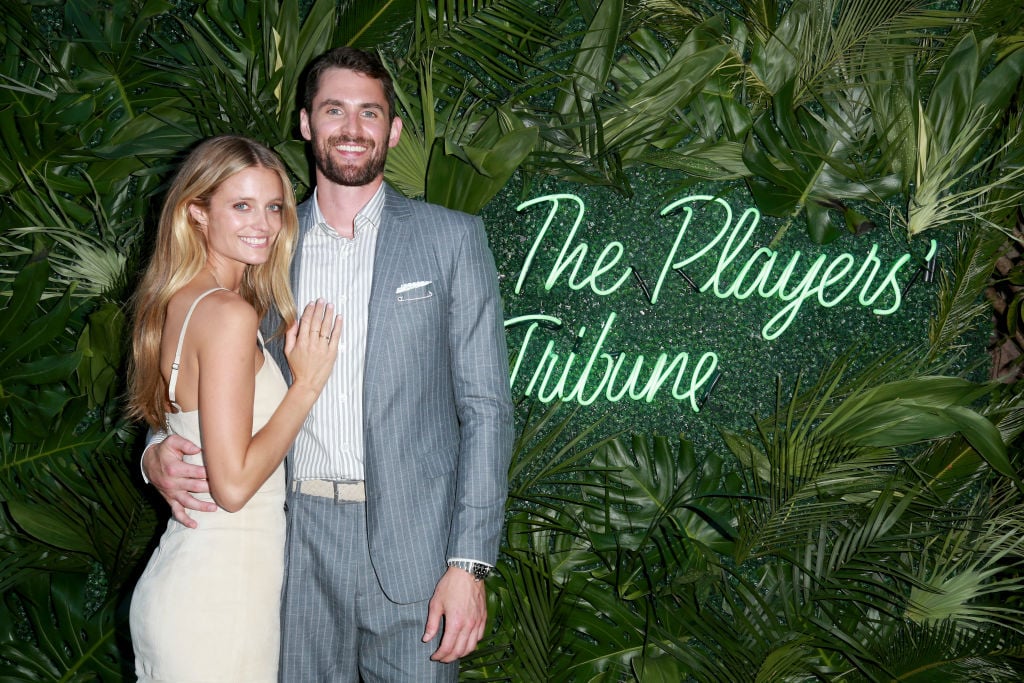 Kevin Love's impressive career
Love played his college basketball for one of the most heralded programs in the NCAA, the UCLA Bruins. After a standout college career where he led UCLA to a Final Four appearance, the Minnesota Timberwolves drafted him. Love played well in Minnesota, qualifying for several All-Star teams. He toiled in relative obscurity, however, as the T'Wolves couldn't quite qualify for the playoffs. One major move in free agency changed the course of Love's career forever. 
During the summer of 2014, James returned to the Cavs from the Miami Heat as a free agent. In the hopes of chasing a championship, the Cavs traded first overall pick Andrew Wiggins to bring Love to Cleveland. The move worked; Love helped bring a long-awaited title to Cleveland alongside James and guard Kyrie Irving. 
Love is still in Cleveland after signing an extension several seasons ago. He remains one of the better shooting and rebounding big men in basketball. 
Who is Kate Bock? 
Bock is a model from Vancouver, Canada. She's posed for some of the biggest names in modeling, including Victoria's Secret, Vogue, and the Sports Illustrated Swimsuit Edition. The magazine named her "Rookie of the Year" in 2013. According to an interview with Hamptons, it took Bock a while to get comfortable with herself: 
"I was so much taller than everyone in my class. There was maybe one boy my height, so I definitely wasn't in the slow-dance world at that age. I had braces, I had it all — I never thought of myself as beautiful. I was really into sports. I played baseball and soccer and I was a swimmer and I played field hockey."
Bock came upon modeling somewhat unexpectedly, as it initially wasn't a career path she considered. She said:
"I never really thought about modeling, and then when I was discovered, I was like, 'Oh, cool, someone might think that of me.' I was too young to have ever dreamed about it yet. But once it came into my life and I started doing auditions, commercials, and modeling jobs, I got into it and didn't want to stop."
Kevin Love and Kate Bock's relationship
The site DatingCelebs.com reported Bock and Love have been dating since around 2016. The two reportedly have a great relationship, each taking an interest in the other's career. According to Love, Bock has taken quite an interest in the Love's basketball career — including getting emotional when she heard James was leaving to join the Los Angeles Lakers, as reported by Cavaliers Nation. 
"I remember when LeBron left, we were in the Hamptons around a ton of people and I still have the picture. She just started breaking down and crying, 'Does that mean there's no more LeBron?' She doesn't know how trades work and all that. Like even still. I'm like, 'Kate that's just how it is. It's just business. Bron's going to do great and we're still going to see him.' We saw him three weeks later."
Love and Bock announced their engagement on Jan. 31, 2021, with a photo on Instagram. "Souls tend to go back to who feels like home. My Fiancé. The Joy of My Life," Love captioned his post.