Who is Minnesota Vikings Quarterback Kirk Cousins' Wife, Julie Hampton?
Get to know the woman married to Minnesota Vikings quarterback Kirk Cousins.
NFL quarterback Kirk Cousins began his career with the Washington Redskins and in 2018, signed with the Minnesota Vikings. After a rough patch and lots of questions early in the 2019 season, he got his team back on the winning track. Once things stabilized on the field, fans started to ask questions about his life off the field.
Here's more about Cousin's wife, Julie Hampton, his family, and how an $84 million contract hasn't changed their frugal ways.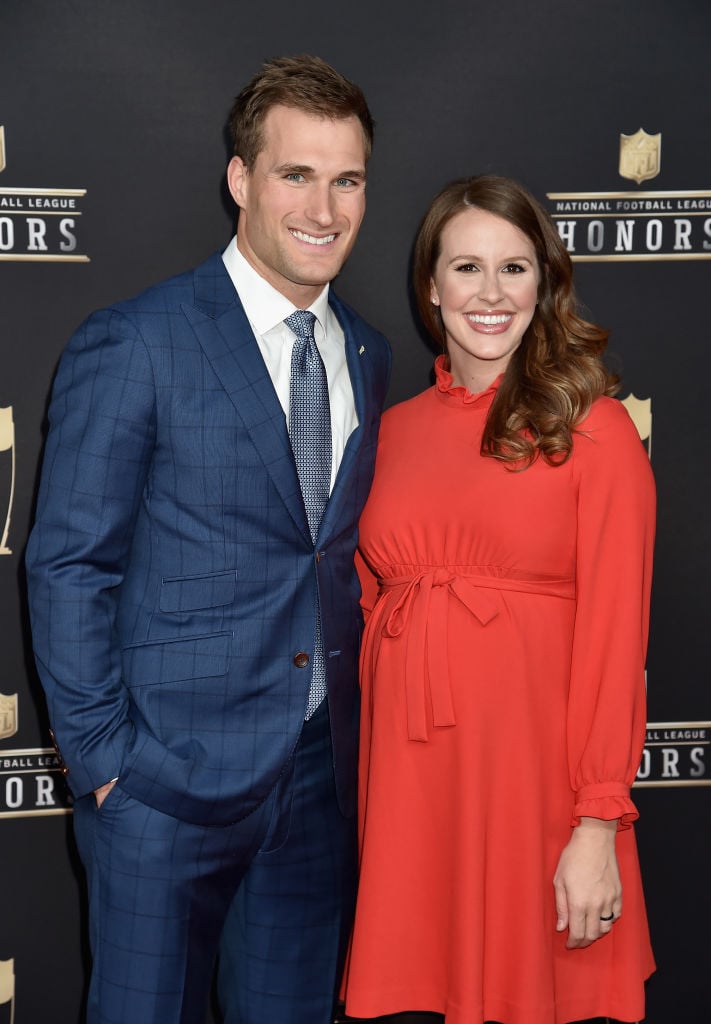 Hampton's former profession and where Cousins proposed
Hampton was born in Alpharetta, Georgia in 1989 to parents Sue and Michael. She has two older brothers, Scott and Steve. All of her family members are advocates for adopting animals, which is something Hampton had remained passionate about her entire life.
When it came time for college, Hampton remained in her home state and attended the University of Georgia. After graduation, she worked as an elementary school teacher.
Hampton met her future husband through a mutual friend and in 2013, after dating for a year and a half, Cousins popped the question. The athlete wanted to make the moment as memorable as possible and proposed to Julie at the Capitol building, which he told her they were just taking a tour of.
"I talked to my U.S. congressman from my home area in west Michigan, Bill Huizenga, who I had gotten to know a little bit," Cousins told The Washington Post. "I called him to see if I could propose on the balcony of the Speaker of the House's office, because I had been there before and seen the view and thought it was a great view. He said they could set it up."
Cousins and Hampton were married in Atlanta on June 28, 2014, and the signal-caller always wears his wedding rings, even during games.
"I think Andy [Dalton] was the first guy I saw do that, and so I guess he blazed the trail," the quarterback said via USA Today. "My wife was thrilled. She loved it and, honestly, after I started wearing it and realized how much my wife was glad that I did, I realized, you know, I think it's a good thing to promote marriage."
How many children they have
The pair currently has two children together.
Their oldest son, Cooper, was born in September 2017. Hampton and Cousins welcomed their second son, Turner, in March 2019. After his birth, Cousins took to Instagram to announce the little one's arrival writing, "Turner Cousins! Welcome to the world, little buddy. Mom and baby are doing great, and Cooper is already loving his new role as a big brother!"
The couple is known for being frugal
Cousins has described himself as being frugal as he and Hampton have always been very careful with their finances.
While playing with the Redskins, Cousins drove a 2000 GMC Savana passenger van with more than 100,000 miles on it. He and his wife purchased it from his grandfather in 2014.
"It's better to buy appreciating assets than depreciating," Cousins said.
He did end up getting a Mercedes at one point, but he only wanted to buy a used one that wouldn't cost so much and settled on a 2006 model.
"I always wanted a fast car, a nice car," Cousins explained to GQ. "I couldn't justify the hundred-thousand-dollar car."
Moreover, when Hampton was pregnant with Cooper they lived in the NFL player's parent's basement in the offseason so they "didn't have to pay rent."
After he signed that massive contract with the Vikings, Cousins did splurge on something. He bought his teammates new backyard grills which ended up costing him a little more than $20,000.