Who Is NASCAR Driver Bubba Wallace's Girlfriend, Amanda Carter?
NASCAR driver Darrell "Bubba" Wallace Jr.'s name has been in the news a lot lately. He is the sport's only full-time Black driver in the top series and has been outspoken about social and racial inequality. Wallace drove a Black Lives Matter car on June 10 and that same day, NASCAR banned the Confederate flag from all its track properties.
With the national spotlight on him, many fans are curious about Wallace's life off the track and who his girlfriend is. Read on to find out more about the woman dating Bubba Wallace.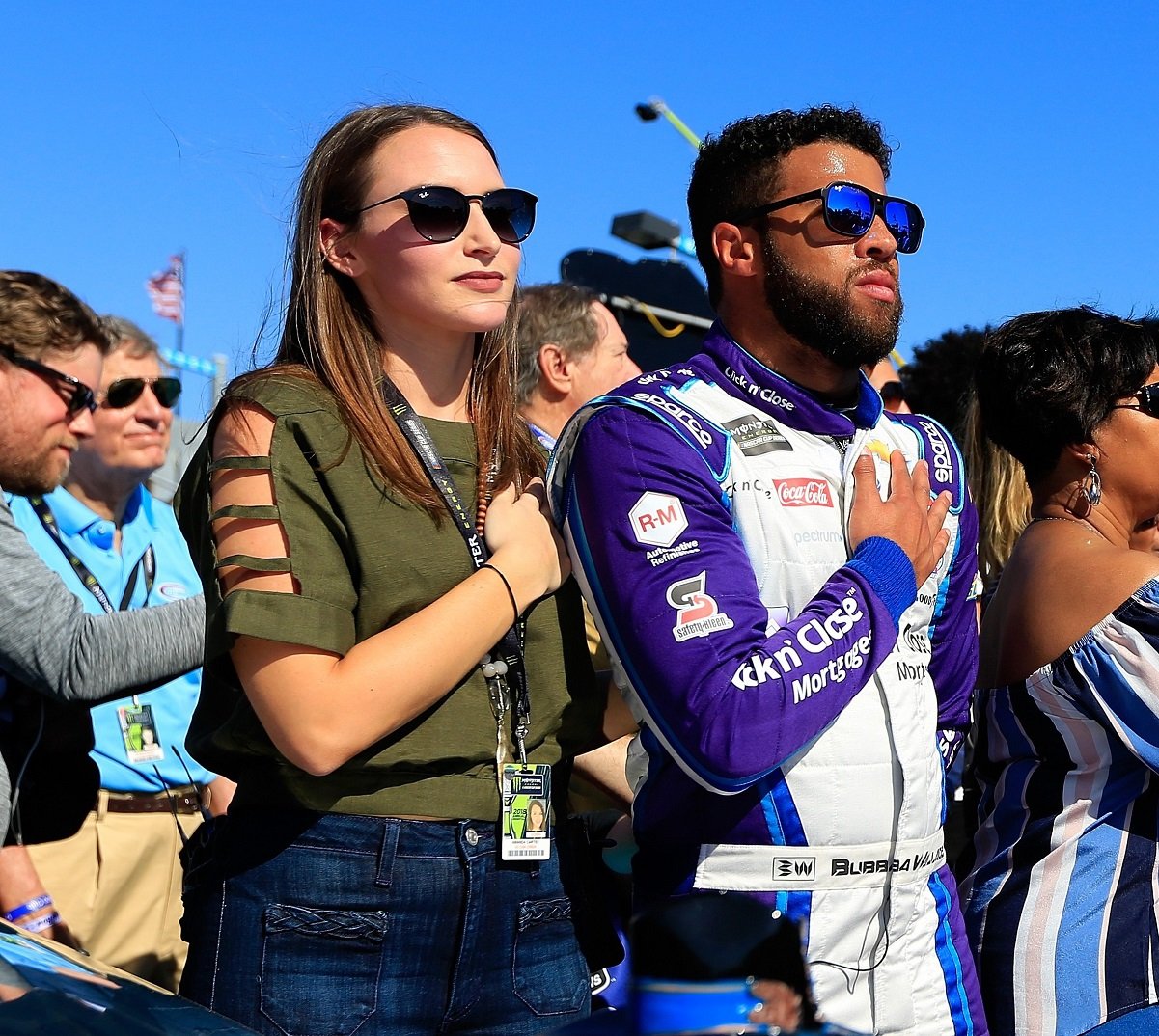 Amanda Carter's family life and where she went to school
Wallace's girlfriend, Amanda Carter, was born on March 30, 1994, in North Carolina to parents Rebecca Carter and David Ryan Carter. She has four siblings–Bradley, Jason, David Ryan Jr., and Kristen.
After high school, Carter attended Appalachian State University where she was vice president of the Alpha Phi International Fraternity and earned a degree in finance and banking. According to her Linkedin profile, she currently works as a Senior Financial Analyst at Bank of America in Charlotte.
It's unclear exactly when Carter and Wallace started dating. However, many fans believe it was in 2016 based on a 2018 Instagram post where Wallace wrote, "Our love is so strong that ya wouldn't know we're polar opposites. Thanks for balancing me out the last 2 years!"
The Undefeated noted that the couple broke up for a bit in 2018 before rekindling their romance.
Carter was featured on 'Behind the Wall: Bubba Wallace'
Carter was featured in the Facebook Docu-Series titled Behind the Wall: Bubba Wallace.
Per Variety, "The eight-part series was produced by NASCAR Productions in association with NASCAR Digital Media. It chronicles Wallace's road to the Daytona International Speedway, from his earliest racing days to his debut in the Monster Energy NASCAR Cup Series."
Clips of Carter and Wallace show the pair doing everything from grabbing fast food to Carter watching her beau at the track. The series also includes a scary moment when Wallace fainted after his Cup debut.
Carter always expresses her support for Wallace via social media
Carter is active on social media and constantly shows her support for Wallace via Instagram.
On June 23, she posted about how proud she is of her boyfriend for "standing up for what is right."
"I am so proud of you for using your platform," Carter wrote. "I wish the people saying hurtful comments knew you. I wish everyone knew you.
I hope people continue to stand with you because you're standing for so many others… so many little boys and girls who dream of going fast but haven't seen someone who looks like them, for all the new and old fans who felt uncomfortable coming to a race and for everyone who has experienced racism. I am so thankful that this was not a purposeful act, I am so thankful you are safe."