Who Is Netflix's 'Love Is Blind' Star Carlton Morton and Why Is He Facing Backlash?
Social media is buzzing about the new Netflix craze Love is Blind. Hosted by Nick and Vanessa Lachey, the series follows men and women on the search for love over a four week period. The twist is that they only communicate through blocked off-rooms known as "pods" and do not see each other until they make the decision to be together. They become engaged and their journey down the aisle is also documented.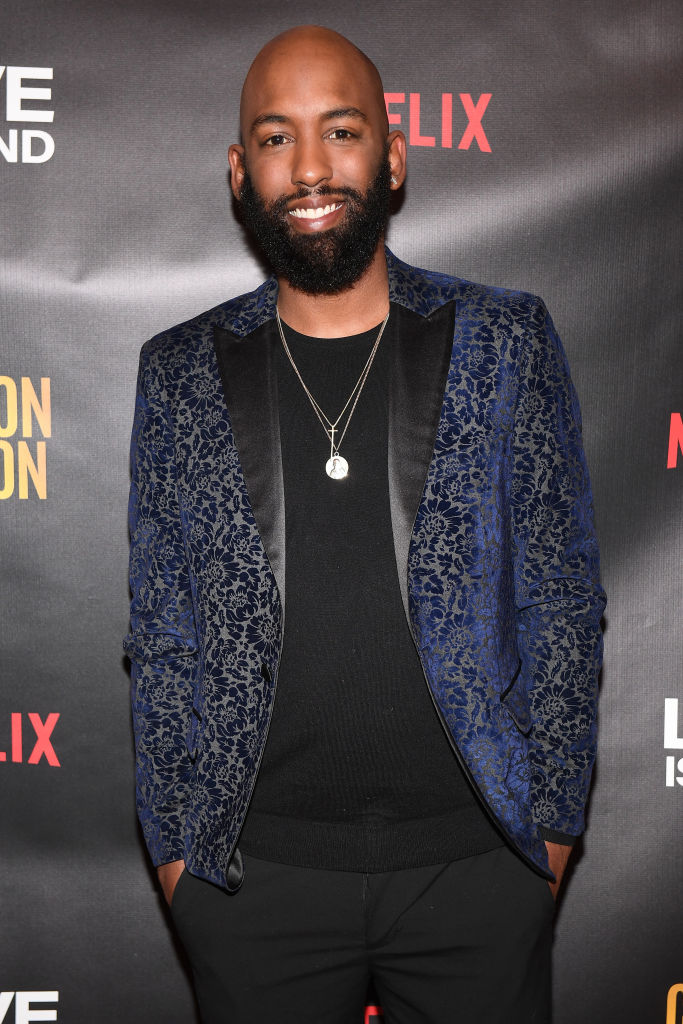 While one couple has been a standout favorite of viewers, another who started out in love ended in a horrible breakup. Carlton Morton and Diamond Jack were head over heels in love until Morton's revelation caused a shakeup. Viewers of the show are now torn over how they feel about Morton.
Who Is Carlton Morton?
If viewers find Morton's face to be familiar it's because he's been featured on another popular show. The world was first introduced to Morton on season 5 of Real Housewives of Atlanta. Morton was the personal assistant of Cynthia Bailey.
In one of Kenya Moore's most explosive fights on the show, she and Morton bickered over Moore's behavior at Bailey's opening modeling call at her modeling agency. Moore was brought in to be a guest judge thrown by Bailey and gave hopefuls harsh criticism – which was not well received by Morton.
Morton continued working for Bailey for a number of years, working alongside her producing events and as she opened several more businesses. He remains a close friend of the model turned housewife.
Originally from Louisiana, Morton resides in Atlanta and is big on the Atlanta social scene. He works as a social media strategist and content curator. 
Carlton Morton on Netflix's 'Love Is Blind'
Morton was excited to participate in the four-week social experiment. He felt an instant connection with Jack, a former NBA dancer from Chicago, Illinois. After a week of communicating with Jack through "the pod," he asked her for her hand in marriage, which she accepted.
Immediately following the proposal, Morton revealed to producers that he had been in relationships with both men and women, something he did not disclose to Jack. After being whisked away to a honeymoon location in Mexico, he decided to tell Jack about his past and current life as a bisexual man. 
Jack was supportive during their initial conversation but the next day, things took a turn when she questioned why Morton failed to come forward about things sooner. Morton became offended and defensive. he felt judged and viewed as a liar, which led to a nasty fallout between the two, with Morton calling Jack a b***h. He also made disparaging remarks about her appearance. 
Jack gave the ring back, which led to Morton throwing it in the pool of their hotel. Their relationship ended and they did not speak for over a year. In a recent interview with PEOPLE Magazine, both revealed they made amends and have moved forward in a positive space since their breakup. 
'Love Is Blind' fans react to Carlton Morton's revelation and argument with Diamond Jack
Reactions of Morton's blowup on Jack have been mixed. While many acknowledge that they commend him for disclosing his sexual preference and understand how hard it is to do so on television, viewers also wished he would have told Jack sooner. Furthermore, his treatment of Jack during their tense discussion turned screaming match was not appreciated. 
"Can Diamond from Love Is Blind get her own fu***n show to find love?! Like she didnt deserve all that s**t she got from Carlton," one viewer wrote on Twitter.
"Carlon needs therapy," one viewer tweeted.

"Nah Carlton is actually crazy! That pool conversation with Diamond was so disrespectful, I felt the disrespect through the screen," wrote another.
Others pointed out that Morton did reverse psychology and made Jack feel she was at fault for questioning him. 
"Carlton wasn't truthful at all then tried to play victim, gaslighting TF outta Diamond," one stated.
In the PEOPLE Magazine interview, Morton expressed that he could have handled things better. He explained that he felt pressured by producers to tell Jack about his sexuality and that he would have preferred to do so at a different time. He also admitted he regrets the way he spoke to her.
"I would listen more than speak because even though it was a new experience for me, it was a new experience for her," he said."
Though Morton and Jack buried the hatchet, things have since taken a turn. Morton is threatening legal action over Jack's interview on an Atlanta radio station- in which she discussed their relationship and his sexuality.