Who Is Queen Letizia? Everything to Know About Spain's Queen Consort
Learn more about Spain's queen consort, Queen Letizia.
Chances are if you think of royal style icons, the members of the British royal family came to mind, but they aren't the only members of a monarchy with a flair for style. Queen Letizia of Spain has a look and glamour all her own, and she wows the media and fans regularly with her stylish and eye-catching outfits. Much like the British royals, however, she is far more than her wardrobe or expected role as the wife of King Felipe VI: She is educated, has a great personality, and is accomplished in her own right.
Queen Letizia was once a journalist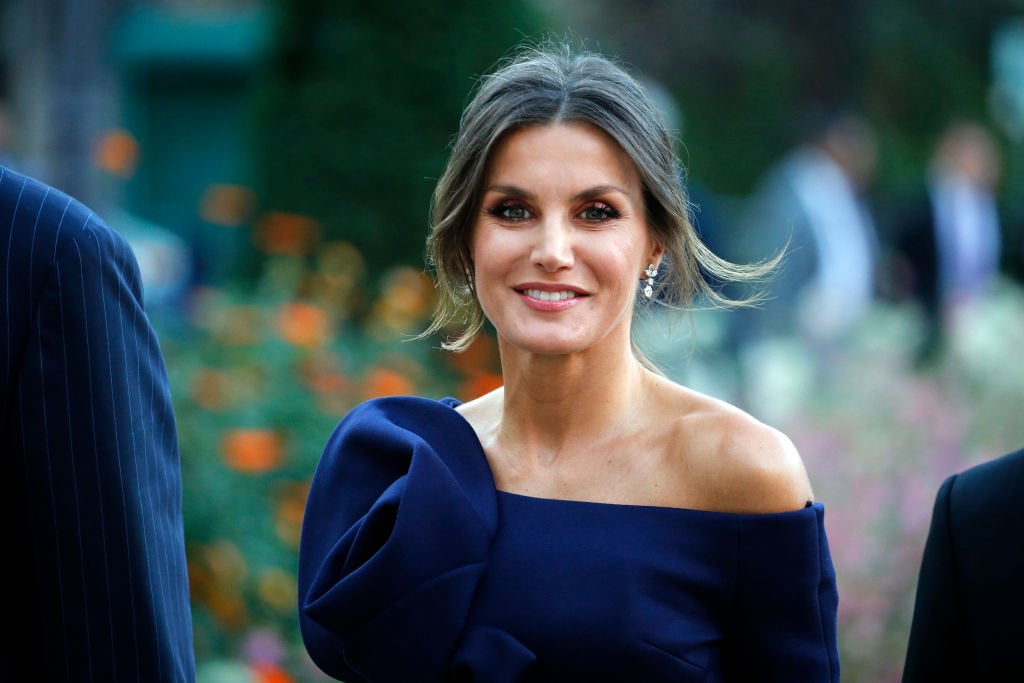 Queen Letizia, born Letizia Ortiz Rocasolano, was not always a royal. In fact, she came from a middle-class family, the first of three daughters born to a nurse and a journalist.
Like her father, Queen Letizia pursued a career in journalism, getting a bachelor's degree in journalism from the Complutense University of Madrid, followed by a master's degree audiovisual journalism at the Institute for Studies in Audiovisual Journalism in audiovisual journalism.
Queen Letizia worked for a variety of news outlets including starting in newspapers and moving on to television. She worked for Telediario, Bloomberg, and CNN and covered such events as 9/11 and the 2000 US elections stateside. She covered the war in Iraq for which she won a Madrid Press Association award.
Though she is often compared to Kate, Duchess of Cambridge for her style and poise, she may have even more in common with Meghan, Duchess of Sussex, as they both received a fair amount of judgment for having been divorced. Queen Letizia was married in 1998, but the marriage only lasted a year.
How Queen Letizia and King Felipe VI met
Back in 2002, King Felipe was still Prince of Asturias — a principality of northwest Spain. He and Queen Letizia, who was then Letizia Ortiz, met in Madrid at a dinner party hosted by news anchor Pedro Erquicia.
The two dated in secret for nearly a year before announcing their engagement to an unsuspecting public, as well as many of the members of the royal family. The prince's father, King Juan Carlos, approved of the marriage despite Ortiz's previous divorce.
The couple was married in May of 2004 at Catedral de la Almudena in Madrid and Ortiz became Princess of Asturias. The following year they had their first child, Princess Leonor, and then two years later they had Princess Sofia.
The Prince and Princess of Asturias remained as such for 10 years, before becoming king and queen consort in 2014.
What is the role of the king and queen of Spain?
Spain is a constitutional monarchy with a structure similar to Britain's. There are three branches of the government, with the Prime Minister, currently Pedro Sánchez, leading the executive branch. The monarchy is determined by heredity, with the first son being the next in line to take the throne, and the first daughter if there are no sons.
While the role of King of Spain is largely apolitical, the king (or reigning monarch of the time) does have some political duties such as summoning and dissolving the legislature and signing treaties.
Prince Felipe (who was once an Olympic yachtsman) took over the throne earlier than expected due to scandals riddling the monarchy with King Juan Carlos at the helm for 39 years. Despite the scandals, King Juan Carlos's abdication announcement focused mainly on how great his son would be in the role.
"[Felipe] has the maturity, preparation, and sense of responsibility necessary to assume the title of the head of state and open a new era of hope which combines the experience and momentum of a new generation," he said at the time.
Together, the Prince and Princess of Asturias had a much cleaner and trusted image, and the move was a smart one. Since then King Felipe and Queen Letizia have been working diligently to uphold behavior fitting of their titles.
As a part of a continued effort to improve the image of the monarchy in Spain, the family recently released new royal portraits to be used in various institutions and governmental offices.