Who Is 'Real Housewives of Beverly Hills' Newbie Garcelle Beauvais New Man, Michael Elliot?
Garcelle Beauvais has a new job and a name man! The actress, known for her role as Fancy on The Jamie Foxx Show, announced that she'd be the first African American woman to join the cast of the Real Housewives of Beverly Hills. It looks like we'll also see her budding love life as she recently revealed that she's dating film buff, Michael Elliot.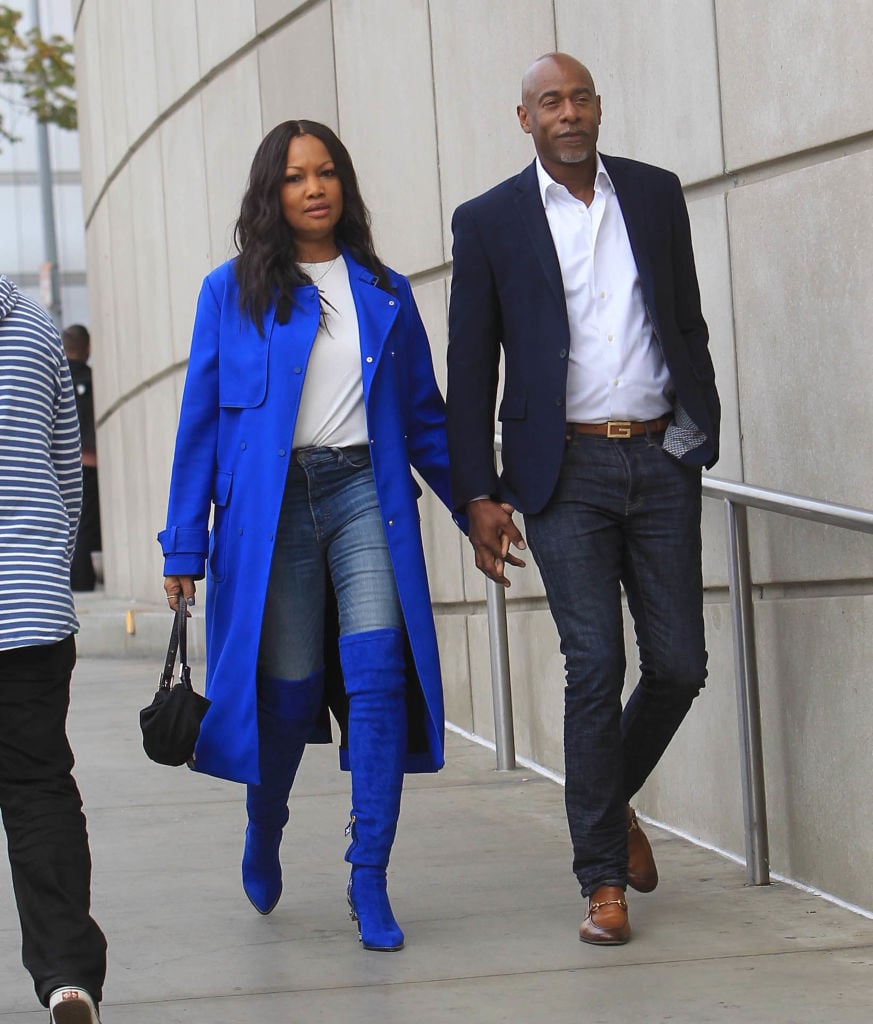 Garcelle Beauvais confirms she's dating Michael Elliot
Beauvais posted a photograph of her and Elliott smiling on her Instagram page on Dec. 7 with the caption and hashtag #datenight. It marked the first post of the two on social media but they have been spotted out together since the post.
Support from industry friends poured in with excitement for the new couple. Actress and director, Terry J. Vaughn, commented "Yeeessss" with the same hashtag as Beauvais. Fellow actress and comedian, Bresha Webb, commented with a series of heart emojis. Another actress, Lisa Vidal, wrote, "beautiful."
Fans are concerned about Garcelle Beauvais and Michael Elliot's relationship
While Beauvais' colleagues in the entertainment world expressed their excitement for her and Elliot, fans were not as supportive. Many pointed out that Elliot was recently featured on several episodes of the OWN docuseries, Black Love, with his wife Mecca.
On the show, the Elliots talked about a serious rough patch they experienced in their marriage, which was brought on by Mecca's autoimmune disease. After separating and coming close to divorce, they were able to reconnect by focusing on mediation and their spiritual foundation.
The show was filmed in 2018 and the Elliots appeared to have reverted back to being a strong couple. But things recently took a turn. They revealed in a video posted on Black Love's Instagram page on Nov. 12 that they were going their separate ways for good. The former couple revealed they hit another hurdle shortly after the special aired. They've decided to split amicably, leaving Elliot very much single and free to date Beauvais. 
Who is Michael Elliot?
Elliot is a screenwriter best known for many cult classics, including Like Mike, Brown Sugar, and Just Wright. 
Black Enterprise's 2012 feature on Eliot chronicled his journey from homelessness to Hollywood. The Philadelphia native was a high school drop out with no college education, savings, family support or formal screenwriting experience who taught himself the craft. 
Inspired by Mary J. Blige's song "Seven Days," he wrote his first screenplay of the same title. He later sold it to 20th Century Fox for $250,000 which was released as Brown Sugar in 2002. The film starred Sanaa Lathan, Queen Latifah, Mos Def and Taye Diggs and grossed over $28 million.
Elliot has also produced films for Walt Disney Pictures, Universal Pictures, Paramount Pictures, and HBO. He was hired to handle the screenplay for the sequel to Waiting to Exhale starring Whitney Houston, but the film never saw the light of day following Houston's death. 
Elliot continues to produce while also lecturing in colleges and teaching students the art of screenwriting. Hopefully, we'll get to see his relationship with Beauvais blossom, as well as his work in film depicted when its 10th season returns in 2020.