Who Is Steve Kerr's Wife, Margot Kerr?
Golden State Warriors coach Steve Kerr is an accomplished figure in the NBA. He's won three championships as a head coach and five titles as a player with the Chicago Bulls and the San Antonio Spurs.
While his accomplishments on the court are well documented, not as much is known about his family and wife, Margot Kerr. Here's more on the woman Kerr is married to and the reason her mother called him a "son-in-law from heaven" after Margot's sister was in a terrible accident.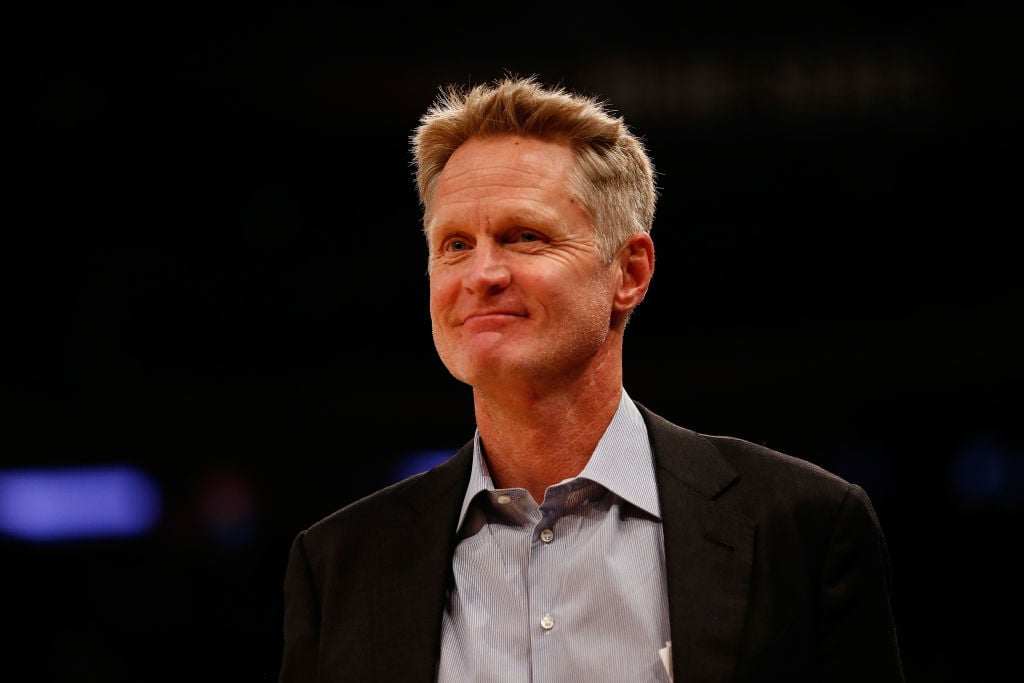 Steve and Margot met on a blind date
Margot Brennan was born in 1967 in Tucson, Arizona. She and her three siblings–Rachel, Chris and Geoff–were raised by their mother, Karen, who is an author and professor.
Steve's father, Malcolm H. Kerr, was also an author and became president of the American University in Beirut in Lebanon. He was assassinated a year and a half after taking the job.
Margot attended a Catholic high school and after graduation headed to the University of Arizona where Steve was also enrolled and played basketball. They were set up on a blind date by his teammate Bruce Fraser.
"I think he thought, 'These two are nerdy, they'll get along,'" Margot told the SF Gate.
They did get along, started dating, and tied the knot on Sept. 15, 1990, during a private ceremony with close friends and family in Ohio. And today, the man who brought them together works on Steve's staff as Fraser is an assistant player development coach for the Warriors.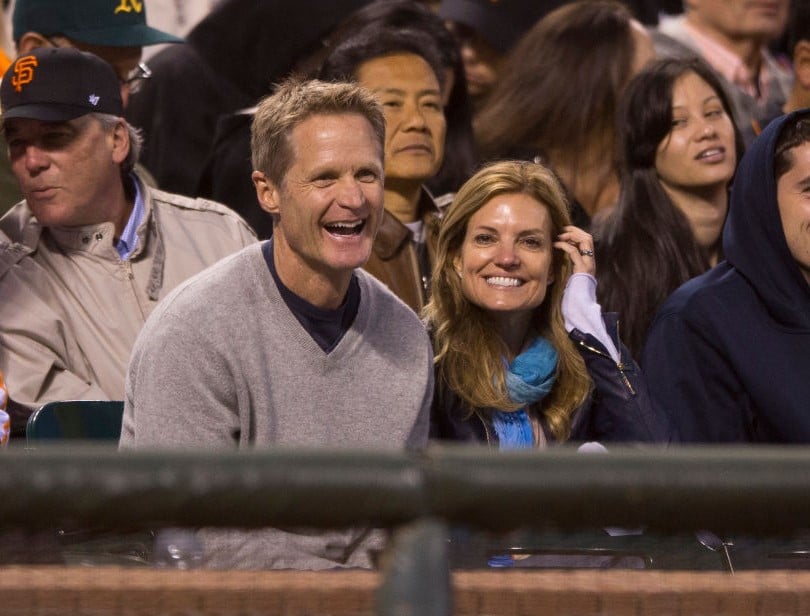 Margot's mom likened Steve to a 'son-in-law from heaven'
In 1995, Margot's sister, Rachel Brennan, was in a motorcycle accident.
According to The Los Angeles Times, the crash occurred near Steamboat Springs, Colorado. Rachel, who was a former Amphitheater High School and UA distance running standout, fell off the back of her friend's bike. She was not wearing a helmet. Rachel was transported to a hospital, fell into a coma for three months, and was diagnosed with retrograde amnesia.
Tucson.com noted that Steve was playing with the Bulls when Rachel was recovering and before a game against the Utah Jazz on Thanksgiving, requested that she be mentioned as he knew his in-laws would be watching.
"Steve asks us to send his love and best wishes to his sister-in-law, Rachel Brennan, who is recovering from a motorcycle accident at the University of Utah hospital," the play-by-play announcer said.
Karen later penned a memoir and in the book wrote, "If I had to order a son-in-law from heaven, it would be Steve. He's funny, smart, a terrific father, and husband, as well as sensitive and perceptive."
Rachel's memory has improved a bit over the years.
How many children the Kerrs have together
Steve and Margot have three children–Nick, Madeleine, and Matthew.
Two of their children share their father's love for sports. Maddy played volleyball at the University of California, Berkeley and Nick played basketball for the University of San Diego. He went on to serve as a coaching intern at Cal before accepting a position on the San Antonio Spurs' coaching staff.
Nick told The Mercury News, "I guess really in college is when I decided one, I wasn't good enough to keep playing after college, but two, that it's really fun to stay around the game and influence other players, try to get them better as well as the fun part of being part of a team and trying to win."
Read more: Who Is Michael Jordan's Wife, Yvette Prieto?