Who Is Tamar Braxton's Boyfriend, David Adefeso?
Tamar Braxton is happy in love with her new man, David Adefeso. After a drawn-out divorce with music executive, Vincent Herbert, Braxton says she was surprised to find the love of her life in Adefeso. The two met a little over a year ago at a birthday party for a mutual friend and have been joined at the hip ever since.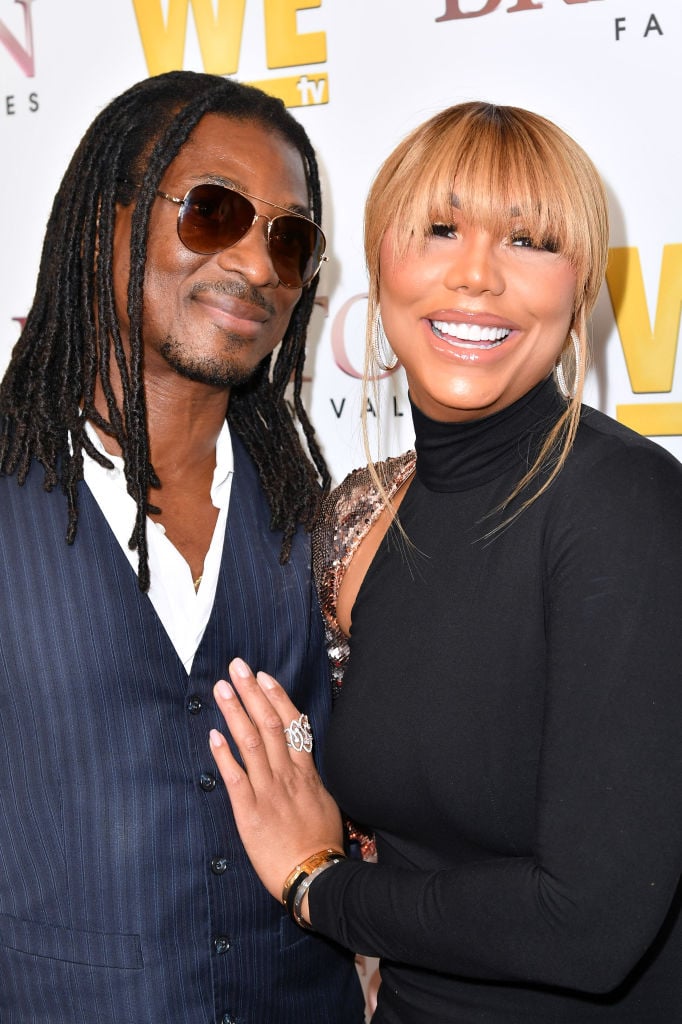 Adefeso supports Braxton as she films her reality series and performs across the country. Though the spotlight is new to him, he's had his own successful career. Braxton has publicly stated that Adefeso is self-made and considers herself a lucky woman now that she's snagged the businessman.
Tamar Braxton was married to Vincent Herbert before meeting David Adefeso 
Braxton met Herbert through her big sister Toni. At the time, he was a writer and producer. He also worked in A&R and managed several other artists, including Toni at one point. The couple dated for seven years before marrying in 2008.
Braxton worked as a background singer while also vying for solo stardom. After years of trying to convince her husband to take her on as a client, Herbert did just that and helped to push his wife to stardom. 
Viewers watched the two on Braxton Family Values before they landed their own WeTV spin-off, Tamar & Vince. The first season of their show documented Braxton's recording process of her chart-topping sophomore album, Love & War. Herbert was right by her side as Braxton soared to the top. Both served as executive producers of their reality series and eventually on the FOX daytime talk show, The Real, where Braxton worked as a co-host.
They welcomed their son Logan in 2013 and the cameras were there to capture it all. But working together proved to be too much for the couple. Known for their silly bickering, their arguments became more intense and there were rumors of domestic abuse that Braxton's family said occurred. Herbert also faced huge financial debts and put the couple's home on the market, which Braxton says was without her knowledge or consent. 
Tamar & Vince lasted for five seasons. The final season documented the couple's road to a split. Braxton filed for divorce in October 2017, just a month shy of their nine-year wedding anniversary. They appeared to try and work things out, even appearing together on an episode of The View to discuss their relationship.
But Braxton claimed to have had enough. Shortly after their appearance on the talk show, she was pictured around LA with a mysterious man. She later confirmed that she was dating entrepreneur, David Adefeso.
Who is David Adefeso?
Fans wondered who the new man was in Braxton's life. Though Braxton kept Adefeso's identity and face a secret for a few months, the tabloids revealed she was dating the Nigerian born businessman.
Braxton first posted photos and videos of her and Adefeso on a tropical vacation.  They later showcased their love on the red carpet for the season 6 premiere of Braxton Family Values. Adefeso began appearing on the show and it also confirmed that he'd appear in the upcoming spin-off, Tamar.
Braxton has been smitten with Adefeso from the start. In an interview on The Wendy Williams Show, the singer revealed that her new beau is a graduate of Harvard Business School and that he specializes in "wealth management." Atlanta Black Star reported that Adefeso is the CEO of The Pacific Group, a financial services firm where he's worked since 2002. The company specializes in corporate services like risk management and personal finance. 
Adefeso is also the founder of the college savings app, Sootchy Inc. The app was designed to reduce college debt and is a tax-free method for parents to save for their children's college tuition and expenses. 
Is marriage in the cards for Tamar Braxton and David Adefeso? 
Braxton always said no to having children. Before her and Herbert's son Logan was born, the songstress was against being a mother and wanted to focus on her career instead. She's been open about the joys of motherhood since having her son but had reservations about having more children. 
Since being in a relationship with Adefeso, Braxton has changed her mind about expanding her family. She told Williams that she'd love to have more children with Adefeso as he doesn't have any of his own. The two now live together with Braxton's son and say they are one big happy family.
As far as marriage, Braxton says she'd say yes if Adefeso asked her to be his bride. She recently traveled to Lagos, Nigeria to meet Adefeso's family, something the finance guru says he'd never done before. The two share lengthy love messages to one another on their Instagram pages. Fans may see Braxton walk down the aisle with Adefeso soon!