Who is Tennessee Titans Running Back Derrick Henry's Girlfriend, Adrianna Rivas?
The Tennessee Titans drafted running back Derrick Henry in the second round of the 2016 NFL Draft but it wasn't until 2018 after DeMarco Murray was released that his workload increased and the Titans really saw what they had in him.
In 2019, Henry ended the regular season as league's rushing champion and was selected to his first Pro Bowl. Now that fans have seen what he does on the football field, they're wondering about his life off the field as well as who the beautiful woman is that has been by his side for years. Here's more on Henry and his longtime girlfriend, Adrianna Rivas. Plus, the huge news she just shared on social media.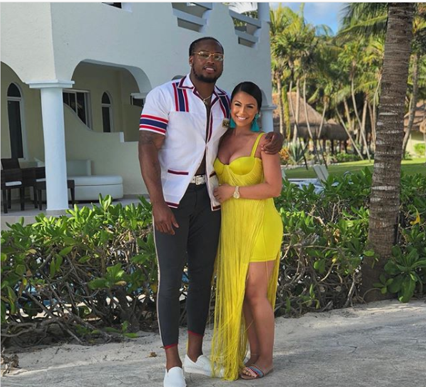 How long Rivas and Henry have been dating
Henry's lady was born Adrianna Yasmin Rivas Colmenero on May 3, 1994, in Odessa, Texas, to her parents Simona and Joe. Rivas grew up rooting for the Dallas Cowboys but that of course changed once she started dating the Titans star.
Rivas graduated from the University of Texas Arlington with a Bachelor of Arts in Public Relations in 2016, which is the same year she and Henry got together. Fabwags noted that after graduation, Rivas worked as a guest service representative for Marriott International and an Account Executive at Technifax Office Solutions.
Today, the couple resides in Nashville.
The huge news Rivas recently announced
On Jan. 10, 2020, Rivas delighted her followers when she let them know that she and the former Crimson Tide back were expecting a baby by posting a picture of a sonogram.
This is the first child for the pair and Henry's fans know how important family is to him so we're sure he's thrilled about starting his own.
Henry's parents had him when they were just 15 and 16 years old on Jan. 4, 1994, so he was raised by his grandmother, Gladys. She captured the nation's attention when she watched him receive the Heisman Trophy from her hospital bed in 2015.
During the ceremony Henry said, "Without her, I wouldn't be who I am today."
Gladys died the following year but in December 2019, he remembered her with the My Cause My Cleats campaign and unveiled his new Two All Foundation to help youngsters as a positive influence.
"That was my main focus in doing this foundation, just to reach to the youth, be a blessing, be a helping hand in any way possible, affect communities in a positive way because I feel like I can do that with the platform that I have, and that's something that I've always wanted to do," he said.
There's no doubt Henry will apply the valuable lessons Gladys taught him in order to be a great influence in his daughter's life.
Rivas and Henry's other 'babies'
Up until now, Henry and Rivas' babies have only been their adorable pups but that will change when their little girl arrives.
Rivas always shows off pics of her pooches on social media and announces when she is celebrating their birthdays so we have no doubt she'll do the same for their firstborn.
Read more: Who is Tennesee Titans Quarterback Ryan Tannehill's Wife?