Who Is the 8th Member of BTS According to Fans?
It seems everyone who meets BTS jokes about joining the group as the eighth member. However, that spot is already taken according to ARMY. In fact, one could argue someone has held that title since 2017. So who do fans consider to be the eighth member of BTS?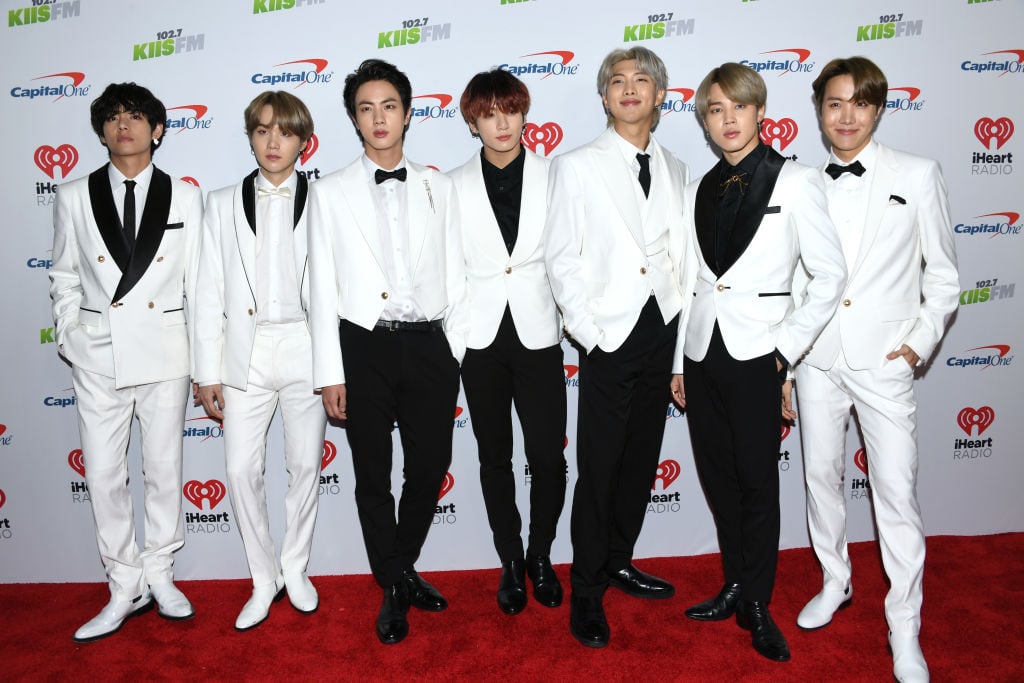 Yeontan is beloved by BTS and ARMY
Before Christmas, Naver and Dispatch released a set of holiday photos by BTS. In some of the photos, V held his dog, Yeontan. For BTS fans, this was all the confirmation they needed to officially name Yeontan as the eighth member of BTS.
"KING YEONTAN IS THE 8TH MEMBER I'M CRYING," a fan tweeted.
"GOOD MORNING MERRY CHRISTMAS OMG LOOK AT YEONTAN 8TH MEMBER OF BTS," wrote a Twitter user.
"YEONTANNIE WAS PART OF THE PHOTOSHOOT YEONTAN 8TH MEMBER OF BTS CONFIRMED," one fan tweeted.
"today's news report: kim yeontan, the 8th member of BTS," a fan wrote on Twitter.
Yeontan has been a fan-favorite since 2017
Yeontan first appeared in a VLIVE BTS hosted for Jin's birthday on Dec. 4, 2017. V appeared in the background of the video and held up Yeontan briefly for fans to see.
On Dec. 17, 2017, V posted a video of Yeontan on BTS's shared Twitter account. With the tweet, V officially introduced his dog to fans. Ever since his first appearances, Yeontan has regularly shown up in BTS content.
While still a puppy, Yeontan completely stole the show in BTS's documentary Burn the Stage: The Movie. The documentary premiered Nov. 15, 2018 and showed the group touring for their 2017 Wings Tour. Yeontan appeared in the movie after V first adopted him, and when he pops out of a bag he is a total scene stealer.
BTS fans celebrated Yeontan's birthday in September
It seems Yeontan has long been considered the eighth member of BTS. In September 2019, ARMY celebrated Yeontan's birthday in similar ways they celebrate BTS members' birthdays. Fans trended hashtags on Twitter and created birthday projects for V's Pomeranian.
"#KingYeontanDay for being the best boi in the world you deserve every treat in the universe," wrote a BTS fan on Twitter.
"it's yeontan's birthday MY VIRGO KING," wrote another.
'Tannie' regularly trends on Twitter
Along with the individual members, BTS fans often trend "Tannie" on social media. On Nov. 21, "Tannie" trended worldwide after V brought the dog to the airport before leaving for BTS's fan meeting in Japan. It marked Yeontan's first airport appearance, and like the other members of BTS, Yeontan wowed fans with his airport look.
"BREAKING NEWS ROCKSTAR TANNIE MAKING HIS FIRST AIRPORT APPARENCE WITH HIS ONE AND ONLY MANAGER KIM TAEHYUNG," a fan wrote on Twitter.
"Taehyung brought Yeontan with him, this is officially Tannie first appearance at the airport! He said goodbye to his dad who is going to Japan, this is so adorable. Such a lucky puppy," a fan tweeted.
"THE WAY TANNIE THE RICH AND FAMOUS ROCKSTAR IS TRENDING WORLDWIDE AFTER MAKING HIS FIRST AIRPORT APPEARANCE… @BTS_twt," wrote a Twitter user.