Who is 'The Bold and the Beautiful' Actress Jacqueline MacInnes Wood's Husband?
The Bold and the Beautiful is one of the most popular CBS network television series. Over the years, viewers and the fans have gotten to know the esteemed actors and actresses who have taken on the roles of the characters in Los Angeles that the show revolves around. There is one particular actress that fans are becoming increasingly curious about. Viewers want to know more about Jacqueline MacInnes Wood, who plays Steffy Forrester on The Bold and the Beautiful, and her husband. Take a closer look at Jacqueline MacInnes Wood's personal life and journey to stardom.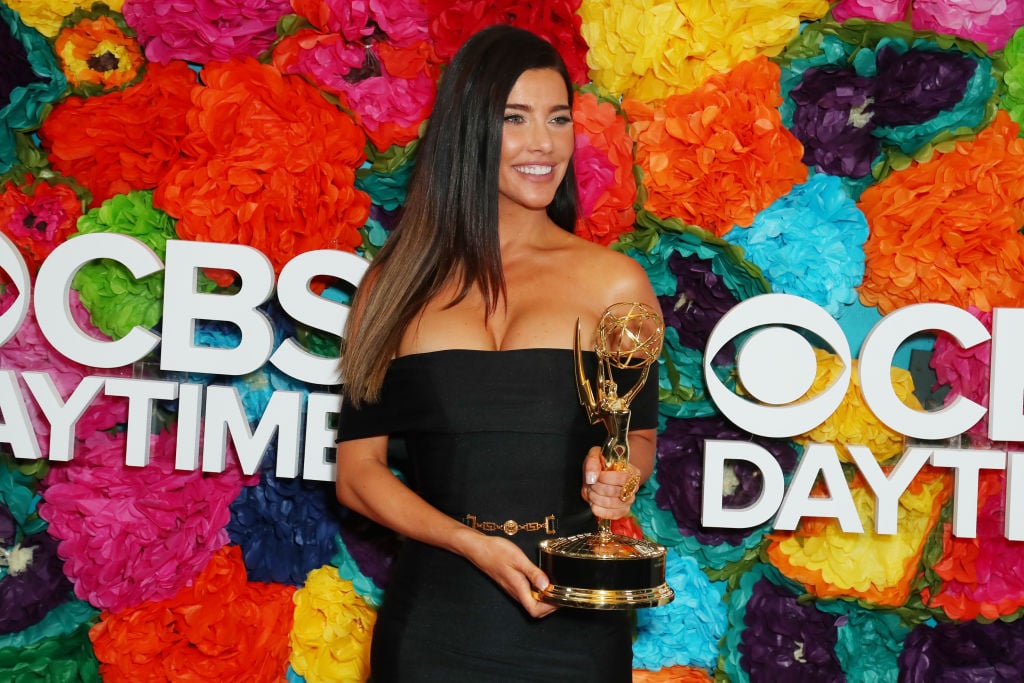 Jacqueline MacInnes Wood's journey to fame
Wood, a Canadian at heart, was born in Windsor in 1987. Wood started chasing an acting career at an early point in her life. Though she started out in commercials, she quickly began making a name for herself. Final Destination 5 was one of the star's first on-screen appearances, and she was also cast in the CW series Arrow. Of course, most of her fans recognize her as Steffy Forrester, her memorable role on The Bold and the Beautiful. It is no wonder Wood has gained so much attention and so many followers since she first came on The Bold and the Beautiful. Her charming personality and impressive acting skills have made her a popular celebrity in the world of soap operas.
Is Jacqueline MacInnes Wood married?
Wood's fans and much of the public are wondering if Wood's is married, and the answer is yes. Wood met the man that would later be the love of her life a few times, and, finally, the pair seemed to get the timing right. In an interview, Wood was speaking about Elan Ruspoli when she said, "We met through my best friend Brian. We'd actually met at a few events briefly, but I wasn't in the right place. Then, we were set up. We had a double date, and I was not ready but of course, when you're not looking is usually when you find it." Wood went out to joke that it felt like she was pulling his teeth to go on the date, but once the date got started, the couple immediately felt a connection. Wood and Ruspoli, a fellow actor, happily began dating after.
The talented celebrity first announced her engagement to her boyfriend in November of 2017. After the proposal, Wood shared some celebratory photos with the caption, "Biggest surprise of my life. IM ENGAGED!! Elan, you are my everything and I can't wait to begin this new chapter with you". So it may have not been something she was planning for or expecting, but it was definitely something that she was excited about. Some fans may be confused if Wood is actually married since the soap opera star made the shocking and surprising decision to elope. The secret ceremony took place in August of 2018, and Wood's fans and supporters couldn't be happier for her. So many people expressed much love and congratulations on the famous couple's announcement on social media. However, soon after the intimate wedding, the couple once again had exciting news to share with the world.
Jacqueline MacInnes Wood has her first child with her husband
Wood and her husband have a positive marriage, and the couple was thrilled to welcome their first child into the world. Fans couldn't get enough of the adorable Instagram posts announcing the birth of Rise Harlen. When speaking about how the pair selected the baby's name Wood explained, "We chose Rise because to us Rise means growth, the simplicity of moving forward." Wood and Ruspoli seem very happy to be parents, and many fans are wondering if they can expect any more babies from Wood and Ruspoli.