Who Is Tupac Shakur's Former Fiancée Kidada Jones and How Long Were They Together?
When Tupac Shakur was shot and killed back in 1996, many fans and celebrities mourned his death.
While his ultimately passing broke the hearts of millions around the world, his death was exceptionally hard on his mother, close friends, former lovers, and especially his then-fiancée Kidada Jones.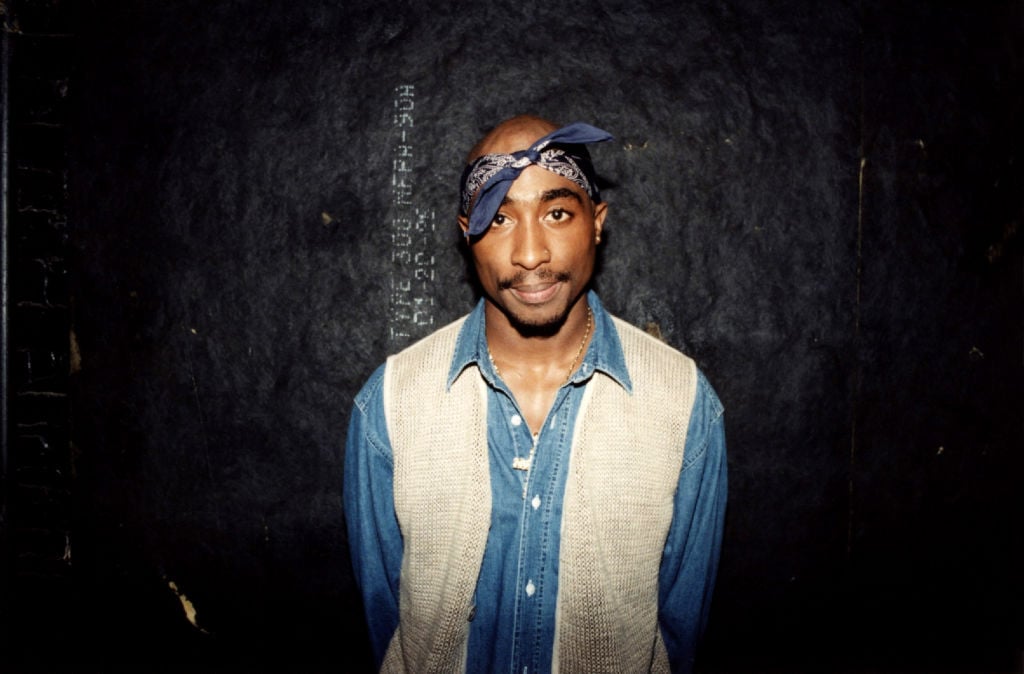 Though they were only engaged for a few months, Jones and Shakur's love loomed large during his final moments and is often overlooked in his biography.
Jones wasn't the biggest fan of Shakur at first
During Shakur's final moments of life, he was surrounded by loved ones who remained by his side until he was taken off of life support.
In addition to his mother, Afeni Shakur, one of the last people to speak to the rapper was his fiancée, Jones.
Before Shakur slipped in a coma from which he never woke, Jones sat and confessed her love for him while inside the hospital that the rapper wouldn't walk out of.
After letting out a moan, Shakur opened his eyes, looked up at Jones, and spent the last few moments of consciousness he had listening to his fiancée's heartfelt sentiments.
"Do you know I love you?" Jones recalled to Vanity Fair in 2013. "Do you know we all love you?"
After he nodded, Jones turned to leave the room when the rapper began convulsing, and that was the last time she saw him before his mother told doctors to let him go.
While this was a heartbreaking outcome, Jones has many memories of Shakur that she will always cherish — even though their romance only lasted a short amount of time.
Jones and Shakur's relationship started a little rocky, with the rapper having made some offensive comments about dad — famed music producer Quincy Jones — during a 1993 Source Magazine interview.
After hearing the "California Love" rapper diss her father for marrying her white mother, Peggy Lipton, Jones had no interest in speaking to Shakur.
Though she didn't have anything to say to the rapper, Jones's younger sister Rashida certainly did and responded to his interview with a few choice words of her own in a letter that was published in Source Magazine (via Washington Post).
"Where the hell would you be if Black people like him hadn't paved the way for you to even have the opportunity to express yourself?" she wrote. "I don't see you fighting for your race. In my opinion, you're destroying it and sh*ting all over your people."
The pair's romance blossomed in 1995
Two years after Shakur's interview, he and Kidada met for the first time in person at a club shortly before one of his 1995 sexual abuse trials.
During their second meeting, Tupac apologized, and Jones gave him her phone number, then by their third meeting, Tupac was already talking about how much he loved her and wanted her to be his wife.
Despite still being married to his first wife, Keisha Morris-Shakur, the rapper and Jones continued dating, and he proposed to her just a few short months after his marriage to Morris was annulled.
After serving his time in jail for sexual assault, Shakur and Jones began living together in Calabasas and stayed in a loving and committed relationship up until his death in September 1996.
"Tupac was the love of my life," Jones wrote in her father's 2001 autobiography. "He and I lived together for four months and then he was murdered in Las Vegas in 1996. It was the most horrible thing that ever happened to me."
While in Sin City to celebrate his business partner Tracy Danielle Robinson's birthday and to attend the Bruce Seldon vs. Mike Tyson boxing match at the MGM Grand, the rapper was shot while inside his sedan and was rushed to the hospital.
Though she wasn't with the rapper when the tragedy happened, Jones was in the hotel suite she shared with Tupac in Las Vegas when she received the call that he had been shot.
In her father's autobiography, Jones recalls having a bad feeling in the hours before Shakur was shot and believes that she and the rapper shouldn't have even been in Vegas that night.
"I knew we should've never gone to Vegas that night. I had a horrible feeling about it. I've gone over it in my mind a million times. It wasn't supposed to happen," Jones wrote. "We weren't supposed to be there. It was the worst possible thing that could've happened — I still to this day don't know who shot him. I wasn't able to say goodbye. It's not something that should happen to anyone."
Where is Jones today?
Following the rapper's death, Jones put her focus into her career as a stylist and has since worked with big-name designers and has even modeled in fashion magazines such as Elle, Vogue, and Harper's Bazaar.
In 2005, she began working with The Walt Disney Company, designing for Kidada for Disney Couture and has been doing that ever since.
She even published a book in 2017 titled School of Awake, which is meant to empower young girls.
As for her love life, it took a few years after Shakur's death for Jones to get back into the dating scene.
In 2003, she married her husband Jeffrey Nash, but the pair ended up divorcing three years later.
Although it's been more than 20 years since Shakur's tragic passing, we're sure Jones still feels the same amount of love for the rapper than she did when he was alive.
Despite their romance being cut short, Jones and Shakur's relationship was the real deal and will continue to remain a memory that she will most likely cherish for the rest of her life.