Who Is Tyler, The Creator Dating?
Although his past lyrics may be a little controversial, Tyler, The Creator fans love him for his unique perspective and creativity. Who is this award-winning rapper dating? Here's what we know about Tyler, The Creator, and his love life.
Tyler, the Creator sometimes raps about same-sex attraction
Although he hasn't exactly come out as gay or a member of the LGBTQ community, in recent years, this rapper often dropped hints regarding his open sexuality. When he improvises Tyler, the Creator discusses same-sex attraction. It wasn't always like that, though.
According to The New York Times, Tyler, the Creator "freely used anti-gay slurs" while starting his career, prompting skepticism from a number of fans. Since then, however, the artist has been somewhat open about his sexuality, embracing his unique position in the music community. That's especially true when he earned the Grammy Award for Best Rap Album.
"It sucks that whenever we — and I mean guys that look like me — do anything that's genre-bending or that's anything they always put it in a rap or urban category. I don't like that 'urban' word — it's just a politically correct way to say the n-word to me," he said in an interview following his win, discussing the treatment of black artists.
Tyler, the Creator is one of few rappers with lyrics discussing same-sex attraction in mainstream music. Recently, however, "Old Town Road" performer, Lil Nas X, opened up about his sexual identity, becoming one of the first openly gay black country-rap artists.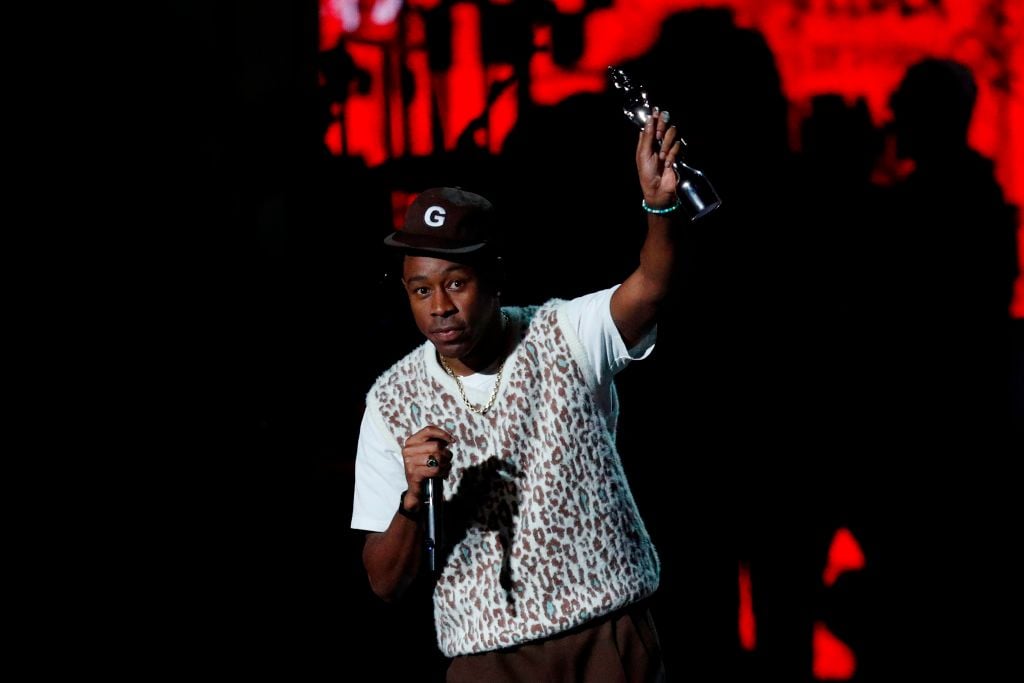 Were Jaden Smith and Tyler, The Creator ever dating?
Back in 2018, there was a little bit of drama between him and actor Jaden Smith, when Jaden Smith publicly called Tyler, The Creator his best friend and, ultimately, his boyfriend while onstage. 
"I just wanna say Tyler, the Creator is the best friend in the world," Smith said. "And I love him so f**king much. and I wanna tell you guys something, I wanna tell you, Tyler doesn't wanna say, but Tyler is my mother f**king boyfriend and he's been my motherf**king boyfriend my whole life."
Jaden Smith even tweeted about the incident, confirming the announcement, before deleting the tweet. In the initial video, Tyler, The Creator is seen shaking his head and laughing, but he later responded to Jaden Smith's tweet, calling him "crazy." 
Who is Tyler, the Creator dating?
Although Tyler, the Creator has never actually confirmed that he and Jaden Smith are dating, Jaden Smith congratulated the artist on his 2020 Grammy win, again referring to him as his boyfriend. (That means they would've been dating for about two years, since the first time Jaden Smith hinted at their relationship.) 
Jaden Smith's tweet earned over 350,000 likes and plenty of support from fans of both artists. Songs by Tyler, The Creator, including "See You Again" and "Boredom" are available on most major streaming platforms, including Spotify.