Who Is Tyra Banks's Boyfriend Louis Bélanger-Martin?
Find out more about Tyra Banks's boyfriend.
Although she frequently hosts reality TV shows, Tyra Banks keeps her personal life under wraps. She seems to use her personal time to focus on her son York, 4. But a recent addition to her ring finger has fans speculating that she and Louis Belanger-Martin are engaged. But who is Banks' new boyfriend? The two have been together since October. Are they already engaged?
Tyra Banks swears she is not engaged to Louis Belanger-Martin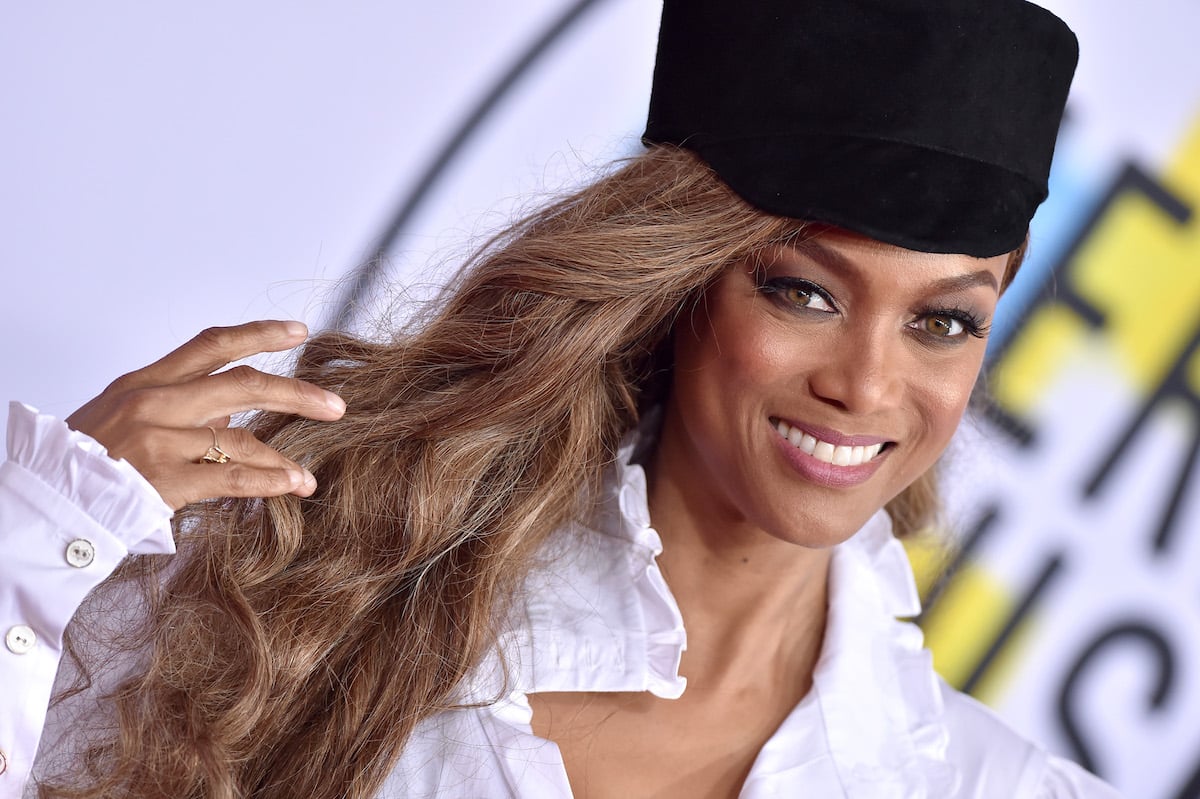 Despite the fact that she was recently spotted with a diamond ring on her ring finger, sources close to Banks insist she is not engaged. Based on what Banks has said before about her current priorities, that makes sense. She wants to focus on her son. York may only be 4 years old, but he's already receiving a great education in standards of beauty from his mom. 
Banks says: "I'm trying to teach him [positive] messages because I'm his first role model when it comes to beauty and accepting different types of women, so we practice that a lot at home."
Banks was famous for using her platform on America's Next Top Model to promote all different kinds of beauty, so York will probably grow up with genuine respect for women of all shapes, sizes, and colors.
If Belanger-Martin and Banks do end up engaged, he'll also be a big influence on York. Although Belanger-Martin is not famous like Banks, he is quite successful. In fact, he and Banks may embark on some new business ventures together. York would benefit from being raised by this power couple if the two do decide to get hitched. 
Who is Louis Belanger-Martin?
Belanger-Martin doesn't have an entertainment background. But he has just as much success as Banks in his chosen field.
Belanger-Martin is originally from Canada. He's a high-powered CEO. Like Banks, it seems like Belanger-Martin likes to work on more than one project at a time.
He's the founder and chairman of DTI Software, and a private equity group. That's on top of having a full-time job as CEO of Advanced Inflight Alliance AG. That's the company that provides inflight entertainment on a lot of planes. 
Both Belanger-Martin and Banks have ties to Harvard University. Both attended classes at the school, but it seems like they missed each other by about a year. Some fans speculate that Belanger-Martin may be using his business expertise to help Banks with ModelLand. That's her latest business venture.
Unfortunately, COVID-19 delayed the opening of the model-themed park. But the concept is fresh, and hopefully, it will be a success for Banks. She has the business chops to build ModelLand with or without Belanger-Martin by her side. Either way, now that a new man is by her side, some fans are wondering what happened to Erik Asla. 
What happened to Erik Asla? 
Asla is the father of Banks' son York. He was a photographer in California, and shares a lot of similarities with Belanger-Martin. Neither are famous, although Asla did have a more art-focused career.
As a photographer, it made sense that he would meet a model like Banks. But neither Belanger-Martin nor Asla seem to want fame. Both men dated one of the most famous supermodels in the world, but neither sought the spotlight for themselves. 
Although Asla and Banks split, they remain on good terms. According to sources close to Banks, they had a really amicable split. "She and Erik are friends. The breakup was drama-free." That's a good thing, especially considering York is in the picture. Hopefully Banks and Asla are able to co-parent successfully.