Who Jimmy Page Called the Greatest Guitar Player of All Time
When you see lists of "the greatest guitarists of all time," Jimmy Page almost always turns up in the top five. From his days as a session ace through his run as the leader of Led Zeppelin, Page laid down some of rock's best riffs — and followed them with solos that weren't far behind.
The thing about Page is, he didn't just wander into a band and record some blazing guitar lines for a few years. After founding Zeppelin, he wrote much of the band's music — and produced Zep's albums — for the 12 years the group lasted together.
The 300 million records Zep sold attest to the connection Page and the band found with fans around the world. (Only a handful of artists ever sold more.) And Page's admirers in the music business cemented his legacy.
So when one of music's elite guitarists calls out the top player of all time, it's worth a listen. In answering that question in a 1975 interview, Page named Jimi Hendrix.
Page called Hendrix 'the best any of us ever had'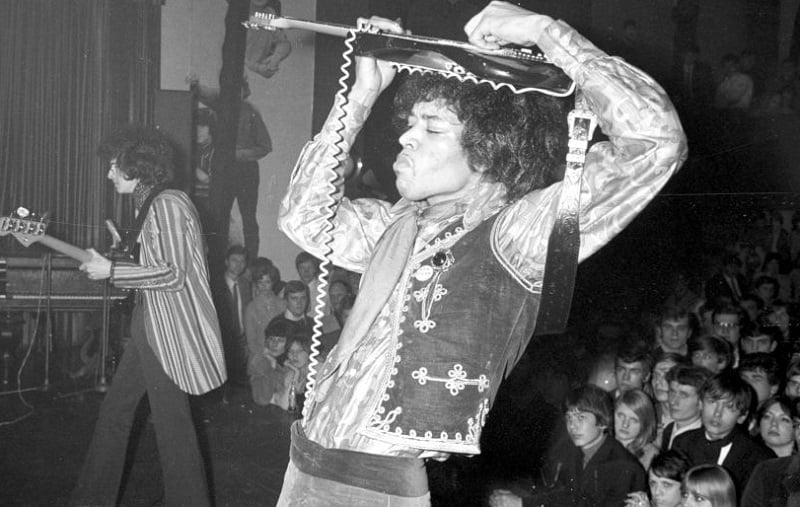 When Cameron Crowe asked Page about his "favorite American guitarists" in a '75 Rolling Stone interview, Zep's guitar player had many names to cite. Clarence White, who played with the Kentucky Colonels and The Byrds, received special mention from Page.
So did Amos Garrett, Elliot Randall, and Les Paul. But Page started out mentioning the man who'd ended his run on earth some five years earlier. "Well, we've lost the best guitarist any of us ever had and that was Hendrix," he said. 
Page didn't elaborate on that comment (probably because he didn't need to). From Hendrix's start in London in '66 to the Experience's breakout performance at Monterey Pop the following year and beyond, Hendrix had the admiration of every guitar player who heard him.
Hendrix's reputation has, if anything, grown since his 1970 death. For some reason or other, the same can't be said for Page. (Pete Townshend in particular has had nasty things to say about Page and Zeppelin over the years.) But everyone seems to agree Hendrix was the king.
Page normally ranks 2nd or 3rd among guitarists, depending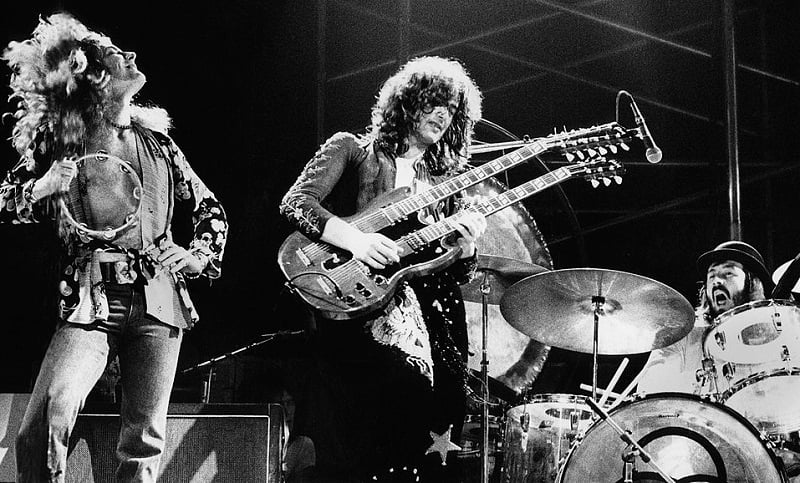 In polls like Rolling Stone's top guitarists of all time, you usually see Hendrix at the top and Page landing in second or third place. On the 2015 list that had the best living guitarists rank one another, Page placed third behind Hendrix (first) and Eric Clapton (second).
However, when most people point to Clapton as a guitar god, they are talking about his '60s work with Cream and other early alliances. The Clapton who later became ultra-famous for unplugging and crooning "Layla" on MTV is quite a different animal.
Speaking with Rolling Stone in '75, Page saw that shift coming "F–king hell, Eric," he said. "At least [at a recent show] he had some people with some balls with him. Ever since … he's laid back further and further."
That sentiment has been a common one among rock fans over the past four decades. While Clapton once stood above Page, many rate Zeppelin's guitar master as the one who came closest to Hendrix. Fifty years later, that heaviness still rules among guitar fans.
Also see: The Statement Led Zeppelin Was Making With the Cover of 'Led Zeppelin IV'