Who Played Biden on 'SNL' and Did Fans Love it (or Hate it)?
New Saturday Night Live cast member, James Austin Johnson was thrown into the SNL deep end when he tackled the hotly debated role of President Joe Biden. A parade of comedians have taken on the Biden part, some beloved others completely panned. So how did Johnson rate with the fans as the latest comedian to "become" the new Biden on SNL?
Who played Biden on 'SNL' and did fans give his performance a thumbs up or down?
SNL alum Laraine Newman was thrilled with Johnson's delivery." I've never seen such an impressive debut of a new SNL cast member like James Austin Johnson's. He's superb, confident and damn funny. Wow!" she tweeted. Another fan shared, "I don't know who this guy is, but he does a pretty good President Biden. And Cecily Strong's Sinema is just hitting the crazy nail on the head."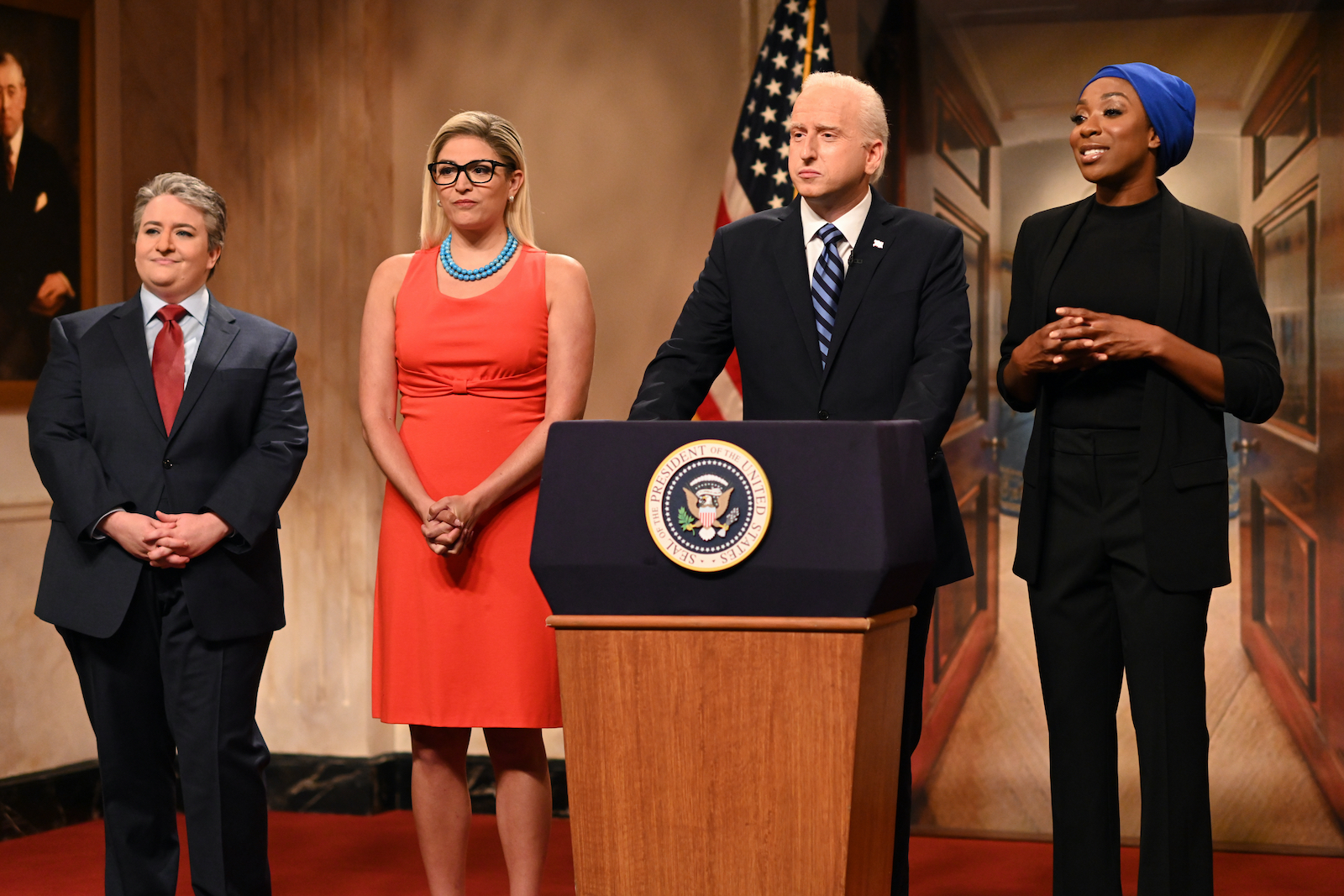 But overall, fans were not impressed. But then again, SNL fans are a tough crowd, especially when it comes to this role. "Worst Biden impression ever. I used to think Carey's was bad. Yikes," one person tweeted. Another wrote, "This attempt at joe biden is pretty awful. Please tell me this isn't the 4 year plan."
Johnson's parents were watching from their home in Tennessee. They were blown away when they realized their son would be taking on Biden in the cold open. "We had heard from Austin's wife," Johnson's father Michael told The Tennessean. "And she said, 'I don't know what all he's going to be in, but he's had a lot of fun this week. I think we can expect to see him on the show.' That's really all we knew. Then we were sitting here, and we saw the seal of the President of the United States. And he walks out. I just said, 'That's our son!' I just yelled it. Sarah said it took her a couple of seconds for it to really register that it was our boy."
Which comedians have taken on the role?
Johnson joins a list of six other comedians to portray Biden on SNL. While he received mixed reviews, many of the other past "Bidens" also got dragged by fans. Most recently Jim Carrey's take on Biden during the presidential election got panned. "Maybe he's too physical a performer, or too needy a showman, to capture the flapjack earnestness of the former vice president," according to a review in Vanity Fair. "It makes a person pine for Woody Harrelson and his chew gum dentures."
Fans and reviewers seemed to embrace Woody Harrelson's take on Biden. But Harrelson wasn't keen on reprising the role. "I was approached two or three times but I couldn't do it so I don't know, maybe Lorne has moved on which would probably be smart to have people who were definitely going to show up," he told NME. "Because I don't know, I wasn't always going to be there, but I'd be open to doing it again of course. It's so fun."
Jason Sudeikis was a Biden fan favorite too. He talked about what it takes to get into character. "I'm getting there," he said during an appearance on Good Morning America in 2020. "Once I pop in those fake teeth, they have me wear, then that's when it really takes over."
Other comedians who have been Biden include John Mulaney, Kevin Nealon, and Alex Moffat.
Who do 'SNL' fans want to play Biden?
Several fans tweeted that they'd love to have Sudeikis back in the role on SNL. "SNL the best Biden," one person tweeted along with a video of Sudeikis in the role. Another person shared, "Sudeikis is The GOAT Biden." A fan added, "Who's doing Biden?? Bring back Sudeikis!"
A writer from The Daily Beast thought Johnson's take on Biden was as good as what Sudeikis delivered. "This new impression from @shrimpJAJ is #SNL's best Biden since Jason Sudeikis," he tweeted.
The Biden "saga" continues …