Who Plays President Dalton In 'Madam Secretary'?
Playing the President of the United States is certainly not for the weak of heart. You have to be prepared to face harsh comparisons with the current, real life,  Commander-in-Chief as well as tackle tough, hot-button topics.
All seem to be a piece of cake for the actor playing President Dalton on CBS's Madam Secretary. 
Who's President Dalton?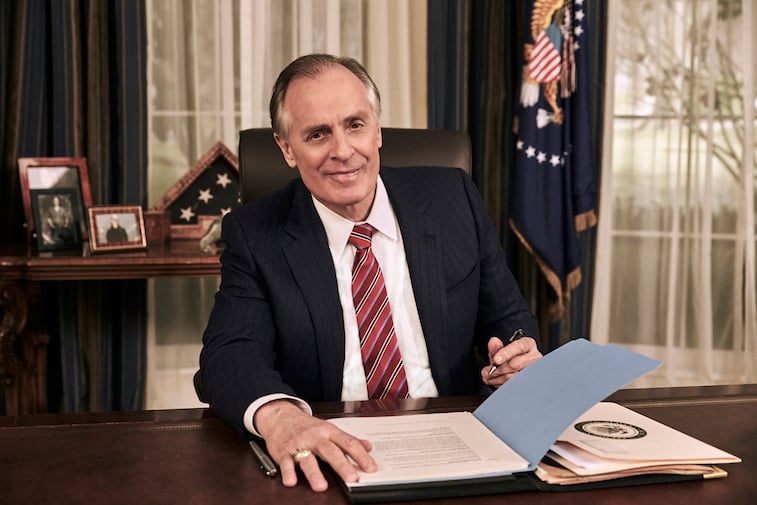 President Conrad Dalton is the president, heading the executive branch of the United States in the CBS drama, Madam Secretary. Although the series focuses on Tea Leoni's character Elizabeth McCord, Dalton is the driving force behind much of the series plotlines from Season 2 and onward.
Dalton is known for his appreciation of thinking outside the box and his timely debates, likely garnered through his time spent working as director of the CIA. Which, consequently is how he knows Elizabeth McCord, as she was a CIA analyst at the same time.
When Dalton became president, he quickly appointed Elizabeth as his Secretary of State. When he was up for reelection to a second term, he even offered her the role of VP, although he jilted her out of it when someone else looked better for his chances of election.
The show, although only loosely based on today's politics, tackles tough issues like equality, the Middle East and presidential loyalty.
Dalton is played by actor, Keith Carradine
According to Rotten Tomatoes, actor Keith Carradine had a pretty bumpy start to his acting career. Like most young people, he headed off to college. But, when he decided to attend Colorado State University to pursue theatrical training he struggled with feeling fulfilled.
He attended the Fort Collins campus for a full semester before his dreams got the best of him. He dropped out and went to California to begin auditioning for real stage productions.
Carradine has had a pretty prestigious career before this role
His auditions in Los Angeles went well, and soon after his arrival, he landed the role of Claude in the Broadway musical Hair. This was just the start of his Broadway career and his early aptitude for music definitely spurred him on the road to success.
Carradine has appeared in several feature films from westerns to children's films, including Southern Comfort (1981), Our Very Own (2005), and The Old Man & the Gun (2018). He also had some success on stage, even having the opportunity to act alongside his father, and he won his first Oscar for songwriting in the film Nashville.
In the '80s and '90s Carradine spent much time on stage. He's best known for winning a Tony for his role as Will Rogers in Will Rogers Follies.
The well-rounded actor has also, appeared in several popular TV series lately including the crime thriller, Dexter, and Fargo.
He comes from a famous family
Keith comes from a large family of actors. His father John Carradine was a Hollywood superstar in his time, and his mother Sonia Sorel was an actress as well. His brothers Robert and Chris, as well as half-brothers David and Bruce are also in show business as are several of their children.
They've spawned a third generation of acting Carradines including Ever and Kansas Carradine, and Martha Plimpton, Keith's daughter. Daughter Martha's fame ranges from the 1985 cult classic The Goonies, to working on episodes of 2018's The Blacklist.
'Madam Secretary' Season 6
Madam Secretary has just been renewed for Season 6 on CBS. This season we can expect to see the timeline of events unfold as Elizabeth McCord becomes a candidate in the next presidential election. Given she announced her plan to run for the Oval Office at the very end of Season 5, we can anxiously wait for a lot of drama surrounding her campaign efforts in the upcoming season.