Who Should Have Custody of Dream Kardashian? Blac Chyna's Mother Weighs In
Rob Kardashian and Blac Chyna have yet to settle their differences. The former couple shares a 2-year-old daughter and has spent years battling over custody in court. Now Blac Chyna's mother is weighing in on the issue, and her answer might surprise you. Chyna's mother Tokyo Toni thinks Dream would be better off with her dad for the time being!
Blac Chyna and Rob Kardashian's relationship
Blac Chyna and Rob Kardashian first went public with their relationship in January 2016. Just a month later Kardashian went on a deleting spree on Instagram and Chyna referenced a breakup. By April 2016 the pair was on the mend and engaged, according to Instagram posts.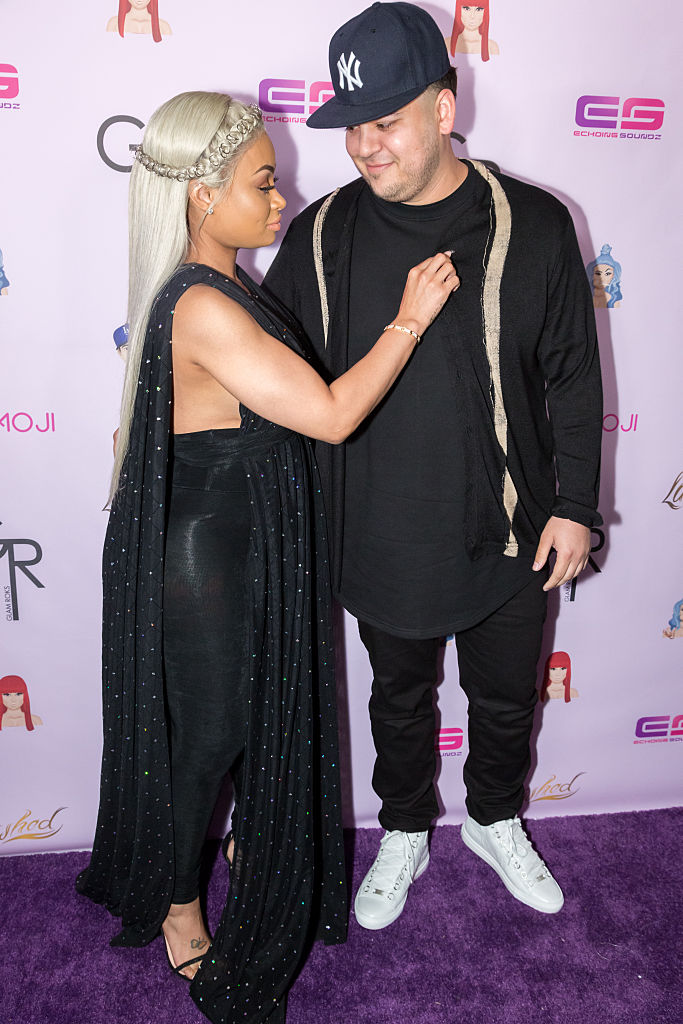 In May 2016 the couple announced their pregnancy, but the pregnancy was anything but uneventful. Kardashian and Chyna broke up and got back together several times between their pregnancy announcement and the birth of their first child.
Kardashian and Chyna split after the birth of Dream Kardashian
In November 2016, Chyna gave birth to Dream Renee Kardashian. Dream is Kardashian's first child, and Chyna's second. The couple seemed to be doing well for a short time, and they set a summer 2017 wedding date. Plans were underway, but just one month later Chyna split from the couple's home. 
For the next year, Kardashian and Chyna repeated the cycle of breaking up and making up. Now, however, they seem to be done for good, and are working with courts to figure out custody issues. 
Trouble for Rob and Blac Chyna
In September 2017 Kardashian filed a lawsuit against Blac Chyna alleging the model assaulted him. Kardashian used sister, Kylie Jenner, as a witness. She also appears as a plaintiff. The lawsuit stems from a December 2016 incident in which Chyna allegedly assaulted Kardashian repeatedly, including attempting to choke him with an iPhone charging cord.
The lawsuit goes on to allege that Chyna made several attempts to extort money from the famous family, according to People. The couple's troubled relationship also included a revenge porn incident.
Kardashian posted explicit pictures of his now ex to Instagram after he discovered she was cheating on him. Chyna then accused Kardashian of physical abuse during their relationship on the same social media platform. 
Blac Chyna has had the police called to her residence multiple times
Following the split, Dream has been shuttled between the homes of her mother and father, but Blac Chyna's life has become even more unstable. In recent months the police have responded to multiple incidents involving Chyna and her entourage.
In late January police were called to Chyna's California home after a caller reported the mother of two was too drunk to care for her children. It is believed the call stemmed from an argument between the model and her makeup artist. Police paid a visit and left without incident. Chyna, her two children, and a nanny were present at the home when police responded.
The following day police responded to the home, once again, to keep the peace while the same makeup artist collected belongings, according to People. One-week later police in Hawaii were called to Chyna's hotel over a physical altercation. The argument was between Blac Chyna and her new beau, rapper, Kid Buu.
Kid Buu, whose real name is Marquez Lao Santiago, has prior arrests for domestic violence and child abuse, according to reports. Buu has denied the assault allegations pertaining to his argument with Blac Chyna.
Who should have custody of Dream Kardashian?
Blac Chyna's mother, Tokyo Toni has spoken out against her daughter and her parenting. Toni alleges that Chyna has a lot going on, and she thinks it would be best if Dream stayed with the Kardashian family full-time.
According to The Guardian, TMZ caught up with Toni recently to discuss Chyna's legal trouble and parenting. The mother of one said that she believes the Kardashians would be better able to provide a stable household for Dream. 
Blac Chyna responds to her mother's comments
Chyna has snapped back, claiming she doesn't care what her mother thinks of her parenting. The former stripper and model took to Instagram to set the record straight. She noted she has not asked for anything from the Kardashians and would like to keep it that way. Chyna went on to explain that her mother is not in any way responsible for her success.
Blac Chyna also shares a son, King Cairo with rapper Tyga. Tyga famously dated Kylie Jenner for several years following his split from Chyna. Jenner was just 14 when she first met Tyga and began spending time with him. Tyga and Chyna's split was allegedly caused by his reliationship with Jenner.
Read more: Why Do The Police Keep Getting Called on Blac Chyna?
Check out The Cheat Sheet on Facebook!