'Who Wants to Be a Millionnaire': What Happened to John Carpenter, the Guy in the Viral Clip Who Won $1 Million?
With the passing of Regis Philbin, people are wondering what happened to other 'Who Wants to be a Millionaire' stars, like John Carpenter.
As the world mourns the passing of Regis Philbin, people are going back and looking at Philbin's accomplishments and career. One thing that Philbin was known for was his time on Who Wants to be a Millionnaire. As fans look back on the iconic show, the infamous clip of John Carpenter winning $1 million has resurfaced. So, what happened to Carpenter after winning all that cash?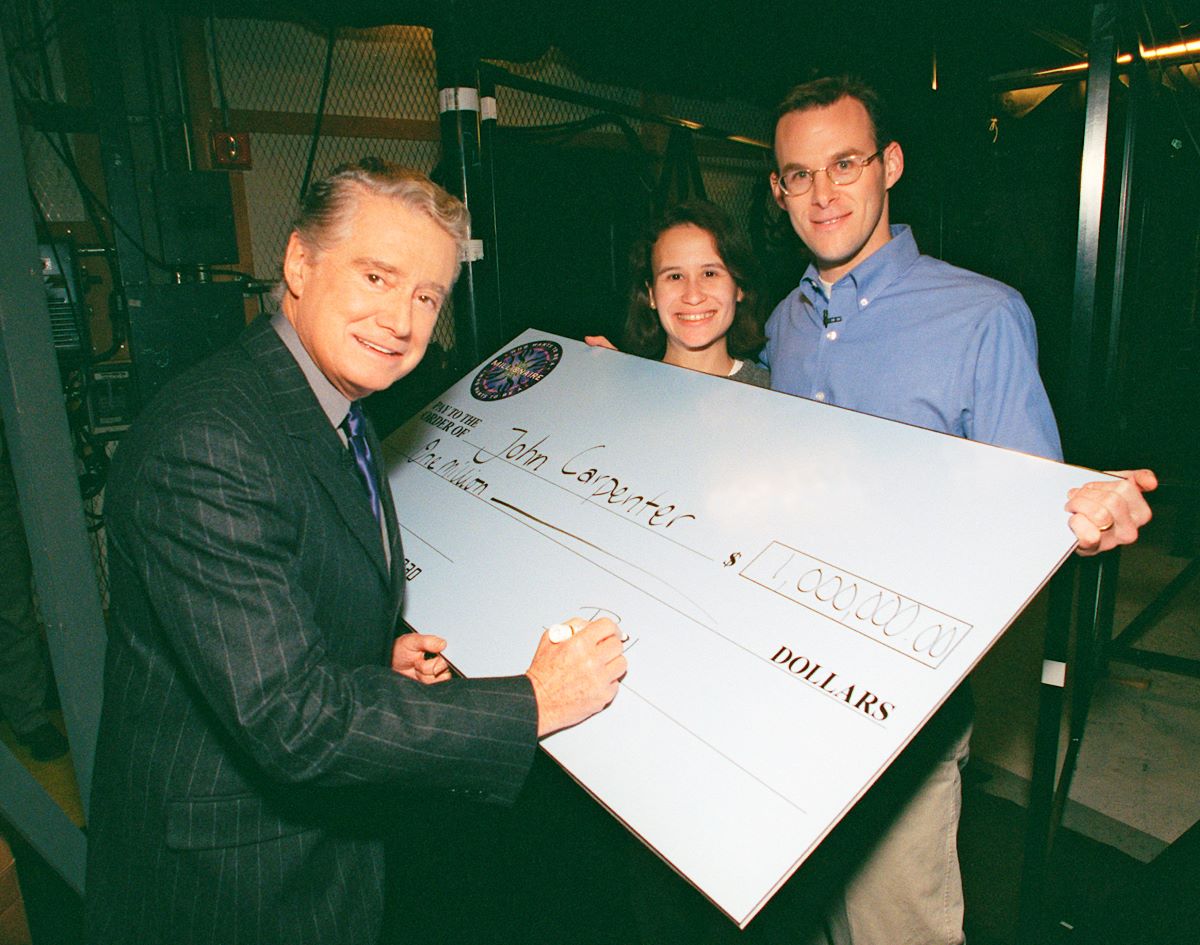 The iconic scene
Carpenter went on the show in 1999. At the time, he was a 31-year-old, working for the Internal Revenue Service. On his first day on the show, he answered his first two questions correctly, which allowed him to return the next day. On that day, Carpenter had to answer 13 questions correctly to win the grand prize of $1 million.
Throughout the course of the episode, Carpenter was confident in his answers and didn't use any of his lifelines to help him. It wasn't until the last question, the million-dollar question, that Carpenter decided to call his dad.
The question that Carpenter seemed to be struggling on was "which of these U.S. presidents appeared on the television series 'Laugh-In'?" His choices were Lyndon B. Johnson, Richard Nixon, Jimmy Carter, and Gerald Ford.
"Um," Carpenter said. "I'd like to call my parents right now, use my lifeline."
The show called his father and Philbin explained the situation to Carpenter's dad. But, when Carpenter got on the line, he didn't actually ask his dad for help.
"Hi, Dad," Carpenter said. "I don't really need your help. I just wanted to let you know that I'm gonna win the million dollars. The U.S. president who appeared on 'Laugh-In' was Richard Nixon, that's my final answer."
Philbin was shocked as no one had ever won the grand prize before.
"Well, my gosh!" Philbin said and spoke to Carpenter's wife. "What can I say except: Debbie, you're going to Paris, and this is the final answer heard all around the world. He's won a million dollars!"
What is Carpenter up to now?
Now, Carpenter looks back on that moment and is so thankful that his attempt at a joke ended with him winning the money.
"It was a spur of the moment thing," he said in a recent interview, according to The Washington Post. "I'm a little bit of a smart*ss. I look back on it and — well, thank God I was right."
Ultimately, Carpenter only ended up with about $600,000 of the money after taxes were deducted. But even with that huge amount of money in his pocket, Carpenter decided to keep working for the IRS.
"It's a h*ll of a lot of money, but I live in New England," he said. "If I lived somewhere else, maybe it would be different."
So, ultimately not much has changed for Carpenter. He still works at his job and doesn't live extravagantly by any means.
What happened to Regis Philbin?
Philbin died on July 24, just one month away from his 88th birthday.
"His family and friends are forever grateful for the time we got to spend with him – for his warmth, his legendary sense of humor, and his singular ability to make every day into something worth talking about," his family said in a statement to People. "We thank his fans and admirers for their incredible support over his 60-year career."
Philbin died of natural causes.