Who Was Rapper Pop Smoke and What Was His Net Worth At The Time of His Death?
Rap fans are mourning the sudden and tragic death of 20-year-old Pop Smoke. Media outlets reported early on the morning of Feb. 19 that Smoke was killed in a home invasion at a Hollywood Hills home. The rapper was just starting out his career and had a promising future.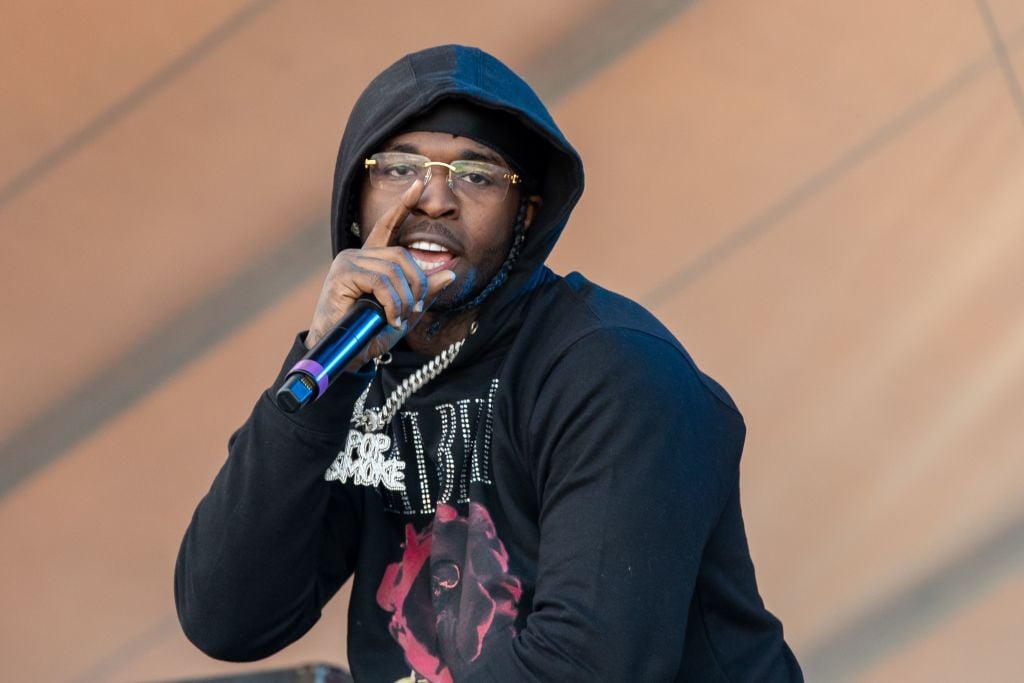 Who was Pop Smoke?
Born Bashar Barakah Jackson, the Brooklyn, New York native got into music after being inspired by his peers. He often hung out with other music artists and accompanied them to studio sessions until he decided in 2018 to embark on a career on his own.  
He told Genius that his stage name is a combination of Papa, a childhood nickname, and Smoke Oh Guap, a nickname given to him by childhood friends.
Smoke initially began as a producer by remixing popular songs within the New York City drill music scene, before embarking on creating original music that led him to a deal with Victor Victor Worldwide and Republic Records – a branch of Universal Music Group.
His breakout single, "Welcome to the Party," was released in April 2019. It was the lead single to his Meet the Woo mixtape. A remix of the song featured Nicki Minaj. Smoke also collaborated with Lil Tjay, Calboy, JackBoys, and Travis Scott.
His second mixtape, Meet the Woo 2, was released in Feb. 2020 and featured artists like Quavo and PnB Rock.
How did Pop Smoke die?
TMZ reported that Smoke was killed in what appears to be a home invasion. Law enforcement told the outlet that he was at a home in the Hollywood Hills at around 4:30 AM PST when two masked men broke in. The men fired multiple shots, critically wounding the rapper. Witnessing say they saw both men were fleeing on foot immediately after the attack.
Medical personnel arrived and attempted CPR as they transported the wounded star to the hospital. Unfortunately, he did not survive and was pronounced dead shortly after his arrival at Cesar Sinai Medical Center in the West Hollywood section of Los Angeles. 
It's not clear if Smoke knew his shooters or what the motive was for the attack, but TMZ later learned that a house party was held shortly before the shooting. He was active on social media just hours before the shooting.
Fans and colleague showed their support, including fellow rapper Nicki Minaj. 
"The Bible tells us that jealousy is as cruel as the grave. Unbelievable. Rest in Peace, Pop," she captioned a photo of Pop on Instagram.
Quavo also expressed his condolences following the news of Smoke's death.
"L Y H I G H W O O 🕊@realpopsmoke Got To Kno This Kid! Very Talented Humble Respectful And Appreciative. Always Ask Questions Big Sponge To Knowledge Fast Learning Young Boss And The Huncho Was Here To Share That Anytime You Called Me! R.I.P," he wrote on Instagram.
Rappers 50 Cent and Ludacris also posted tributes to their Instagram accounts.
One man was arrested and questioned regarding Smoke's death but was determined to not have any involvement and was released. Police are still on the hunt for the two men responsible. 
What was Pop Smoke's net worth?
Though Smoke was just getting his start, he amassed an impressive fortune in his short time in the industry. His two mixtapes were hugely successful and he stayed on the road as a result of bookings.
He had several major projects in the works at the time of his death. He was scheduled to perform at the Rolling Loud music festival in May 2020.
His Meet The Woo tour was also scheduled to start in just a few weeks on March 2.
He was paid well for his shows and often showcased such on his Instagram account.
Smoke's net worth was on the rise but at the time of his death, he was estimated to be worth around $480,000.