Whoopi Goldberg on 'The View' Rosie O'Donnell Feud: 'I Don't Have Any Problem with Rosie'
When Rosie O'Donnell spoke with Howard Stern  on April 7, she addressed her feud with Whoopi Goldberg on The View. She said she saw Goldberg one time after she left the show, and it was cordial, but still awkward. Stern had Goldberg herself on May 5 and asked her side of the story.
Goldberg sees it differently. She has no ill will towards O'Donnell, nor current The View co-host Meghan McCain. Read what Goldberg had to say about both O'Donnell and McCain. The View airs weekdays at 11AM. 
Whoopi Goldberg has no problem with Rosie O'Donnell
O'Donnell co-hosted The View from 2006-2007 and again in 2015. She felt after her last stint, she could not be friends with Goldberg again.
"I don't see that but okay," Goldberg told Stern.
O'Donnell described how she felt the rift with Goldberg begin on day one, when she introduced a commercial break. She felt she had gotten on Goldberg's bad side, but Goldberg said she didn't have an issue..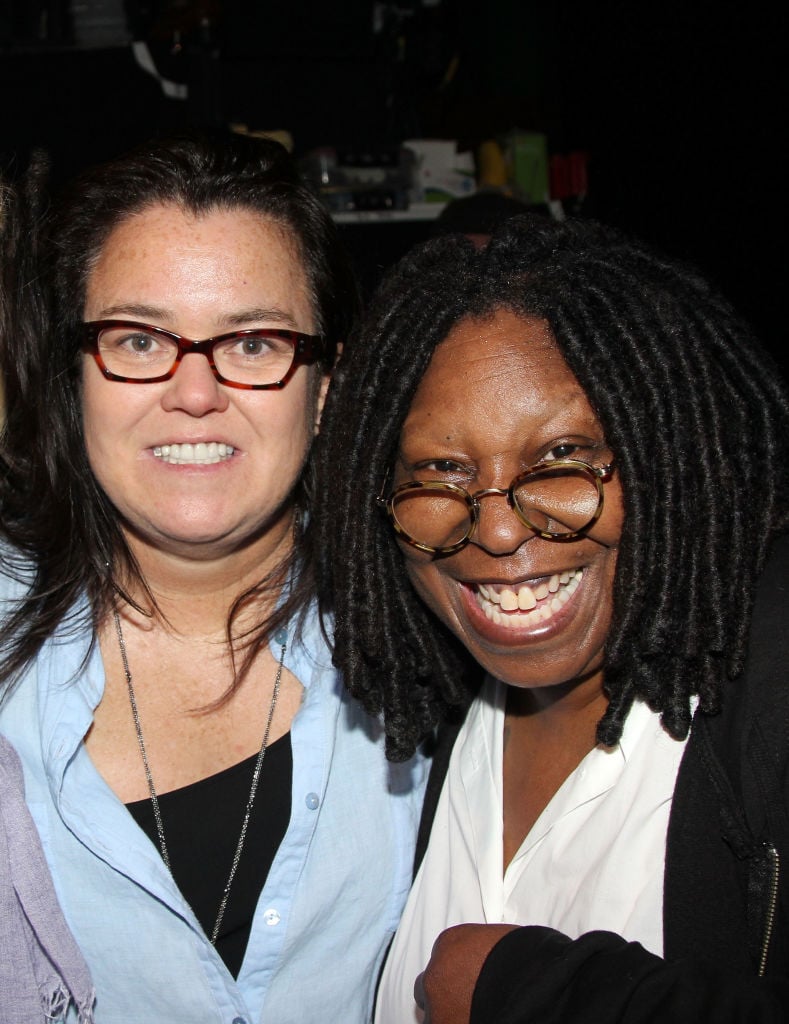 "I don't have a problem with anybody," Goldberg said. "There will always be folks that like or don't like or want to be or don't want to be. I can't really help them with that, I can just be me. I like Rosie. I've always liked Rosie. I don't have any problem with Rosie."
Whoopi Goldberg has a more businesslike view of 'The View' than Rosie O'Donnell
O'Donnell also described how her relationship with Goldberg disintegrated off camera. She said The View co-hosts formed cliques. To hear Goldberg describe it, they were all just there to work.
"Listen, we were put on a show," Goldberg said. "I did what I was supposed to do: I did my job. I don't know what anybody said to her, I can only tell you what was said to me. Basically it was, 'Go do your job.' It's like, 'Okay, I'm going to do my job.'"
Whoopi Goldberg gets along with Meghan McCain too
Goldberg and McCain have different political views, so that leads to friction on the air. That's waht The View considers good television. Even if they snipe at each other on camera, Goldberg said it doesn't annoy her.
"The absolute truth is no," Goldberg told Stern. "There's certain stuff that is not going to happen. You'll say what you have to say and you'll take care of what you need to take care of. It's not that deep. Honey, after all this time, no."
Goldberg once told McCain to stop talking on the air. Even that didn't have lingering effects.
"Yeah, but the next day we were back to who we are," Goldberg said. "Listen, it's a tough gig. Sometimes you get a little heated. Sometimes you just don't want to be bothered. Those days for me are not as often as they have been for other people, so I do what I need to do. This time, how p*ssed can I get with everything that's going on, because I disagree or I'm tired of listening? Really, is it that heavy? No, people are dying."
'The View' is not as much drama as it looks like 
Other co-hosts of The View may take it personally, and viewers definitely like to hear about all the feuds going on behind the scenes. Goldberg doesn't take it that seriously. 
"My day ends with The View at noon or at one o'clock or two o'clock," Goldberg said. "Then the rest of my life happens. It's part of my day. It is not my day."