Whoopi Goldberg Is the Only Person to Win an Emmy, Grammy, Oscar, Tony, and Nickelodeon Kids Choice Award
For many of us, Whoopi Goldberg will always be the eclectic psychic Oda Mae Brown from Ghost, a role for which she won an Academy Award. Others know her as Guinan, the wise, consoling bartender on Enterprise-D in Star Trek: The Next Generation. Since 2007, we have watched her be one of the most controversial, yet favorite co-hosts of The View.
Throughout her career, Goldberg has taken on a lot of roles, so it shouldn't come as any surprise that she is one of only 16 artists earning the coveted EGOT. But wait, there's more. She also is the only one to have earned that title plus being a recipient of a Nickelodeon Kids' Choice Award.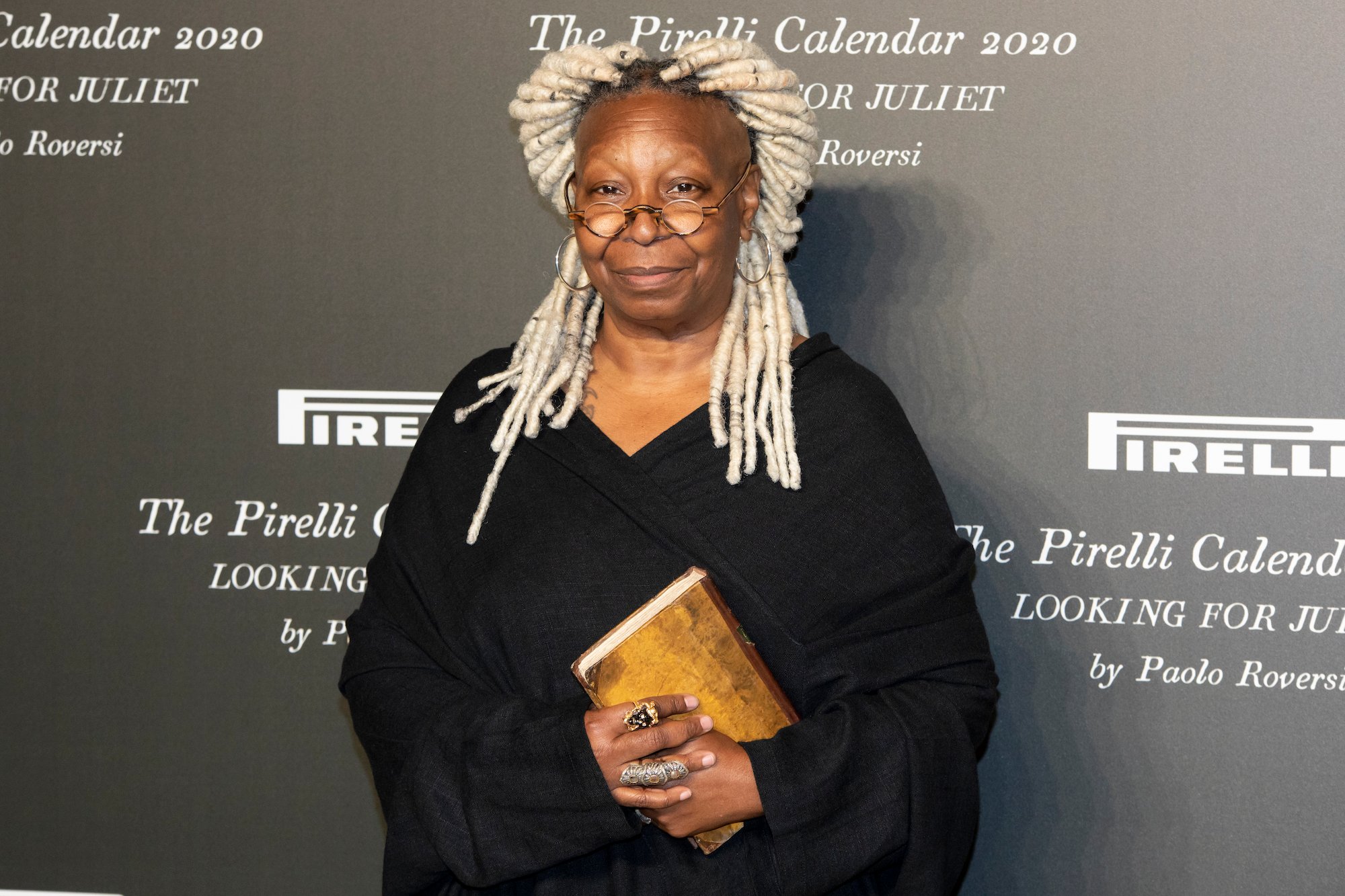 What is an EGOT and who has earned the title?
The term EGOT is an acronym for the awards Emmy, Grammy, Oscar, and Tony. Actor Philip Michael Thomas of Miami Vice fame used to wear a gold medallion with the initials. He publicly shared he wanted to win one of each award. Sadly, he was never nominated for any, according to Insider. But the acronym stuck. Actors including Rita Moreno, Mel Brooks, Helen Hayes, John Gielgud, and Audrey Hepburn are among EGOT earners along with actor/director Mike Nichols.
But the term isn't limited to actors. Composers and conductors including Richard Rodgers, Marvin Hamlisch, and Andrew Lloyd Webber each earned the title, as well as Tim Rice and Jonathan Tunick. In 2014, songwriter Robert Lopez nabbed the title, and since he is the only one to double up in each category, according to TV Insider. Producer Scott Rudin also has an EGOT.
Newest to the EGOT club are John Legend, earning his Emmy for Jesus Christ Superstar Live in Concert in 2018, and in 2020 Alan Menken received his Daytime Emmy for Outstanding Original Song in a Children's, Young Adult, or Animated Program for "Waiting in the Wings," Rapunzel's Tangled Adventure. But this isn't about them, this is about Whoopi!
How much money is Whoopi Goldberg worth?
At the age of 18, Goldberg moved from her native New York to California looking for showbiz work. She earned a Bay Area Theatre Award for portraying comedian Moms Mabley in a one-woman show, according to Biography. She moved back to New York and starred in another one-woman show, The Spook Show. She was beginning to garner attention.
Steven Spielberg cast her as the lead in the 1985 10x Academy Award-winning film, The Color Purple. Goldberg was nominated but did not receive the Oscar. Since then, she has been involved in more than 150 films and TV productions. And she has done alright for herself, with an estimated net worth of over $50 million. In 1990, there was Ghost and in 1992, she starred in Sister Act, which earned her an American Comedy Award for Funniest Actress in a Motion Picture.
The roles that earned her the EGOT plus one
In 1986, Goldberg received a Grammy for Best Comedy Recording. "Whoopi Goldberg: Original Broadway Show Recording" was made from her work in The Spook Show. Five years later came her Oscar for Best Supporting Actress in Ghost. She was half-way to an EGOT.
In 2002, Goldberg helped bring the popular musical Thoroughly Modern Millie to Broadway as the show's co-producer. That production netted her a Tony Award. That same year, Goldberg also earned a Daytime Emmy for Outstanding Special Class Special for hosting Beyond Tara: The Extraordinary Life of Hattie McDaniel. Bingo! That year brought her into the fold of EGOT bliss.
She won another Daytime Emmy seven years later, for Outstanding Talk Show Host along with co-hosts of The View including Barbara Walters, Joy Behar, Elisabeth Hasselbeck, and Sherri Shepherd. Goldberg has earned other awards including Golden Globes for The Color Purple and Ghost, and a British Academy Film Award for Ghost. But it is not only adults who appreciate her talent. Goldberg has won the Nickelodeon Kids' Choice Award four times – in 1988, 1989, 1992, and 1993. Top that!