Who's Everyone In Kendall and Kylie Jenner's Friend Group?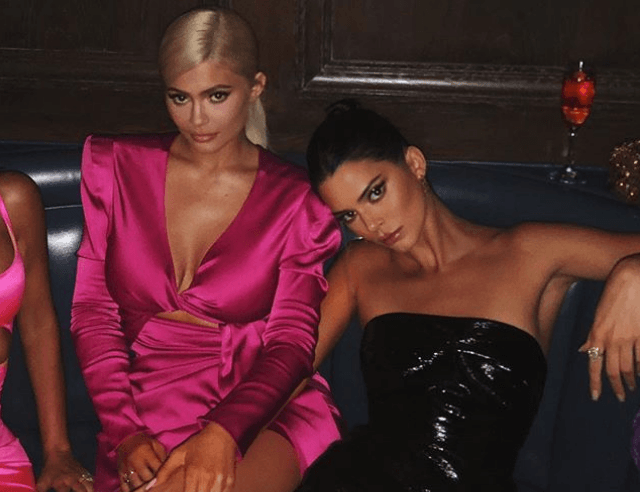 The youngest members of the Keeping Up With the Kardashians family, Kendall and Kylie Jenner, are part of a super tight-knit group. However, we aren't referring to their older sisters, Kim, Kourtney, and Khloé Kardashian. Kendall and Kylie have an impressive friend group, filled with other celebrities and popular socialites.
Once upon a time, however, Kendall actually didn't have that many friends — and she was super jealous of Kylie for having so many. She admitted on the Beats 1 radio show, ZAZA WORLD RADIO, "I remember there was a time when I was in middle school, even high school a little bit, I didn't have that many friends."
She added, "I was sitting in my room a lot of days crying because Kylie had so many friends, and I didn't know what to do, and it's gonna make me emotional right now. I really was like, 'I'm never gonna have friends,' and to look at my life now, it's so crazy." Here's a rundown of everyone Kendall and Kylie consider their BFFs.
Cara Delevingne
https://www.instagram.com/p/BmTo_mwA5Yu/
Kendall's friendship with supermodel and actress Cara Delevingne is super adorable. They're always posting photos together, and they've even dressed up in themed Halloween costumes together. They once dressed up as Mario and Luigi, and are now featured in Madame Tussaud's Wax Museum in their costumes.
Hailey Baldwin
Even though Hailey Baldwin is now attached at the hip of Justin Bieber, she's still an official member of Kendall and Kylie's friend squad. She's also a model, so it's no surprise that they all get along so well. She and Kendall actually have matching tattoos, so you know their friendship is here to stay.
Gigi and Bella Hadid
We love that Kendall and Kylie have fellow-sister BFFs in their group, Gigi and Bella Hadid. Both Hadid sisters are supermodels, so Kendall gets to spend a ton of time with them. The Jenner and Hadid sisters are actually even distantly related to each other, according to Teen Vogue.
Gigi and Bella's ex-stepdad, David Foster, was once married to Caitlyn Jenner's ex wife, Linda Thompson. We're not exactly sure what that makes them, but at this point, they're basically all sisters.
Kendall actually told Allure that she, Gigi, Cara, and Hailey all have a totally dorky squad name: the "Supernatural Friend Group." She explained, "This is going to sound really, really lame, but we all call ourselves the Supernatural Friend Group because we all have such cool individual lives and we've been dreaming about them since we were so young."
Jordyn Woods 
Model Jordyn Woods is definitely one of Kylie's closest friends. They've even teamed up on a Kylie Cosmetics x Jordyn Woods makeup collection, so you know their friendship is definitely solid. Oh, and Kylie casually bought Jordyn a Mercedes Benz for her birthday.
Other friends in their group
Harry Hudson: You may know Harry Hudson from Kylie's Snapchat videos. He may not be a model like many of the Jenner sisters' friends, but he is a musician.
Pia Mia: Pia Mia is another musician friend of Kylie's, with songs such as "Touch" and "Do It Again."
Justine Skye: Kylie clearly has a thing for musician friends, as Justine Skye is a singer in her friend group.
Anastasia "Stassi" Karanikolaou: Kylie has been friends with Stassi for years. They met at a party, and they've been close ever since. Kylie even once said of her, "You've been the most consistent and loyal friend in my life. And I feel like without you, I wouldn't be the person I am today. Because I wouldn't be weird anymore. I'd be trying to be normal."