Why 2 Brilliant Lennon-McCartney Songs Never Made It Onto 'Sgt. Pepper'
When it comes to the Beatles' landmark Sgt. Pepper's Lonely Hearts Club Band, most people think of 1967. After all, the album hit record stores in June of that year, and you could hear the sounds of "A Day in the Life" coming through open windows all summer long.
But work on the record began much earlier. Following the Beatles' final tour in the summer of '66, the band took a much-needed break and met up in the studio with plans to try something completely different.
For starters, it meant creating music they could only play in a studio (as opposed to a stage). And they'd spend as much time as it took to get it right. If that meant going for two weeks on a single song, that didn't faze them.
However, Beatles manager Brian Epstein wanted to keep the cash flowing as it had in previous years. When John Lennon and Paul McCartney produced masterpieces early in the Sgt. Pepper sessions, saving them for the album seemed pointless. So Epstein sent them out together as an epic single.
The Beatles' manager had gone into a 'panic' after 6 months without a single.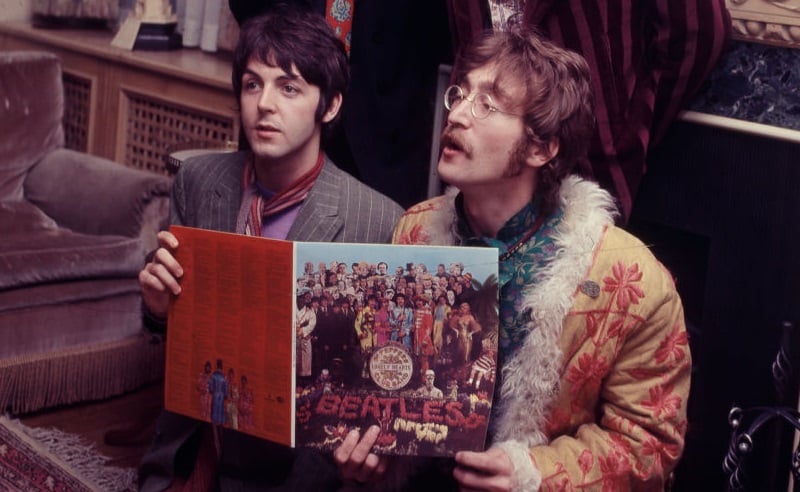 Looking back to early '67, it might sound preposterous that Epstein was fretting about his band's standing. But that was the situation — Epstein even considered The Monkees a grave threat to the Fab Four. So he called George Martin (the band's producer) and asked for a hit.
"'We need a single out, George, fast! What have you got? I want the best thing you've got,'" Martin later recalled Epstein saying with "a tinge of panic" in his voice. "He was determined to make up any lost ground, to keep The Beatles firmly in the limelight's brilliant blaze."
As the pages of the calendar flipped to 1967, it had been nearly five months since The Beatles had a release for fans. Given the power of the groundbreaking Revolver (released August of '66), five months seems like an incredibly short time to wait for more.
But that was Brian Epstein in a nutshell, and considering the wild success he'd had with the Fab Four no one second-guessed his methods. So Martin packaged together two of the greatest songs John and Paul ever wrote. They went out as a "double A-side" single in February '67.
The 2 tracks would have made 'Sgt. Pepper' an utter blockbuster.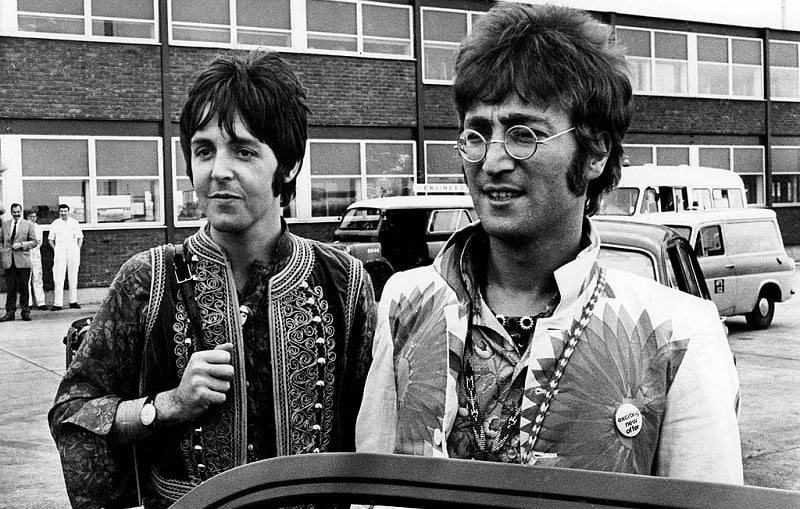 Martin, who rarely erred during his long run with The Beatles, knew exactly what he could do for Epstein. "I decided to give him a super-strong combination, a double-punch that could not fail, an unbeatable linking of two all-time great songs: 'Strawberry Fields Forever' and 'Penny Lane.'"
On the first day of the Sgt. Pepper sessions, John had knocked out band and producer alike when he debuted "Strawberry Fields" in the studio. The band's sound engineer declared "a masterpiece" as soon as he heard the opening notes. And "Penny Lane" was just about its equal.
The double single of "Penny Lane" and "Strawberry Fields" hit its mark, rocketing to No. 1 in America and No. 2 in the UK. They even came with promotional videos that remain entertaining to this day. So everything became right again in Beatleland as far as business was concerned.
Still, it's somewhat disappointing that these two tracks didn't make it onto Sgt. Pepper. While the album is rightly celebrated as a industry-altering release, it would have reached another level had it included "Penny Lane" and "Strawberry Fields" rather than, say, "Good Morning Good Morning" and "She's Leaving Home."
Speaking with Playboy's David Sheff in 1980, John Lennon pushed back on the way Sgt. Pepper has been received over the years. "Sgt. Pepper is called the first concept album, but it doesn't go anywhere," he said. "All my contributions to the album have absolutely nothing to do with this idea of Sgt. Pepper and his band; but it works 'cause we said it worked."
In other words, it would have worked fine with "Strawberry Fields Forever" and "Penny Lane." And, to the ears of most Beatles fans, it would have worked even better.
Also see: The Paul McCartney 'Revolver' Songs That Even John Lennon Raved About