Why 50 Cent Is Trolling Taraji P. Henson
50 Cent has become just as known for his internet trolling antics as he has for his music and television career. He's had a vicious feud with his ex, Vivica A. Fox, that never seem to end. He's even said hurtful comments to his own Power star, Naturi Naughton, that he later apologized for.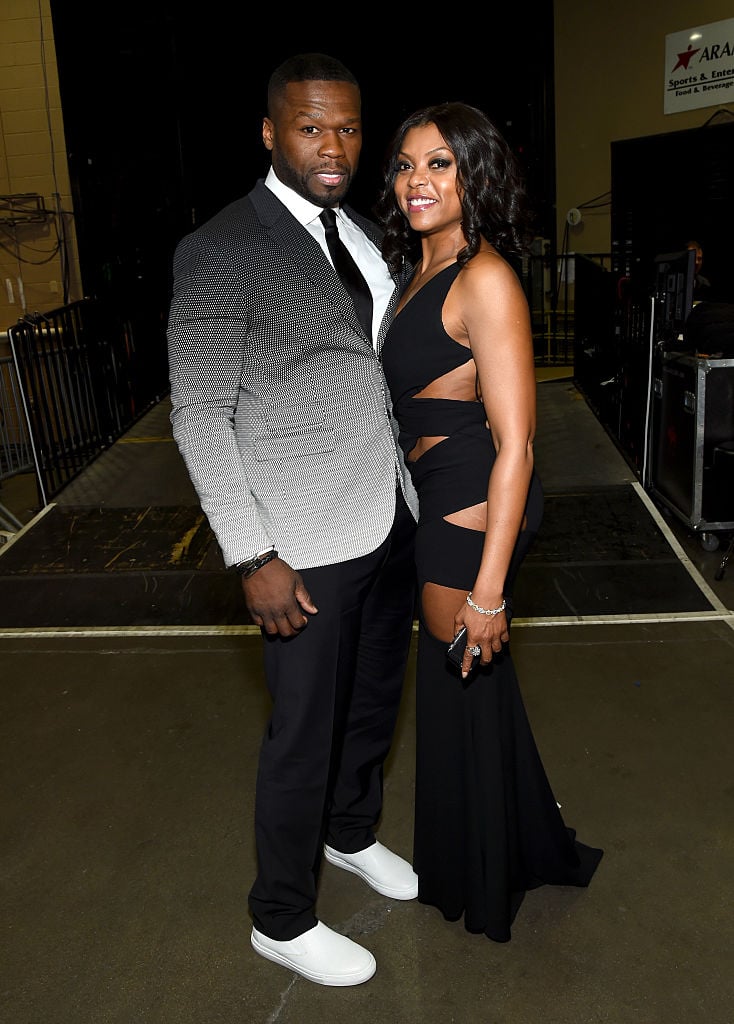 But one person who is not so quick to forgive 50 Cent for his sometimes messy ways is Empire star, Taraji P. Henson. Now, 50 Cent is taking his internet trolling skills to a new level. 
The issue dates back to 2015 when 50 Cent accused 'Empire' of being a rip-off of 'Power
50 Cent first accused the creators of Empire of copying off of his Starz drama, Power, in 2015. According to the rapper turned executive producer, the show used similar marketing ploys.
"Their show is … the artwork was very similar they used 'power' in the tagline  … they didn't have to do that," he told the Television Critics Association. While he was vocal about his feelings, Power creator, Courtney Kemp, preferred to stay out of the drama.
"I don't have an opinion [on the back-and-forth]. I think the comparison doesn't do a favor to either show," she said. "It's not fair to them and it's not fair to us, because they've been in development for a long time, we were in development for a long time."
Kemp was right, though both shows debuted only months apart – with Power first airing in June 2014 and Empire premiering in January 2015 – the road to production was long. Power was first announced it was greenlit in June 2013 by Deadline. 50 Cent had thought of the concept for the show over dinner with producers Canton and Randall Emmett and worked it for several years before finding a home. Empire was picked up by FOX in January 2014 as a pilot order.
The cast of Empire was initially silent but that would soon change.
Taraji P. Henson responds to 50 Cent about 'Empire' vs. 'Power'
Henson soon responded to 50 Cent's claims on Twitter. "I pay attention to $'s NOT cents," she joked. She later delved more into his comments when speaking to The Wrap and chalked it up to 50 Cent creating a media frenzy for publicity.
"50 Cent is a comedian," she said. "He loves to push buttons. He's a funny guy. I never took offense to it. If anything, I thought he was trying to jab at him [Terrence Howard]. He's jealous of his looks."
Both shows were massive hits for their networks but that didn't stop 50 Cent from taking shots. Henson would later say that there was room for both shows as the storylines are vastly different and air on different networks. Power airs on cable television while Empire is on primetime television. 
50 Cent trolls Taraji P. Henson on Instagram after she speaks out
FOX announced that the 2019-2020 sixth season of Empire would be its final season. Power creators also shared that its sixth season would be the last and announced a spin-off on the Starz network. Though in their last season, Henson recently opened up to T.I. on his popular podcast, expediTIously, where she spoke about the disappointment she felt towards 50 Cent for starting the Empire vs Power "beef."
"Our show has nothing to do with his show," she told T.I. "We're talking two different subject matters. Then again 50, do you know what the f**k I had to do to get here? Why tear down another black person? For competition? There are a million other shows you can compete with. To do that publicly? It's embarrassing."
50 took to his Instagram account to respond to Henson's comments. He started off with an apology; but, in typical 50 Cent fashion, his "apology" came with more shade.
"This is my sincere apology I did not mean to hurt your feelings in anyway. I love your work and I think you are amazing," he began. "I'm sorry no one is watching your show anymore….I have met with the top executives at Fox and sold them(The Notorious Cop) it's the show that is replacing yours…but I really want to work with you."
As if that wasn't enough, 50 Cent wasn't done with his trolling session. He posted another photo of an alleged Walk of Fame ceremony he is part of for Jan. 30 and captioned it, "you guys are all invited expeditiously," which was a jab at Henson appearing on T.I.'s podcast.
He then alleged that T.I. signed on to star on the show that he says is replacing Empire on FOX in a follow-up post.
In a final blow, the hip hop mogul posted a photo of Henson with her former Empire co-star, Jussie Smollet, writing in part, " I didn't destroy your show it destroyed itself." His post was in regards to the Smollett scandal in which he was accused of lying to the Chicago Police Department and filing a fake report alleging he'd been beaten in a racially and homophobic charged attack. 
Henson has yet to respond to 50 Cent. Hopefully, she takes the high road and doesn't resort to the back and forth pettiness.