Why a Former 'The View' Host Called Laura Ingraham 'Chickens–t' on Live TV
As runs on The View go, Nicolle Wallace's stay on the show was among the shortest. She co-hosted alongside Rosie Perez, Raven-Symoné, and Whoopi Goldberg during that ill-fated second coming of Rosie O'Donnell.
That was a rough era at The View (2014-15), but during Wallace's time she got close to Whoopi — so much so that Whoopi was furious when producers pushed Wallace out at the end of her first season. But Wallace didn't stay out of work long.
The former communications director for the George W. Bush White House next began working as a political analyst at NBC. And in 2017 she got her own show, Deadline: White House, on MSNBC.
On October 29, after running a clip of the previous night's Laura Ingraham show, Wallace gave her viewers a taste of how The View might be if it didn't run on a big-three network. indeed, Wallace made a point of saying the s-word for all to hear.
Wallace referred to Ingraham and 2 of her guests as 'chickens–t' on 'Deadline'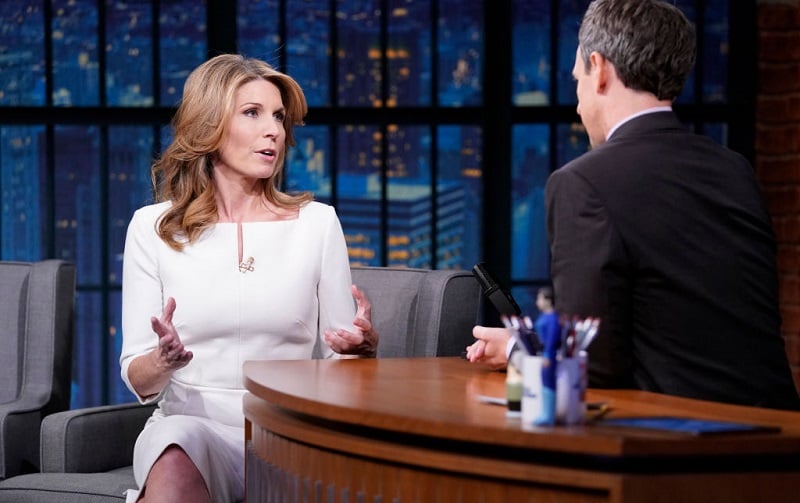 On yesterday's edition of Deadline, a visibly angry Wallace played footage from The Ingraham Angle of the previous night. Ingraham devoted the segment to questioning the motives of Lt. Col. Alexander Vindman, who's been working on Donald Trump's National Security Council.
After speculating wildly about Vindman's loyalty, her guest John Yoo took it to another level. "I find that astounding, and some people might call that espionage," Yoo said.
After playing the clip, Wallace said, "Except those people aren't chickens–t like the three of you." (The third was Allen Dershowitz, who was grinning through the exchange.)
You figure a former White House comms director would know exactly what she was saying live on the air. So no one will argue Wallace slipped when she unloaded on Yoo, who also worked in the Bush White House. (Yoo, a professor at Berkeley, later walked back his comments.)
Indeed, the measured tone and calm delivery suggests she wanted to make her point using this very specific word. And there's unlikely to be any consequences, as far as the Federal Communications Commission (FCC) goes.
FCC rules about profanity don't apply to cable networks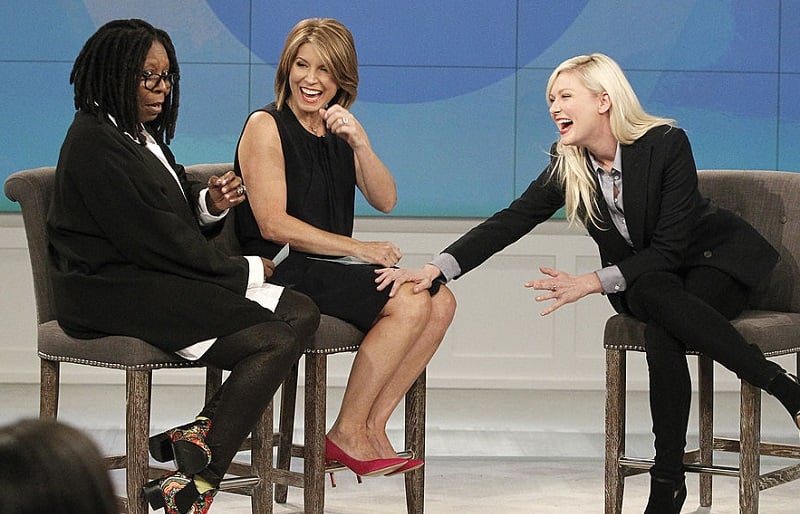 If you curse on the air, you may be subject to a fine from the FCC. But since cable networks like MSNBC are not subject to the same profanity rules as broadcast TV networks (NBC, ABC, etc.), Wallace will likely not face any fines for her word choice.
When Robert De Niro said the f-word on CNN in late September, this subject got some press. Asked for his response to critics at (again) Fox News, De Niro said he didn't care. "F–k 'em," the Oscar-winning actor said (twice) on Brian Stelter's Sunday show.
"This is cable, so it's not an FCC violation, but it is still Sunday morning," Stelter replied (apparently protecting the ears of his young, media-critic audience). So if De Niro got away with two f-bombs, we don't see Wallace facing any punishment from the FCC.
Also see: How Samuel L. Jackson Told Leo DiCaprio to Handle the N-Word on 'Django Unchained'