Why Aaliyah and Jay-Z Stopped Seeing Each Other
At this point, Jay-Z and Beyoncé have been together for so long that it's hard to imagine him with anyone other than the "Halo" singer. But before they were crazy in love, Jay-Z reportedly dated R&B princess, Aaliyah. 
Jay-Z and Aaliyah were an alleged item for at least a couple of months, a period in which they were seen hugging and sharing intimate moments on several occasions. But despite their undeniable chemistry, the reported romance eventually fizzled out. Keep reading to find out why.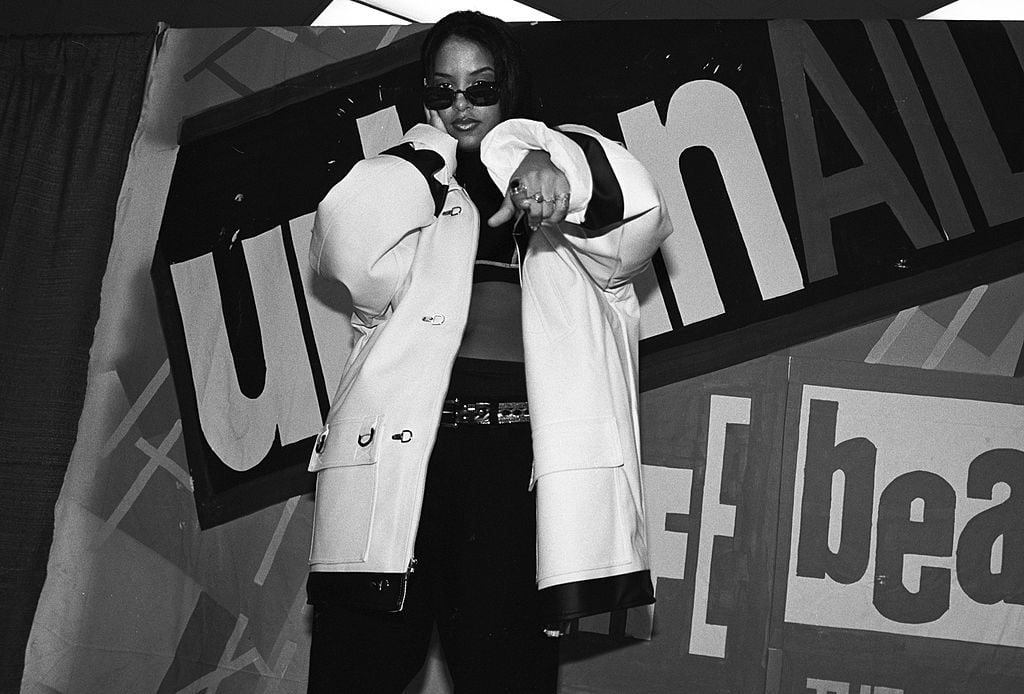 A recap of Jay-Z and Aaliyah's alleged relationship
According to multiple reports, Jay-Z took an interest in Aaliyah in 1999. At the time, she was 20 years old. 
Judging from a few photos, the entertainers enjoyed each other's company and seemed like they were on their way to becoming the next celebrity "it" couple. But there was a problem: Jay-Z's then-business partner, Damon Dash, had also taken an interest in the singer.
"Dame went behind [Jay-Z's] back and hollered at [Aaliyah]," producer Choke No Joke, who worked at Roc-A-Fella Records with Dash, revealed on The Starr Report in January of 2019 (via The Source).
Wait, did Dash really ruin Aaliyah and Jay-Z's alleged romance?
It seems like Dash has not directly addressed the above claim, but he has suggested that it's true.
"I was going at her, and Jay was going at her," Dash recalled to Hip-Hop-Motivation (via The Daily Beast). "He knew her before I did."
But, in the end, Dash ultimately won Aaliyah over.
"It was just a situation where Aaliyah was the type of girl that would give you a shot. She didn't care what people thought or whatever. So, she'll date you and be your friend. You might end up in the friend zone. A lot of times, that's what happened. You weren't just going to hit that. At least in my experience. Somebody may have had a different experience at a different time in her life," Dash continued.
The hip hop entrepreneur would go on to date Aaliyah until her untimely death in 2001. While they weren't officially engaged, Dash later admitted he and Aaliyah had planned on tying the knot before she perished in a plane crash.
Aaliyah and Jay-Z remained friends
Although their alleged romantic relationship did not work out, reports suggest that Aaliyah and Jay-Z still shared a platonic bond.
Rolling Stone reports that two weeks before her death, the "Hot Like Fire" singer visited and hung out at the home that Dash shared with the Tidal investor. And, when she died, the 4:44 rapper attended her funeral to pay his respects.
Jay-Z moved on with Beyoncé
About a year after he pursued Aaliyah, Jay-Z met Beyoncé at MTV's Spring Break festival in Cancun, Mexico. He revealed in the 2018 song "713" that he and the Survivor crooner had sat next to each other on the flight home to New York, but didn't really connect for another two years.
"We played it cool at the pool of the Cancun, VMA / Confidence you exude make the fools stay away Me, I played my room, let the fools have they say," he raps in the song. "Fate had me sittin' next to you on the plane / And I knew straight away, uh."
"The next time we would speak was like two years away / You had a man, you shut it down until you two had a break / I bet that dude rued the day," he continued. "You kept me up on the phone while you were away / You came back, I let you set the date, Nobu on the plate / I brought my dude to play it cool, my first foolish mistake."
Eight years after they met, Jay-Z and Beyoncé tied the knot in a secret ceremony in April of 2008.
You can find more fun facts on Aaliyah here.