Why Absolutely No One Wants a 'New Jack City' Remake
In the "Why, Holllywood, why?" news department, we learned that a New Jack City remake is coming. The wave of remake announcements in the past seven to ten days has justifiably been met with some skepticism.
There was the false alarm over The Princess Bride, the House Party news, and mixed reactions about The Craft.But New Jack City? Oh no. If you found anyone celebrating this decision, let us know where.
The general consensus is that this is one of those movies (among many others) that belongs in a highly secured vault replete with infrared laser detectors, Cerberus the three-headed dog, and "U Can't Touch This" playing on repeat to scare intruders away. Why?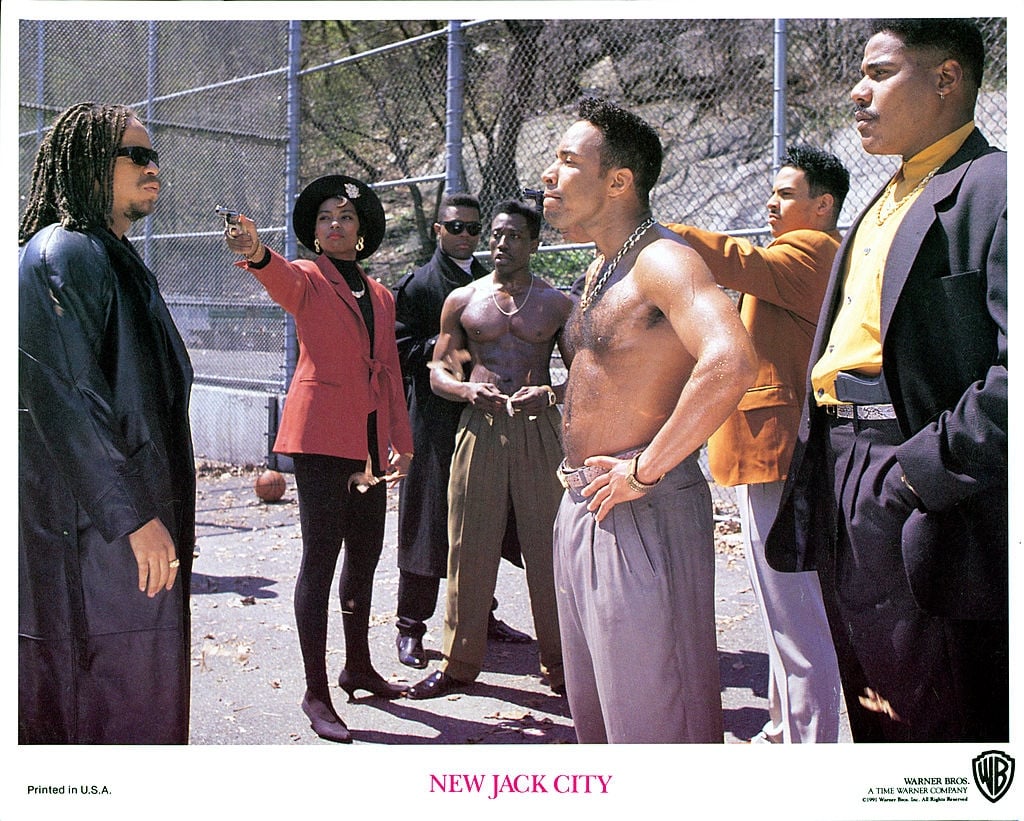 It's a certified classic
During the '90s, films with hip-hop embedded in the them were the stories many of us wanted to see. But the greatness of New Jack City went beyond its soundtrack; it was the story. When it came out 1991, it was relevant for the times.
Drug kingpin Nino Brown, profiting off of the crack epidemic in Harlem with his Cash Money Brothers clique, was pit against two cops—one with a grudge—looking to take him and his entire enterprise down.
New Jack City was a modern gangster tale that didn't just showcase the dangerous and glamorous sides of selling drugs, but the obvious (and still relevant) downsides of the drug game were depicted: murder, violence, addiction, poverty, and broken relationships.
On top of that, the film is full of quotable lines and influential elements that are still part of pop culture. Cash Money Records and Lil Wayne gleaned names and places from New Jack City, and you can still find people who reference Nino Brown's character. The film is a staple in hip-hop culture.
When news dropped about the remake, fans—famous and unknown—were quick to protest the idea. The Breakfast Club's Charlemagne weighed in with his opinion in the clip below.
Even critics loved it
Robert Egbert, one of the foremost movie critics during that era, wrote an extensive, favorable review of New Jack City that compared it to Scarface. He gave it 3.5 stars out of four, stating:
"By the end of the film, we have a painful but true portrait of the impact of drugs on this segment of the black community: We see how they're sold, how they're used, how they destroy, what they do to people.

Truffaut once said it was impossible to make an anti-war movie, because the war sequences would inevitably be exciting and get the audience involved on one side or the other. It is almost as difficult to make an antidrug movie, since the lifestyle and money of the drug dealers looks like fun, at least until they're killed. This movie pulls off that tricky achievement. Nino, who looks at the dead body of Scarface and laughs, does not get the last laugh."
Variety called it a "provocative and pulsating update on gangster pics," while London's Time Out called the thriller "a superior example of what used to be called blaxploitation, with Van Peebles piling on corruption and carnage for all he's worth."
The cast of 'New Jack City' made the movie
The film marked the feature directorial debut of Mario Van Peebles, who also starred in it as a detective. Appearances from singer Christopher Williams, Flavor Flav, Keith Sweat, and reggae star Eek-A-Mouse helped packed the cast list with musical figures.
But this was a breakout role for Wesley Snipes, who impressed the movie's writer when he played the bad guy in Michael Jackson's "Bad" video. After the success of this movie, Snipes went to become a star.
Chris Rock's role as Pookie in New Jack City is forever cemented in fans' minds, and so is Allen Payne as Gee Money, Nino Brown's right hand. Ice-T, who was a gangsta rapper at the time, flipped things by playing an undercover cop alongside Judd Nelson.
Bill Nunn was a regular in Spike Lee's films but became part of the Cash Money crew as the Duh Duh Duh Man. And we don't think we've seen Vanessa A. Williams play a role as hard as trigger-happy Keisha.
We're not sure who would be able to fill all these shoes in a remake, because one of the things echoed by fans and critics is that Snipes made his character chilling, charismatic, and complex.
Who's behind the 'New Jack City' re-do?
According to Deadline, Warner Bros. has already lined up a writer for the film: Snowfall actor Malcolm M. Mays. Viewers may recognize him as Kevin Hamilton from the show. Mays is an experienced filmmaker who's written, produced, and/or directed projects such as Ferguson, Trouble, and Open Door.
He's also set to direct Flint, a movie about the Michigan community facing a water crisis. Per Deadline, the New Jack City reboot has not enlisted a director yet but one of its original producers, Doug McHenry, is on board.
With things already under development for this one, New Jack City might make it to theaters in spite of the opposition to having it redone. Many fans already have their minds made up that it's untouchable, so it will be interesting to see how that translates at the box office.