Why Aerosmith's Steven Tyler Ties Scarves Around His Mic Stand
Steven Tyler has a unique style. The Aerosmith front man isn't afraid to be different and show who he really is. One thing Tyler is known for is tying colorful scarves around his mic stand. Here's why he dresses up his microphone stand.
Steven Tyler calls his microphone stand his 'girlfriend'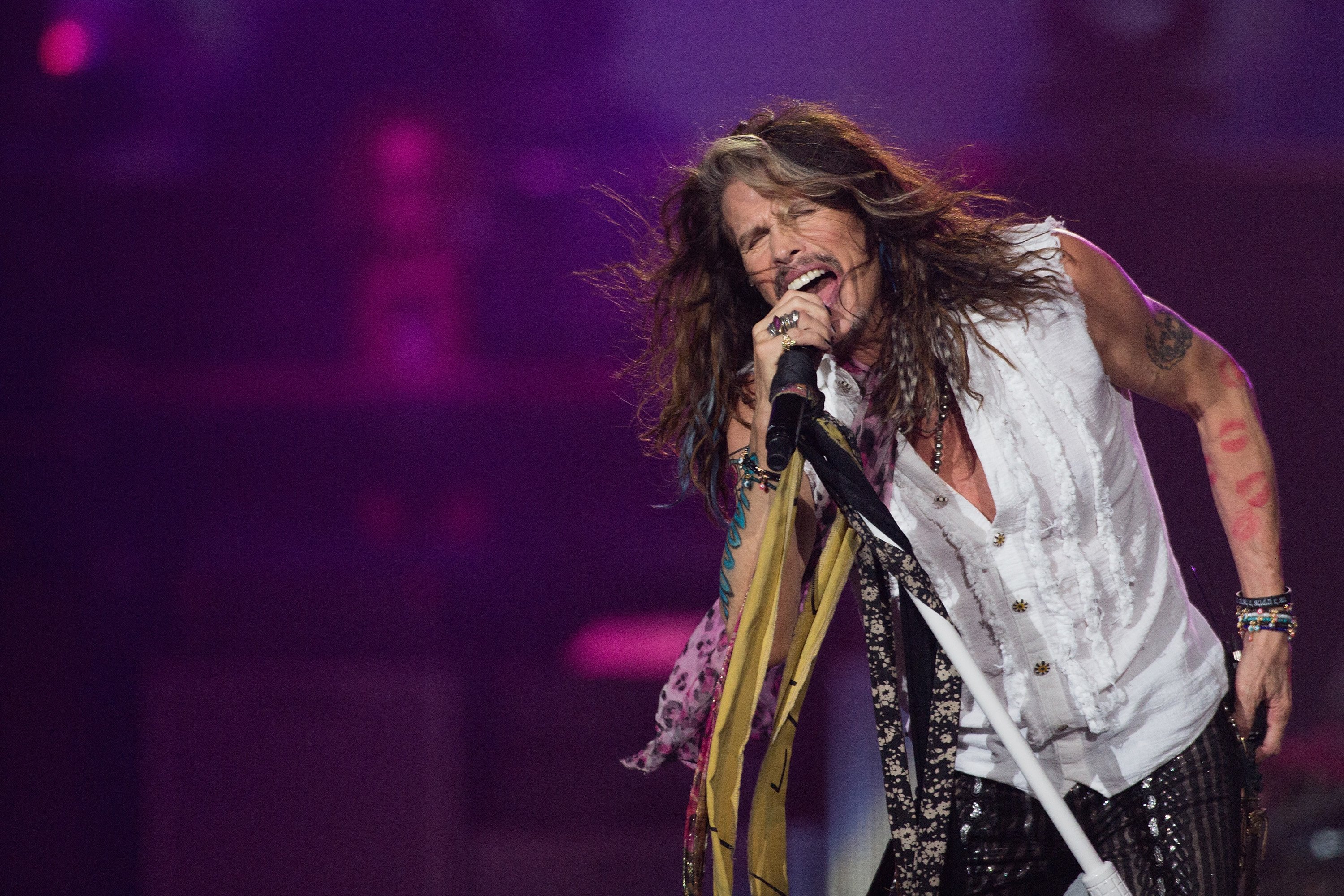 During an interview with Stephen Colbert, Tyler spoke about his charitable organization, Janie's Fund. The organization helps abused children. He raised awareness for the fund by sending his mic stand to stars such as Elton John and Bono, and asking them to tweet about his cause.
Tyler brought his mic stand to Colbert's show, during which he referred to the stand as his "girlfriend." He showed the talk show host how to do some rock moves with the stand. As usual, the mic stand was decorated with bright scarves.
Why Steven Tyler ties scarves around his mic stand
Tyler revealed how he started tying scarves around his mic stand. He told Blender magazine he began decorating his stand early in his career.
"Very early on, I had a favorite macramé shirt that I wore on stage all the time and an Indian scarf in my hair," he tells Blender magazine in the March 2007 issue (via BlabberMouth.net). "The shirt and scarf got worn out and torn off me eventually."
Instead of throwing the shirt and scarf away, Tyler decided to keep them and make them part of his performance. "[I] hung them on the mic stand for good luck," continues Tyler. "Must be the gypsy in me."
Tyler's scarves used to have a dual purpose. In addition to adorning his mic stands, the scarves served as containers for drugs. It was revealed in Aerosmith's autobiography that "little pockets" were sewn inside the scarves. "I'd weight them with Quaaludes and Tuinals," wrote Tyler. He says he placed the drugs in the scarves so that he wouldn't run out.
Steven Tyler's country music debut
Tyler made his country music debut when he released his 2016 album We're All Somebody from Somewhere. In 2018, his documentary, Out on a Limb, aired. It told the story of his move to Nashville to record his country album.
When asked why he decided to do a country album, Tyler says he's always been fond of country music. It has been part of his life for years. "A bunch of songs that Aerosmith has written, I kind of laid that over it because I grew up with the Everly Brothers, Janis Joplin," says Tyler during The Bobby Bones Show. "I grew up with all that country music under my belt."
Tyler went on to say that he listened to country music when he was a child. He makes it clear his country album wasn't recorded on a whim. "It wasn't necessarily me stepping into some cowboy boot," says Tyler. "It was just natural for me."
Follow Sheiresa Ngo on Twitter.