Why Aerosmith's Joe Perry Thought Jimmy Page Was Such a Brilliant Guitar Player
When Led Zeppelin's run ended in 1980, it closed the book on one of rock's most potent forces. If you wanted an idea of how influential Zep was on the scene, all you had to do was gaze at the steady stream of imitators on MTV in the decade following the group's demise.
But the imitations didn't begin with '80s bands like Whitesnake. (Robert Plant once referred to David Coverdale, Whitesnake's singer, as "David Cover-version.") In Hammer of the Gods, Stephen Davis noted how music fans would joke that Heart made a top-notch Zeppelin single with 1977's "Barracuda."
And when Aerosmith's Steven Tyler and Joe Perry spoke at Led Zeppelin's Rock & Roll Hall of Fame induction ceremony in 1995, they acknowledged the long shadow the band had cast. "Aerosmith wouldn't exist in its present form without Led Zeppelin's continuing inspiration," Perry said.
And Perry had plenty more praise for Zep's guitarist, Jimmy Page. "You could put Jimmy Page up against any guitarist in the world," he said. But he wasn't close to finished.
Joe Perry marveled at Jimmy Page's fearlessness with the guitar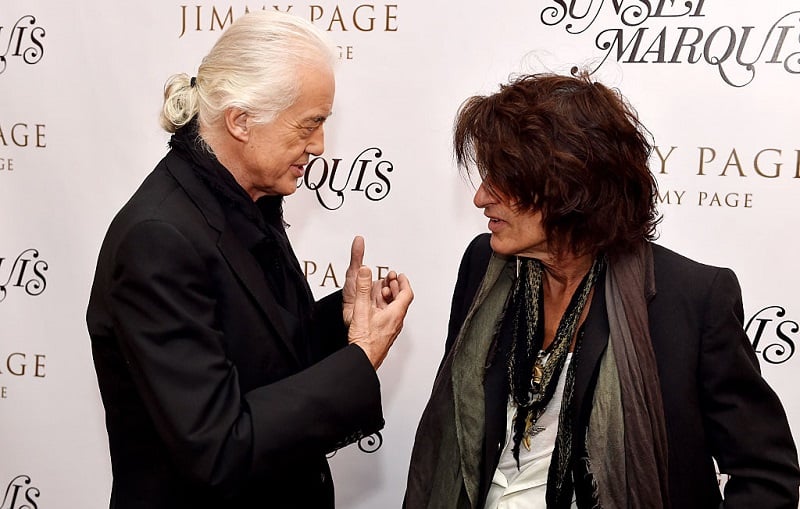 After he celebrated Zeppelin as a whole, Perry turned toward Page, who's obviously an idol of the Aerosmith guitarist's. "I learned a lot from Jimmy Page," Perry said. "The best lesson was, 'Don't be afraid to play any instrument, stringed or otherwise.'"
Perry then ran down the ways Page showcased his technique while in Zeppelin. (The list included slide guitar, 12-string guitar, mandolin, and the Theremin.) But the fearlessness in Page's playing also came up when Perry wrote about him for Rolling Stone's "100 Greatest Guitarists" list. (Page sits at No. 3.)
"The solo on 'Heartbreaker' has such incredible immediacy," Perry wrote."[Page] is teetering on the edge of his technique, and it's still a showstopper." Indeed, that bit about Page playing "at the edge of his technique" is something you hear guitarists talk about (i.e., his mistakes) when discussing Page.
But Page never minded leaving mistakes on Led Zeppelin records (live or otherwise). He said you got to be "reasonably honest" about your playing, and when recording solos he'd usually try three and just pick the one he liked best. In other words, Page prioritized feeling over technical perfection.
Perry also lauded Page for his writing and producing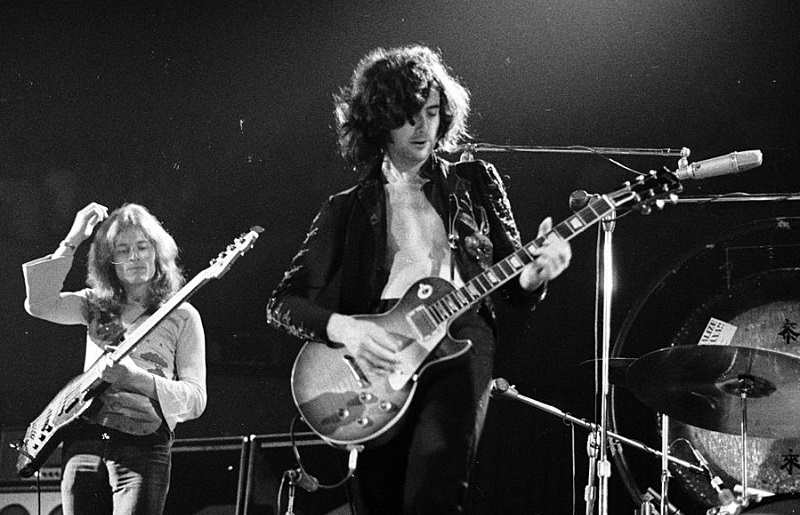 The more you learn about Page's work in Zeppelin, the more you realize that guitar-playing was only of the things he did (and did extremely well) in the band. For starters, Page produced every Zep album himself. No one can picture John Lennon producing Beatles records, but that's what Page did with his juggernaut of a group.
He also wrote most of the songs. If you check the credits on Zeppelin originals, you'll find Page's name with a share on nearly every track. (A few exceptions came on the soft tracks on 1979's In Through the Out Door. And Page didn't really like them.) Joe Perry acknowledged these aspects of Page's Zep contribution as well.
"You can't look at just his guitar playing," Perry wrote in Rolling Stone. "You have to look at what he did with it in the studio. He was writing the songs, playing them, producing them – I can't think of any other guitar player since Les Paul that can claim that."
Also see: What Robert Plant Was Singing About on the Led Zeppelin Classic 'The Ocean'