Why Amy Schumer Wants to Be Kim Kardashian West's Next SKIMS Model
Find out why Amy Schumer is down to be a model for Kim Kardashian West.
Kim Kardashian West is much more than a reality TV star. She is a mother, wife, future lawyer, and businesswoman, having launched several business ventures solo or with her family, including her successful makeup line KKW.
In September of last year, she launched yet another business all her own, her shapewear line, SKIMS. Originally named "Kimono Solutionwear," Kardashian pivoted after critics accused her of cultural insensitivity. Controversy aside, Skims is up and running, and celebs like comedian and actress Amy Schumer are in love.
What is Skims?
Skims main product lines consist of shapewear or what Kardashian West calls "solutionwear" designed for bodies of all shapes and sizes. Products include shorts, bras, underwear, and bodysuits designed to help wearers look more slim and shapely while still feeling comfortable.
Customers can shop by support level and choose items from a wide range of skin-toned colors.
Skims also offers loungewear, of which the cozy knitwear collection is extremely popular among some celebrity fans. Glee's Lea Michele posted wearing hers on Instagram with the caption: "Finally got my hands on a  pair of @skims they are so cozy! I'm never taking this off!" Jessica Alba shared a similar sentiment, and even Chrissy Teigen posted a selfie in her cozy wear.
Many items on the site are so popular that they are currently out of stock, with the promise to be restocked again my March 23rd.
Amy Schumer posted a shout out to Kim Kardashian West and Skims on Instagram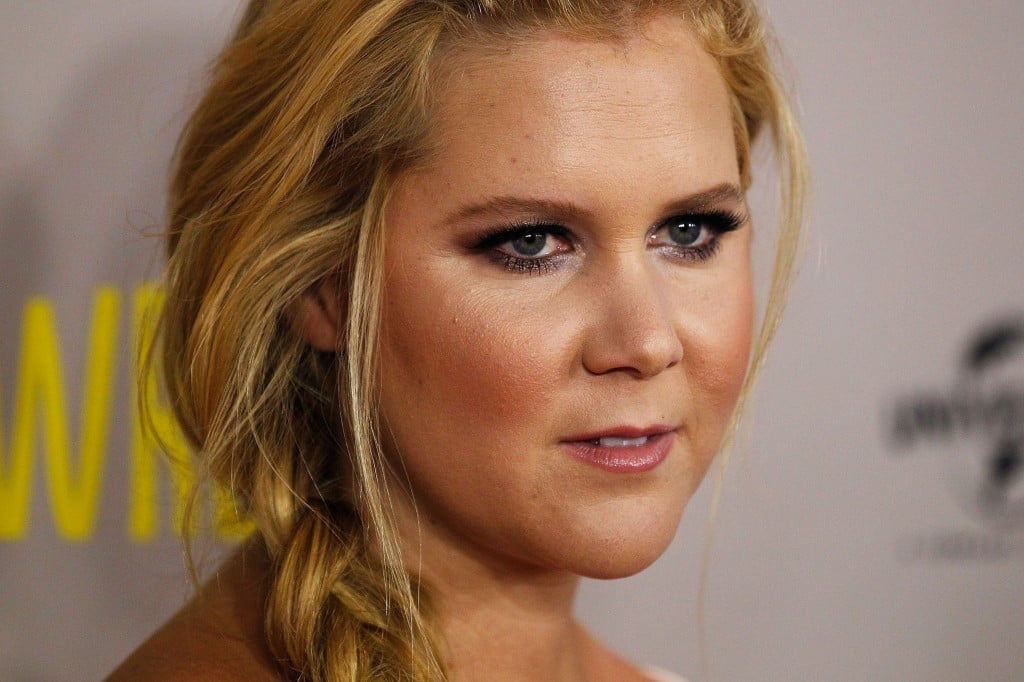 Amy Schumer's posts on social media are quite often genuine, heartfelt, and show off her oddball humor. She has been very open about her struggles through IVF and a difficult pregnancy while maintaining her sense of (often self-deprecating) humor.
The mother of one posted a photo of herself wearing nude Skims shorts under a white t-shirt leotard with the caption: "YEEZY" in bold letters, followed by, "@kimkardashian @skims. I am here and I will walk the runway."
Kardashian West was elated by the shoutout, reposting it to her own Instagram story with the caption "I love her!!!!!!! @amyschumer."
Skims had its runway debut back in February when models were bussed to a New York City Nordstrom. They strutted into the store in matching black bob wigs leading some news outlets to call them "Skims clones." The showing was dramatic, with around two dozen models piling onto a stage, blending in with matching mannequins. They held statue still for several minutes until Kardashian West appeared to greet fans and the press.
What other celebrities are falling in love with Skims?
Skims is receiving shout outs and selfies from all kinds of celebrities. The other Kardashian and Jenner sisters, of course, have each been showing their support by posting selfies in the items. Kendall Jenner, the model of the family, even appears among other models in Kardashian West's Skims story collection. Selena Gomez also posted a selfie in a Skims bodysuit writing, "Legit so freaking comfortable."
According to People, the brand is becoming utilized by many celebrities as part of their preparations for various red carpet struts. Celebrities such as Rebel Wilson (Pitch Perfect), Saoirse Ronan (Little Women), Regina King (If Beale Street Could Talk), and Zoey Deutch (The Politician) were all said to be sporting products from the sculpting shorts to the tonal body tape underneath their gowns.
Comedian and author Chelsea Handler did things a bit differently, wearing her innerwear as outerwear. She posted a video running along the beach on her Instagram in a nude Skims ensemble. Her caption read: "I've always wanted to run on a beach naked, and now with @skims, I finally can."
Later she posted a flashback to that day with a shoutout to Kardashian West: "I've been told this is what's known as a thirst trap @kimkardashian am I doing this right? #tbt"
Kardashian West did not reply, but many fans commented that Handler did, in fact, do it right.