Why an Attempted 'Bones' Spinoff So Miserably Failed
Bones was one of the most unique and successful network crime dramas of the 21st-century. Combining the procedural aspects of the genre while focusing on old cases and new ones alike, Bones thrived on the chemistry between Emily Deschanel, David Boreanaz, and the team working behind them every step of the way.
However, when it came time for a spinoff, creators found themselves inside a no-win situation, and the results were an abject failure. 
What was 'Bones'?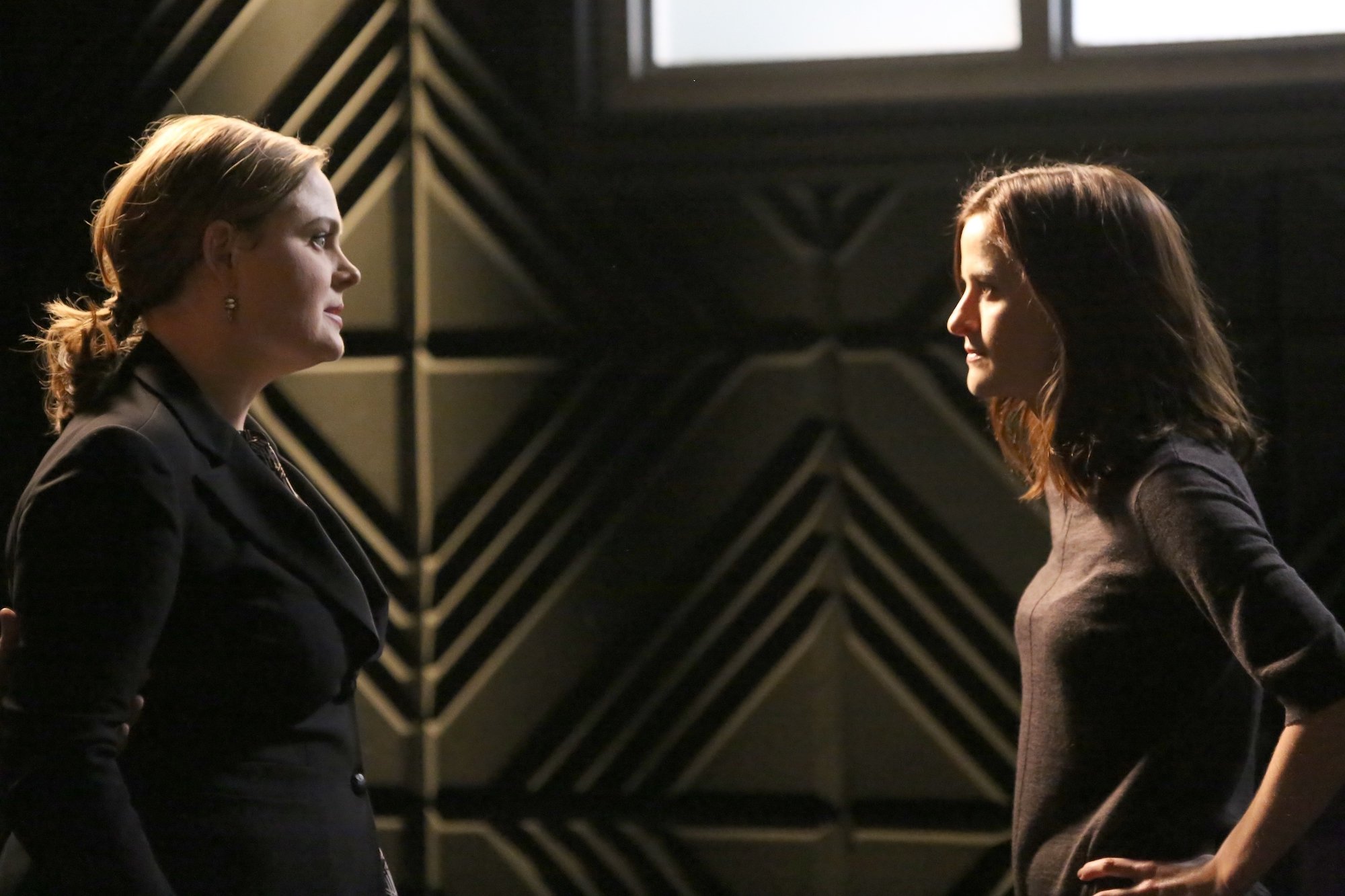 According to Fandom, Bones was loosely based on the life and novels of Kathy Reichs. Itfocused on a forensic anthropologist named Temperance "Bones" Brennan. Brennan wasn't your average investigator, and while she sometimes worked on brand new cases, she also focused on those cases where bodies from years, even decades earlier, were found. That is where she thrived.
Throughout the series' run, Bones solved cases of every kind. From time capsules featuring unexpected corpses to a modern serial killer who had one of Brennan's employees on his payroll. Add to that her will-they, won't they love affair with FBI Agent Seeley Booth, and the show had enough drama to fill every second of its twelve-season run.
While it was a crime drama, Bones focused on the personal lives of its eccentric namesake and her revolving door of cast members. We got to see the humanity behind someone who looks at bones for a living and show that she was not a weirdo, but a vital part of law enforcement, getting closure to those whose friends and family members vanished without a trace.
Thanks to its two leads, the series rarely faltered. However, when they tried to do a series without Deschanel or Boreanaz, the results were a downright failure.
'The Finder' fails to live up to its source material
Spin-off series can run the gamut of shows featuring beloved characters who go on to do bigger and better things, to original ideas force-fed into the main series, hoping that the connection will establish loyal audiences. As ScreenRant notes, this was the hope with the Finder, a series that featured the late Michael Clarke Duncan and Geoff Schultz as detectives.
Bones and The Finder creator Hart Hanson spoke with LA Times about the challenges and benefits of spinning off from such an established franchise at the time of its premiere.
"I think the fact that a universe exists and there's a market out there helps. Kathy Reichs had a ton of readers when we started Bones, and I think that helped us. That, and David Boreanaz. On The Finder they touted it as being from "the creator of Bones.' But with Bones, they weren't going to say "from a guy you never heard of who invented a show in Canada," it said.
It didn't work. Loosely based on a series of books by Richard Greener, The Finder suffered from having little to do with Bones past a backdoor pilot and some crossover events. The results were not good. The series failed to ride the Bones wave to success, and Fox canceled it after just one season.
Spinning off
Spinoffs can go either way. While CSI, Law and Order, and the more recent Chicago franchise showed that networks could do it, even they had misfires here and there. It's hard to say what spinoffs will be effective. Some of the greatest series ever, from The Jeffersons to Family Matters, were spinoffs of other series. However, others, such as the infamous Friends spinoff, Joey, failed to recreate that magic.
A successful television show has to reach a loyal audience. Once that first episode premieres, it doesn't matter what the previous series did to work, and they have to know how to live on their own. The Finder did not and suffered for it. Bones, however, kept it up for 12 years, letting the series speak for itself from the beginning to the very end.
RELATED: 'Bones': Are Emily Deschanel and David Boreanaz Still Friends?