Why Angela Kinsey Did Not Get The Role Of Pam Beesly In 'The Office'
The Office remains one of the most beloved comedies in television history and with the show being available for streaming, a new generation of fans are always in rotation. People love the series for its relatability of anyone who has ever worked in an office setting for a long period of time with odd colleagues. One of the show's most beloved characters is Angela Martin, played by Angela Kinsey.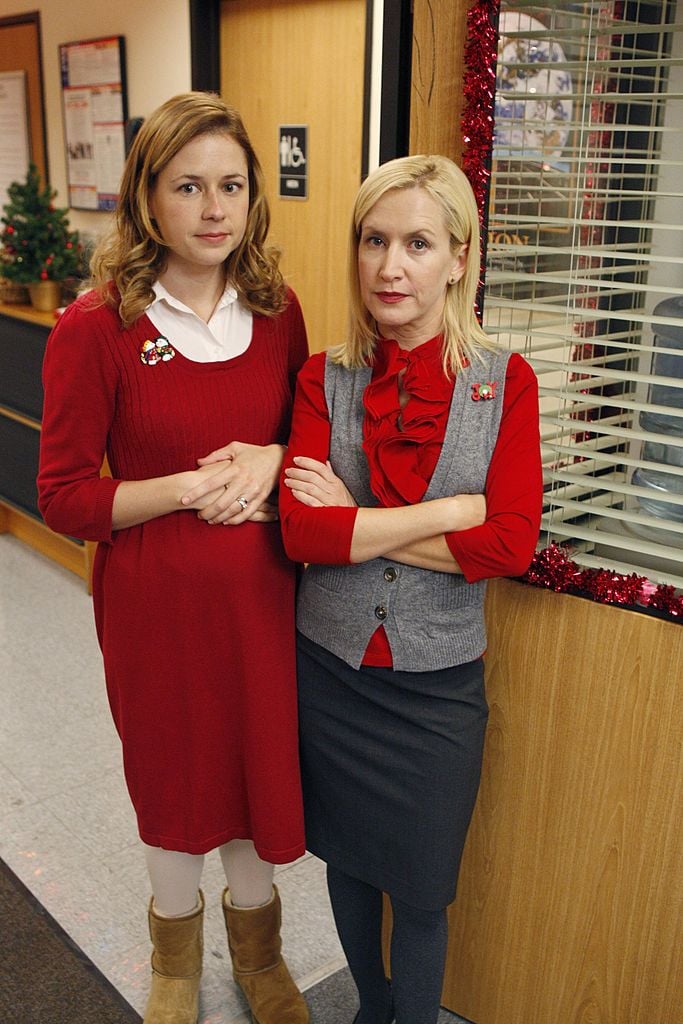 Martin's sass and dry attitude was a hit with viewers and it's hard to imagine Martin played by any other actress. But as it turns out, Kinsey auctioned to play her on-screen nemesis, Pam Beesley. 
Angela Kinsey originally auditioned for the role of Pam Beesley but casting thought Kinsey was too feisty for the part
Kinsey landed the role of Angela Martin, an uptight and strait-laced member of the accounting team at Dunder Mifflin who lived life by the books and openly criticized her co-workers for not doing the same. Viewers loved her snide remarks and passive-aggressive attitude – but Kinsey had her heart set on another character in the show when she first heard of the opportunity. 
"I went in and I auditioned for the role of Pam and I did not get the role of Pam," she revealed in an interview with The Today Show. "Although I did really well, they [casting] were like, 'Oh she did great, she just may be a little too feisty." 
Kinsey didn't hear back from casting for another two months, leaving her to believe she was not hired to be part of the show. When she did get a callback, she was offered a different role on the series. The role of Pam went to Jenna Fisher. 
"They were like, 'Listen, there is a role of this woman in accounting and she's a little judgy and we want you to come in for her," she said. They felt that her audition was better suited for Angela Martin – the accounting associate – and Kinsey ultimately felt the same way after starring as Martin for nine years on the series.
"My favorite part about playing Angela was really everything," she admitted. "I'm southern and I'm not super confrontational so it was really fun to play someone who would just put someone in their place right away," she said with a finger snap.
Angela Kinsey and Jenna Fischer are best friends in real life 
Despite their characters' differences – with Pam being fun and open-minded and Angela being strictly conservative and judgemental – the two characters became friends as the season progressed. Life imitated art as Kinsey and Fischer became real-life best friends. 
Kinsey told The Insider in 2019 that her first impression of Fischer was that she was "nice" but had no idea the show would last and be as successful as it became. As time went on, she developed a close relationship with Fischer.
"We all spent all day together, we were all in one room, and Jenna was behind me, Oscar (Oscar Nunez) was to the left, and Brian [Baumgartner, who played Kevin Malone] was across from me," she explained. "I would say those three people became my core."
Because of their close proximity to one another, Kinsey said their bond started because she'd often start conversations with Fischer in between takes. They began eating lunch together daily. By the end of the show's run, they were closer than ever, having spent 10 years working together on the show.
"We became best friends and I'm so thankful for it," Kinsey said. "We both say we didn't expect to make such a close friendship later in life. But we're so close and she's one of my life anchors."
Kinsey and Fischer remain close by working out together, having frequent meet-ups for dinner and they even now host a podcast called Office Ladies where they rewatch each episode and give behind the scenes secrets and commentary on them.