'Jersey Shore: Family Vacation': Why Angelina Laughed During 'Snooki,' 'JWoww,' and Deena's Wedding Speech
Jersey Shore: Family Vacation fans are confused. After weeks of MTV teasing the drama that ensued at Angelina Pivarnick's wedding, everything seemed to be going well in "The Speech, Pt. 1." As Jenni "JWoww" Farley, Nicole "Snooki" Polizzi, and Deena Cortese delivered their speech, Pivarnick seemed to be…enjoying it! 
Find out why Pivarnick says she laughed during the speech that ultimately caused her to storm out of her wedding.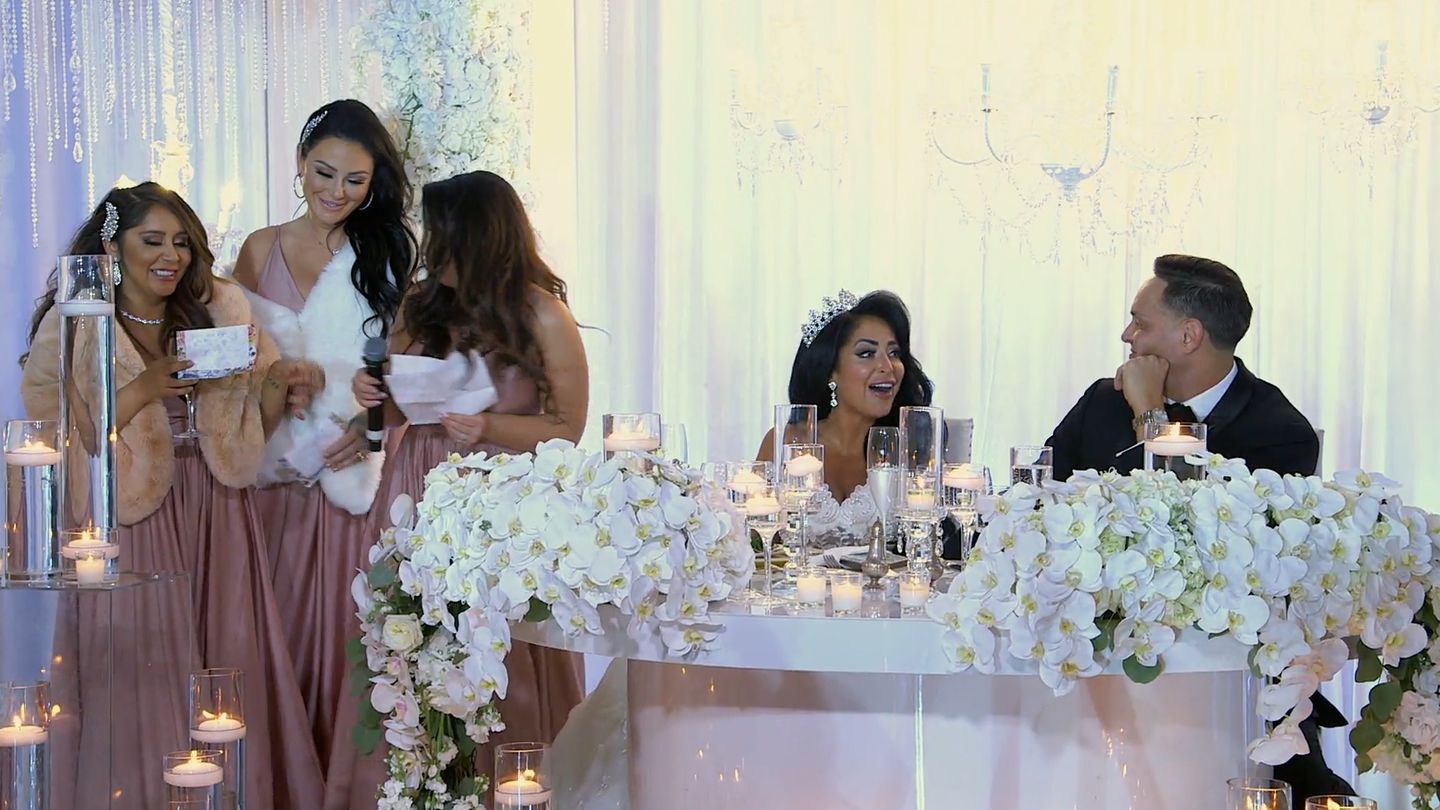 Producers forced 'Snooki,' 'JWoww,' and Deena to do a speech
According to a former producer from the show, Pivarnick was aware of the insulting wedding speech. "Production [probably told Angelina] that Jenni, Deena, and Nicole would need to be in her bridal party and that they would need to make speeches at her wedding reception," the former story producer wrote on Reddit. "[Angelina] was most likely aware that the speeches were going to have a negative slant to end [season 3] on a cliffhanger. In fact, I'm sure of it."
Despite Pivarnick knowing about the speech, Polizzi still wasn't comfortable making a speech. "I literally told producers 'I'm not going to do a speech because I'm not comfortable doing one; I don't think we should be doing one,'" Polizzi explained to The Ashley Reality Roundup. "We were forced to do something we didn't want to do." 
The 'Jersey Shore' roommates insulted Angelina
"It's good but funny," Cortese warned Pivarnick. Then, the infamous speech began. Things seemed to be fine at first, with Cortese taking the lead. "Not only is Chris the lucky one, but so are we," she said. Cortese referenced how much of Pivarnick's luck comes from the adage "the third time's the charm," considering this was her third engagement — and her third time joining the Jersey Shore cast. 
Then, the insults started pouring in. "Angelina, you're the lice to my hair," Cortese said. The crowd could be heard laughing as Cortese passed the microphone to Polizzi, who said: "You're the fly to our sh*t." Pivarnick still didn't seem upset at this point, exclaiming, "I love that!" When Farley said, "You are the dump to our island," Pivarnick giggled as the rest of her wedding guests started to boo. Jersey Shore fans were confused by Pivarnick's laughter, knowing what was about to come next. 
After seemingly enjoying the speech, Angelina stormed out of her wedding
In "The Speech, Pt. 2," which will air June 18, fans will finally get to see Pivarnick storm out of the venue and demand cameras to stop filming. Pivarnick took to Twitter to explain why she was laughing in part one of the episode.
A fan account defended Pivarnick's reaction to the speech, tweeting: "She probably laughed because she had to put on a brave face. After all, it was HER wedding. She isn't going to scream at them in front of the whole audience. It was not the right time or place for that speech." Pivarnick retweeted, adding that she was in shock. Hopefully, part two of the episode provides more clarity as to why she reacted that way — especially considering how she seemed to be enjoying the speech her roommates delivered moments before.
Shock is undoubtedly a valid reaction, but fans are eager to see how the rest of the wedding plays out. Tune in to Jersey Shore: Family Vacation to see how Pivarnick's wedding concludes.