Why Are the Duggar Daughters Only Allowed to Wear Skirts?
Why are the Duggar daughters only ever wearing skirts?
The Duggar family is definitely a bit different from most American families. They're one of the largest families in the country, they have a very deep-rooted family relationship with God. There are also several strict rules they must follow, including their dress code. Why are the Duggar daughters only ever seen wearing skirts?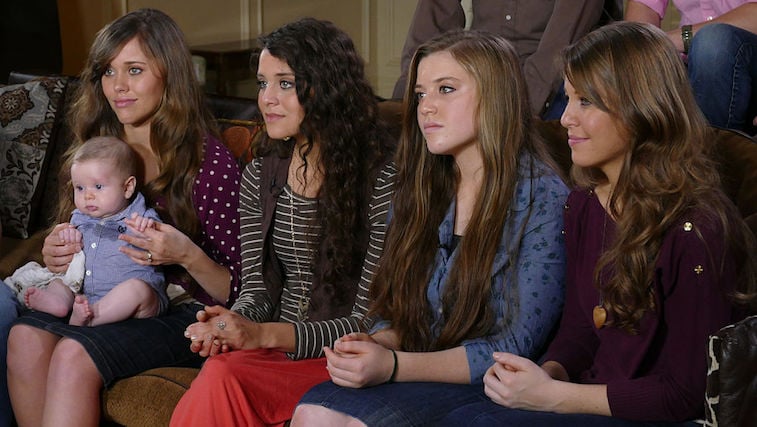 Michelle and Jim Bob Duggar raised their children as devout Baptists
Michelle and Jim Bob Duggar are extremely religious, and it doesn't take much to realize that. Jim Bob was raised in a Baptist family, and he eventually showed Michelle a world where God came first. (Michelle wasn't always religious, believe it or not.) They decided to raise their kids with the same devotion to God, which meant there couldn't be any distractions growing up. The children didn't attend public school or play for any sports teams. They spent most of their time doing work with the church and learning about God. And the kids weren't allowed to have casual boyfriends and girlfriends. They could only enter parent-approved courtships.
The Duggars must follow strict rules as part of their religion
The family grew up with more rules than one can imagine. The biggest rule was that everything done here on earth was only to please God. The kids couldn't do anything to please themselves, which essentially meant there couldn't be any temptation in life. All of the Duggar children had to follow very strict dating rules. Again, courtships could only be approved by the parents. The kids also weren't allowed to have solo dates with their partners; each date required an adult chaperone. Plus, first kisses (and everything else) were strictly forbidden until marriage. The kids couldn't give full, two-arm hugs; side hugs were only allowed until they wed.
The girls have to wear skirts because jeans would hug their curves and entice men
One interesting rule the Duggars followed had to do with their dress code. On every episode of every show, the girls who lived at home were always wearing skirts. And it isn't because they're Mormon (they're not Mormon). The girls could only wear skirts because Michelle and Jim Bob believed that jeans sent the wrong message. Jeans show curves, which might entice men. And since the daughters didn't want to entice anyone, wearing jeans essentially meant lying to any man who was interested in them, because the girls wouldn't be able to give them what they want. The girls instead wore skirts that hit below the knee, since those wouldn't show off any curves.
Now that the Duggar daughters have gotten older, they've rebelled a bit
Now that some of the daughters are on their own, they've branched out from their parents' rules. Jinger Duggar specifically is often photographed wearing jeans. Jill Duggar is too. And Jinger recently posted a photo to Instagram of her wearing a tank top — another thing Duggar girls never did growing up was show their shoulders. Now that some of the daughters are married and on their own, they're able to make their own decisions. And a lot of them decided that the skirts-only rule needed to go.
Check out The Cheat Sheet on Facebook!