Why Are 'Game of Thrones' Creators David Benioff and D. B. Weiss Not Involved In 'House of the Dragon?
David Benioff and D.B. Weiss were the brains behind all eight seasons of HBO's hit fantasy drama, Game of Thrones, yet the executive producers are not involved in the making of the upcoming prequel, House of the Dragon. The spin-off will explore the events that happened just prior to the original series, ending with Robert Baratheon's rebellion. So why are Benioff and Weiss not involved in the new Game of Thrones project?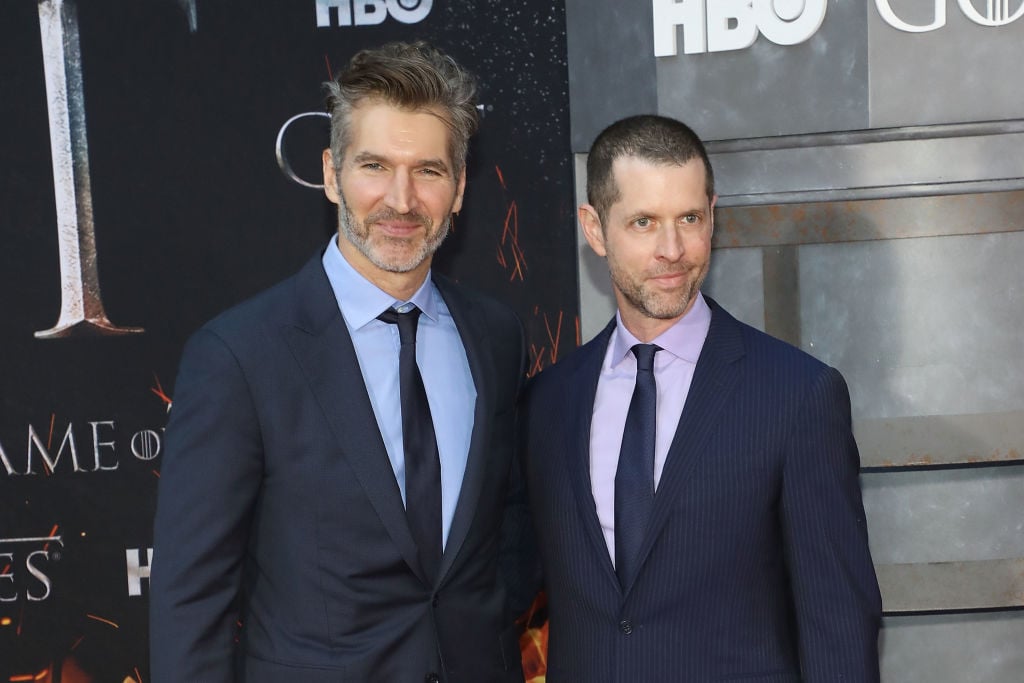 Benioff and Weiss step away from 'House of the Dragon'
Prior to the end of Game of Thrones, HBO wanted Benioff and Weiss to be executive producers for all of the proposed prequels. But that all changed following the end of season 8.
According to Heavy, Benioff and Weiss have confirmed that they are not involved in the prequels in any way. Instead, the two are working on an upcoming Star Wars project, which is set to open in theaters in 2022.
They are expected to release a trilogy in the Star Wars universe that will be completely different from anything we have seen so far. With their schedules packed with Star Wars production, Benioff and Weiss do not have time to work on the Game of Thrones prequel.
Even if their schedules were open, Benioff and Weiss would have probably rejected the prequel offer anyway. Filming eight seasons of Game of Thrones was a lot of work and considering how they cut the last two seasons short, they clearly were looking forward to the end.
How are 'Game of Thrones' fans reacting to the news?
So far, fans have had mixed feelings about Benioff and Weiss leaving the franchise. Some fans are happy about it while others want them back.
The duo faced a lot of criticism over how Game of Thrones wrapped up. Many fans were angry about how some of the storylines concluded and a petition to have HBO remake the final season garnered close to one million signatures.
A few viewers also poked fun at how Benioff and Weiss forgot some things in the final season of Game of Thrones. This includes how Daenerys (Emilia Clarke) seemingly had no clue about Euron's (Pilou Asbaek) fleet, despite the fact that it was mentioned to her several times.
Benioff and Weiss also took some heat for Jaime Lannister's (Nikolaj Coster-Waldau) storyline. In the final season, the character told Tyrion (Peter Dinklage) that he did not care about the people of King's Landing, despite previously saying that he killed the Mad King to save innocent lives.
Benioff weighs in on the prequel talk
While fans continue to bash the Game of Thrones producers, Benioff previously shared his thoughts on the upcoming prequels.
In an interview, Benioff revealed that the eighth season of Game of Thrones was the end of the line for him and Weiss. He did not elaborate on why they did not want to do the prequels, but he was clear that it was not going to happen.
"You might want to ask George about that," Benioff shared. "It's a great world that George created. It's a very rich world. I'm sure there will be other series set in Westeros. But for us, this is it."
Benioff and Weiss worked on all eight seasons of Game of Thrones. Filming for the popular show took up most of the year, leaving the pair with few breaks in between seasons.
For comparison, a typical television show gets at least a three to four-month break in-between seasons. This could be why the two did not want to continue working on the franchise, and the Star Wars offer was a convenient way out.
Everything we know about 'House of the Dragon'
There were several prequels proposed during the final season of Game of Thrones. The only one HBO has officially picked up so far is House of the Dragon.
The series is set 300 years prior to the events in Game of Thrones and covers the rise of House Targaryen. It is not expected to touch any of the events in the original series.
We do not know when the prequel will begin filming, though with HBO fully on board, production is expected to begin in the coming year.
If everything goes according to schedule, the first season of House of the Dragon could premiere on HBO as early as 2021, though an official premiere date has not been announced.
Until then, fans can binge every season of Game of Thrones on HBOGo and HBONow.