Why Are People Comparing Dr. Phil's House to a Cheesecake Factory?
Dr. Phil McGraw and his wife, Robin McGraw, have a net worth of nearly $450 million. And since the Oprah Winfrey protege and celebrity talk show host with a doctorate in clinical psychology has been on the air since 2002, most Dr. Phil fans likely assumed any real estate he owned would be the pinnacle of luxury. 
But since one of Dr. Phil's homes, in which his son Jordan McGraw currently lives, hit the market, people can't stop talking about its bizarre level of opulence. The strangely decorated home set Twitter on fire, as people couldn't believe just how odd the home's interior really was.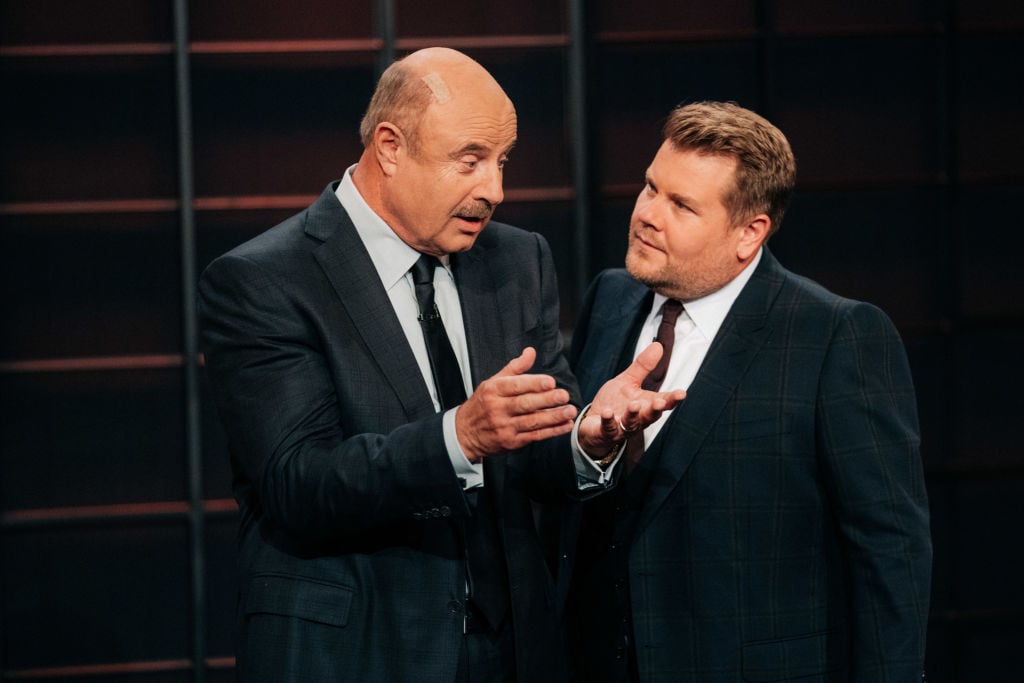 The media mogul's Beverly Hills home is listed at $5.75 million
It all started when a Los Angeles Times reporter, Daniel Miller, tweeted about the outlet's story by Jack Flemming. Flemming and Miller explained that Dr. Phil's Beverly Hills home, listed at $5.75 million, was officially on the market. (Miller clarified that McGraw's son Jordan was the one actually using the home, which Dr. Phil purchased in 2007.)
The Hilton & Hyland listing describes the two-story home as a "private villa oasis" with a "rare long gated driveway" near the Beverly Hills Hotel. Features of the 6,170 square foot, five-bedroom, six-bath estate included a heated pool, spa, cabana, and outdoor kitchen.
Fair enough, right? But it got stranger from there. 
Twitter users were shocked by the wild decor
The listing mentions only "dramatic" remodeling and "eclectic finishes," which sounds like a love of contemporary art or quirky, unconventional design. But Twitter didn't see it that way. In fact, the interior decor is absolutely wild. 
Pictures reveal that the splashy interior of the mansion is indeed "dramatic," combining kitschy pop art with gigantic figures, a massive chandelier in the great room that resembles melting icicles, a giant twisted-vine staircase, and a bar with antler-topped seats. 
Toy bears and bear statues in bright colors are everywhere, from giant figurines smoking cigarettes to teddy bears dangling from ceiling-hung pink lips and ominous-but-childlike cartoon caricatures atop every table. One painting appears to be a rendering of a bear's backside with "f***" scrawled over it. A purple swing to nowhere hangs forebodingly just inside the front door. 
"Dr. Phil" was immediately trending on Twitter as people reacted to the bizarre home. "Dr. Phil's house is if The Cheesecake Factory was a military base," one Twitter user wrote. "So dope that they let Dr. Phil live in a Cheesecake Factory," another agreed.
A 'Dr. Phil' spokesperson explained one confusing aspect of the home
The most talked-about aspect of the home's design, however, wasn't the endless collection of cartoon bear figurines or the series of strange chandeliers. It was the dining room, where what looked like a massive collection of guns hung strangely on the entire wall from top to bottom as if they were art. 
People naturally wondered if the guns were real, but a Dr. Phil spokesperson, Jeremy J. Sharell, said it wasn't what it looked like. "The 'guns' on display are actually an anti-gun art installation where the useless guns are melted," said Sharell in an official statement.