Why 'Better Call Saul' Fans Were So Excited to See Hank Return
In Season 5 of Breaking Bad, Albuquerque's infamous DEA agent, Hank Schrader, met his demise in a brutal attack in the desert of New Mexico. Fans were shocked to see the turn of events that took the lives of Hank and his partner, Gomez. TV Guide named Episode 14, "Ozymandias", one of the best episodes of the 21st century. But fans of the show found it to be the worst, as they never wanted to see Hank die. Now, it seems their wish has come true as Hank, played by Dean Morris, comes back to life and makes a surprise return to the prequel hit series, Better Call Saul.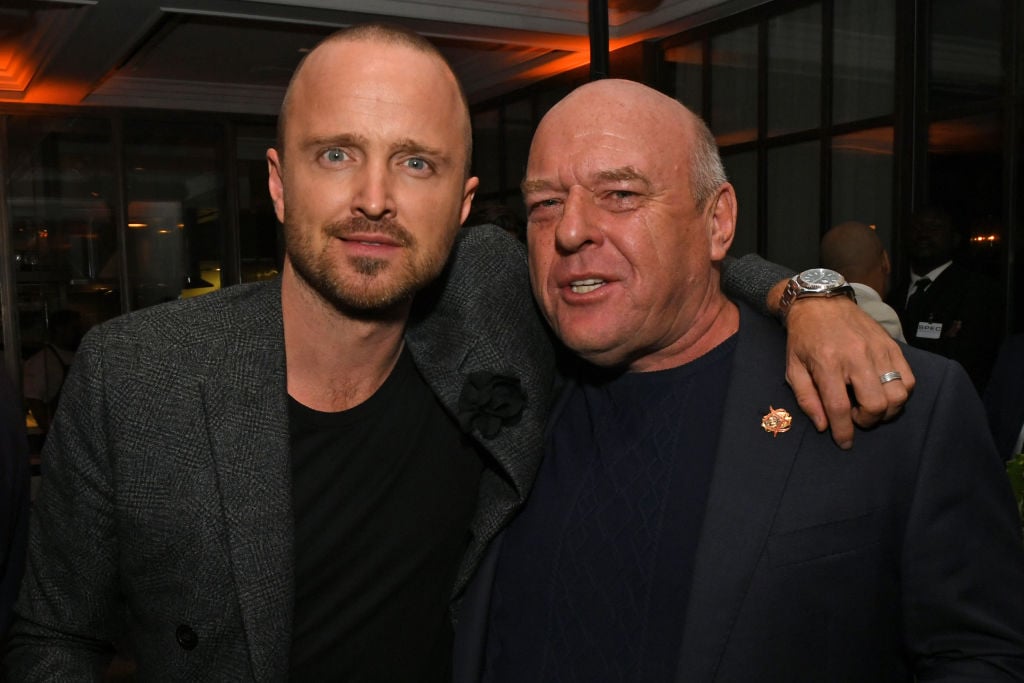 Hank is back
Norris won the hearts of diehard Breaking Bad fans. His character, Hank, played a key role in the show, appearing in 60 out of the 62 episodes of the hit AMC television series. He was the fun-loving, tough guy cop that just happened to be the brother-in-law of the biggest drug dealer in Albuquerque. When Breaking Bad ended its five-season run, the spinoff hit series of Better Call Saul became a huge success. Familiar characters returned, and fans got to see what life was like six years prior to them meeting meth-maker extraordinaire, Walter White.
Hank's new role in Better Call Saul
Hank is one of those characters that gets another chance at telling his story of how things came to be before his tragic death, and fans couldn't be happier. Along for the ride is Hank's trusted partner, Steve Gomez, who could always be found having his friend's back. Viewers are ecstatic to get the chance to once again see the loyal partnership of Hank and Gomie as they put their badges back on for Better Call Saul. When the loyal partners entered the police precinct, viewers were shocked to see the fan-favorite duo walking into the middle of trouble with old-time DEA informant, Krazy-8. The Season 5 episode entitled "The Guy For This" was aptly named, as Hank is definitely the guy viewers we hoping for.
Why fans love Hank
Fans of Hank love that he is actually a pretty good cop. Despite his quirky personality, he appears to have it all together when it comes to cracking a case. After all, it was Hank that figured out that Heisenberg was Walter White. In his unexpected return to Better Call Saul, Hank is back to making jokes and solving crimes, while keeping audiences entertained and engaged. Fans recently got together on a Reddit forum to discuss Hank's "macho bravado", which makes his character so appealing. Viewers agreed that his persona is an act, when in fact he's not actually the life of the party but a serious DEA agent who is determined to solve his case, at any cost. Diehard Breaking Bad fans know that Walter White is his weakness since the two of them are family. This intriguing twist makes Hank multi-dimensional and fun to watch. Better Call Saul fans are excited to have Norris as part of the show and look forward to seeing how his storyline develops this time around.
What other Breaking Bad characters may appear on Better Call Saul
There were many characters that came and went throughout the epic five-season run of Breaking Bad. The writers had a knack for character development and fans still crave more information about some of their favorite players. When Better Call Saul became a spinoff series, Breaking Bad fans couldn't wait to see who made it back to the small-screen. Mike was found back at Saul's side and Hector reappeared, this time walking and not ringing his bell to communicate. Gus was mopping floors at Los Pollos Hermanos and had yet to become the drug kingpin that he was destined to be. But the burning question remains of whether Heisenberg and Jesse Pinkman will return. Show creators, Vince Gilligan and Peter Gould recently stated that bringing back the duo would not make sense in the Better Call Saul storyline at this point. For now, fans will have to revel in Hank's return.