Why 'BIP' Alum Hannah Godwin Had to Post a Super Unflattering Photo of Herself to Twitter
"One of these things is not like the others" – Bachelor fans, probably, scrolling through Hannah Godwin's Twitter recently.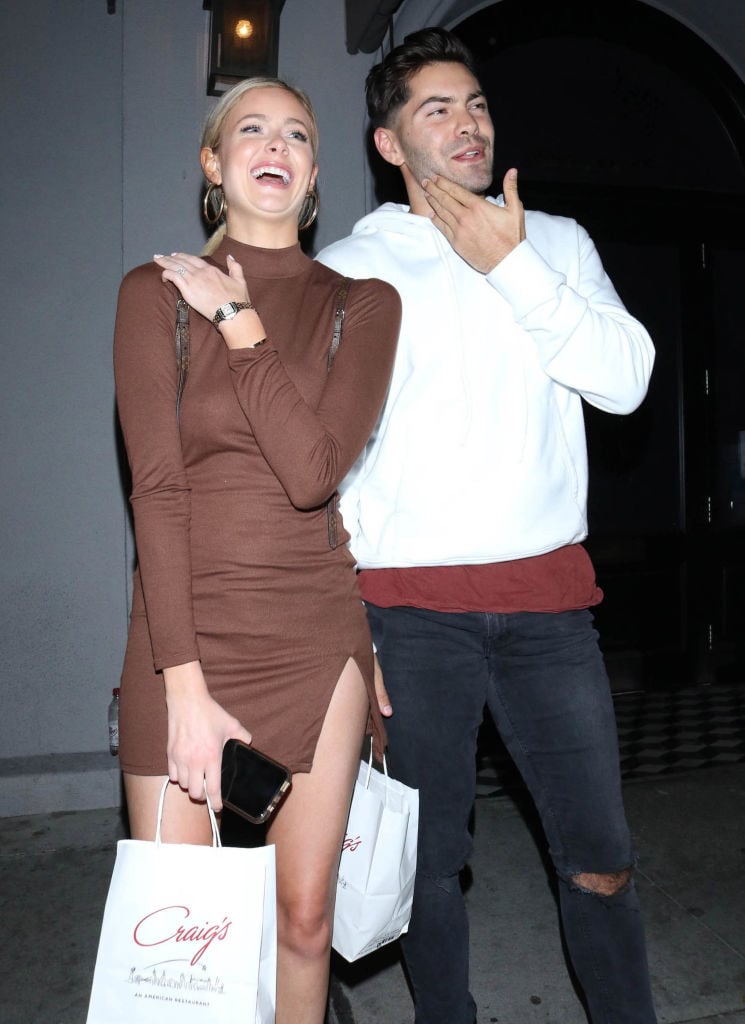 Godwin is certainly on Twitter less than her fiancé, Dylan Barbour, who she got engaged to on the most recent season of Bachelor in Paradise. But when she does tweet, she typically keeps to quirky musings and Bachelor-related content.
Hannah Godwin's uncharacteristic Twitter post
However, on March 2, she tweeted something a little… different. A selfie from an absolutely horrific angle, sporting a facial expression that can best be described as crazed. She captioned the post: "hey I'm hannah and I just sh*t my pants."
Several of Godwin's followers assumed her phone had been hacked by Barbour.
"Lol Dylan def posted this," responded one fan.
"hi dylan," commented fan.
"Nice knowing you Dylan," wrote another.
Hannah Godwin's makeup challenge with Manny MUA
As it turns out, Barbour didn't steal Godwin's phone. And Godwin didn't suddenly have an extreme burst of silly. She lost a makeup challenge to Manny MUA.
Godwin had Manny on her YouTube channel for a friendly little competition. Barbour was, of course, the canvas. Manny did one of Barbour's eyes, Godwin did the other. Before beginning, Barbour chose the colors green, white, and gold for the two to use. The loser had to post an unflattering photo of themselves to Twitter. Guess who lost.
Despite her loss, several Godwin fans took to the YouTube video to compliment her on a job well done.
"Hannah's eye lowkey hits hard though like it looked so good," wrote one YouTube user.
"i like hannah's look way more! I would totally wear that," commented another.
"Hannah's was the daytime look and Manny's was the evening. Dylan looked good either way. Such a sweetie. They are all so cute!" wrote another.
And even though Godwin took the L, fans seemed to love the video.
"Dylan is the perfect mix of sexy and cute and so is hannah 💙. Perfect couple," wrote one fan.
"this is the best thing that's ever happened," commented another.
"LIVING for this collab both on this channel & Manny's!!! Why has this not been done sooner?? I need more asap y'all!!!" wrote another.
And some fans were happy to discover the reason behind Godwin's out-of-character tweet.
"so the tweet that said hey i'm hannah and i just sh*t my pants was from this video. i thought it was just a random tweet because she's funny," wrote one fan.
"I did see your tweet and laughed so hard and now it all makes sense 😂 congrats on the collab with manny he's one of my favs and you all are so cute! Hope to see more," commented another.
We don't know how many more "challenges" Godwin will be participating in after losing to Manny – or, at least challenges with such high stakes.
Read more: 'The Bachelor': Peter Weber Clarifies He Does NOT 'Want Crazy'