Why 'Blue Bloods' Fans Think Abigail Baker's Marriage Might Be in Trouble
Once again Frank's team has to get to the bottom of a big claim on Blue Bloods. This will lead to an investigation and fans are starting to wonder if the case will hit close to home for one of his employees.
One person they're worried about is Abigail Baker (Abigail Hawk.) Find out why some fans think her marriage could be in trouble and more about what's been happening in the police commissioner's office.
Frank's team almost had a big change on 'Blue Bloods'
Frank (Tom Selleck) is usually the one that calls the shots, but there is going to be a new mayor. Peter Chase (Dylan Walsh) called in the police commissioner to ask for a favor.
"I want to take this city back and your guys are my marines," Peter told him. "I want you to make a personnel change."
That change was Garrett (Gregory Jbara) getting replaced. "The mayor-elect, he asked me to replace you," Frank told Garrett.
It almost happened with Garrett getting another job offer. However, he didn't take it when the police commissioner told him about the mayor-elect's plan. Instead, Frank went back to Peter and told him he planned to keep Garrett.
Chances are that won't be the last time we see the mayor throw the Reagans for a loop. He previously asked Erin (Bridget Moynahan) to run as District Attorney because he didn't agree with her boss. She told him she'd rather wait before accepting this offer. Now Frank's office is going to have a big investigation.
A promo shows Frank's team investigating a chief
A new video was released teasing the upcoming fall finale of the season. It shows Frank talking to Garrett in his office.
"We have an allegation. One of our chiefs, an extramarital affair while on duty," said Garrett. Frank then talks to Sid (Robert Clohessy). "Oh boy," said Sid.
Frank is then telling someone, "We need all the information we can get." The video leaves off with Abigail taking pictures of a man and woman talking outside of building that looks like a motel. The video ends with her putting it down looking shocked.
Some fans believe the chief is Abigail's husband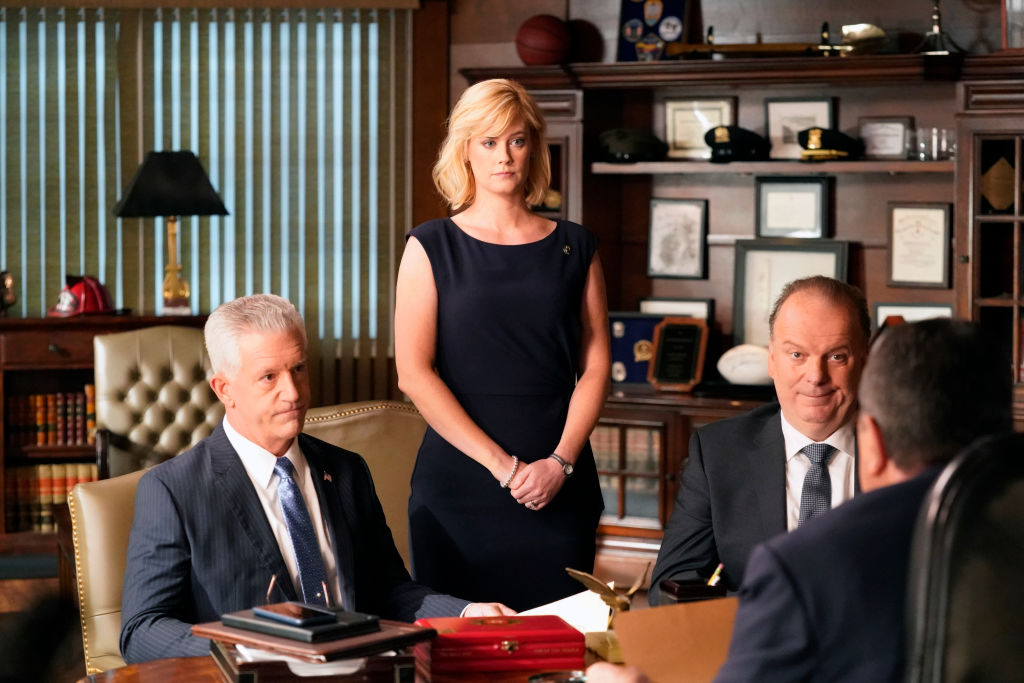 The last shot of the video seems to have led to a fan theory. Some are wondering why Abigail looks so surprise by the interaction.
One fan tweeted, "From the looks of "Bakers" face when she puts the camera down, it's her husband." Another fan agreed with, "That's what I thought too."
Abigail is married to Brian Baker. He is a police officer and they have two children together. In season 9 she was by her side after he was shot in the episode "By Hook Or By Crook." We find out that Brian started to recover and was released from the hospital.
If Brian is involved, then the woman would probably be chief given we know he's an officer. It's unclear if that is the case. However, there does have to be a twist when it comes to this investigation.
The new episode will air on Dec. 6 at 10/9 CDT. Fans will have to watch to see if their theory is right.