Why Boxers Laila Ali and Claressa Shields Are Feuding
Since retiring from boxing, Laila Ali has focused on health and wellness, while also appearing on television series. Before transitioning, Ali took after her boxing legend father, Muhammad Ali, inheriting his skills and fierce competitive nature. She became one of the greatest female boxers and paved the way for those who came after her – including current champion titleholder Claressa Shields.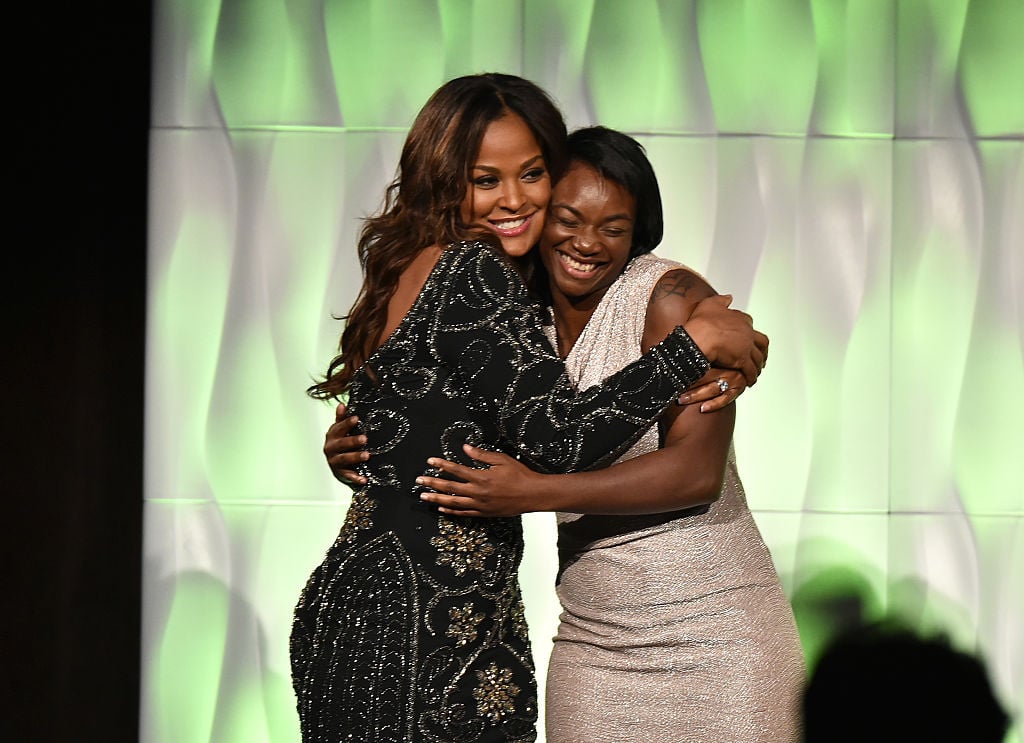 With both Sheilds and Ali being undefeated within their weight classes, many would assume that they'd be friends but it appears to be the complete opposite. The two have been feuding over the past few weeks – which lead Ali to announce that she may come out of retirement to fight the current champion.
What has Laila Ali been up to since retiring?
Ali has taken her talents to television to promote health and wellness through a healthy diet and exercise. Her Instagram page is filled with recipe suggestions and workout tips to encourage everyone to live a healthier lifestyle.
In 2018, Ali released her cookbook, Food for Life: Delicious & Healthy Comfort Food from My Table to Yours! The book features over 100 recipes that are both healthy and tasty.
Aside from her work in the health space, she's also amassed a few acting credits, having guest spots on shows including One On One, Real Husbands of Hollywood, and The George Lopez Show. She's also participated in reality competition series such as The Masked Singer and Celebrity Wife Swap.
Claressa Shields blasts Laila Ali after Ali says she'd knock Shields out
Ali has been off the radar in the boxing world and content in her new space in health and entertainment but gained attention due to a feud with Shields. Shields took offense to Ali's comments about the current state of women boxing. During an appearance on The Breakfast Club, Ali was asked if she'd come out of retirement "for fun." 
"I don't think there's anyone there for me that would actually give me a good challenge," Ali responded after joking, "Money right, Laila there every night."
While Ali's statement wasn't directed towards Sheilds specifically, Shields was offended by Ali's comments and shared how she felt when she interviewed on the popular radio show. 
"I've never disrespected Laila Ali when it comes to her boxing…even though I call myself the greatest woman of all time, I've never said Laila can't fight…I've always given her respect," she said. She then took shots at Ali's age and boxing stats.
Ali later appeared on SiriusXM's Sway in the Morning and said she'd knock Shields out and made comparisons to their knockout records. Shields currently holds a 10-0 record with two knockouts – compared to Ali's record of 24-0 with 21 knockouts. Shields poked holes in Ali's stats.
Laila Ali says she'd come out of retirement to fight Claressa Shields
Despite the back and forth, Ali initially stood by her claim that she would not come out of retirement to go against Shields, simply putting that she doesn't find it worth her time. The Breakfast Club played a recording of her explaining her stance during their Rumor Report statement.
"It's not always about her [Shields] I'm a businesswoman. Who is worth or inspired me enough to come out of retirement at now 42," she asked. "Do you have $5 million? Do you have $10 million? It's going to take at least that…you know what I have to do to prepare for a fight? It's about being in shape."
But Ali has since changed her tune when speaking to Stephen A. Smith.
"Have I been sitting around thinking about boxing? No. But lately, there's been a little chatter – she's been calling me out…she's taken offense to some things that I said in the past that wasn't about her," she told Smith.
Ali said that she's inspired to fight Shields t because of "her mouth" and says that Shields has made things personal. She's now fueled to take things to the ring.
"Oooh hey @TheRealLailaAli the tuned has changed mama," Shields tweeted after hearing of Ali's interview. "You and I know the money is there. Let's make it happen."
Boxing fans are waiting to see if a match indeed happens.