Why Brad Pitt and Jennifer Aniston's Love for Each Other 'Never Died'
The SAG Awards are a magnet for some of Hollywood's brightest young talents. Fans enjoy watching them mingle with our favorite classic celebrity veterans.
A chance encounter between two people has set the internet on fire with speculation. It was magical and effortless. Brad Pitt and Jennifer Aniston had a warm exchange, both all smiles and genuinely happy to see each other.
Is this a sign of a potential reunion we've all been secretly hoping would happen? Could the butterflies be back for Aniston and Pitt? One expert weighed in with evidence that may suggest, their love never really died.
Jennifer Aniston and Brad Pitt are a celebrity couple everyone loved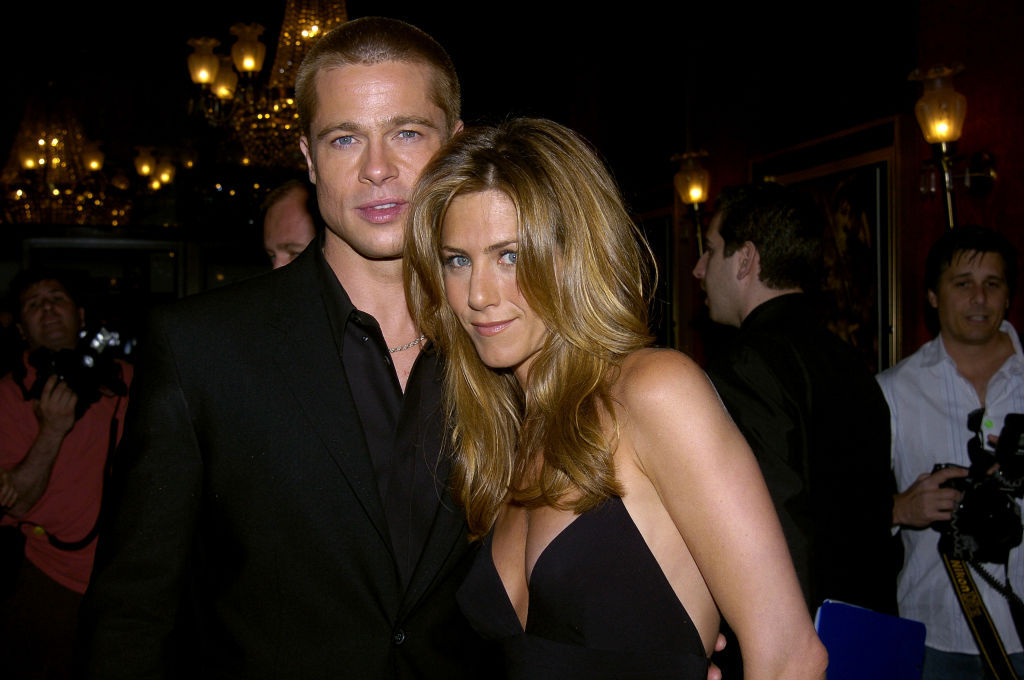 It seems forever ago that Aniston and Pitt were the dream couple. It was 1998 to be exact, and the two met because of their agents.
Aniston was embracing her role as Rachel on Friends at the time. She told Diane Sawyer in a 2004 interview that their agents had actually set them up, and the first meeting was "very fun" and "very easy."
They clicked, and America clicked with them. The couple married in 2000 in Malibu.
America enjoyed the couple's onscreen presence, at red carpet events and natural chemistry during interviews. They were authentically connected, and many sources cite neither has looked happier since their split in 2005.
Jennifer Aniston and Brad Pitt's controversial split
When Aniston and Pitt divorced, it came on a wave of controversy and rumors of infidelity. Shortly after, Pitt met Angelina Jolie while shooting Mr. and Mrs. Smith, and the two soon became an item.
They remained a couple in subsequent years and eventually married in 2014. Aniston was able to move on, maybe quicker than fans did. She, too, remarried eventually in 2015, to Justin Theroux.
Both marriages have since dissolved, leaving both Aniston and Pitt on the dating market. Could that door be open, even just a little, for a second attempt at celebrity coupledom?
Jennifer Aniston and Brad Pitt's chance encounter
In a phone interview with Page Six, one expert points out that the once-famous couple may still have a connection. Dr. Lillian Glass analyzed the recently viral interactions between Aniston and Pitt.
She says their eye contact was in sync, which is huge. Glass has authored several books, including "The Body Language Advantage," and certainly knows a thing or two about non-verbal communication. She went on to comment on the pair's apparent need for touch, even if it was only by hand or with a friendly hug.
There is an obvious level of comfort between the two. Of course, fans didn't need an expert to tell them what they already suspected.
Brad Pitt and Jennifer Aniston are just friends
Aniston, 50, and Pitt, 56, both claim to be friends with sincere respect for each other's happiness and success. It is rumored that Pitt apologized to Aniston years ago, for his then 'bad boyfriend' behavior.
Since the two have remained friends and Pitt recently was in attendance at Aniston's 50th birthday party. After all the buzz surrounding the backstage photos at the SAG Awards, Pitt says he hasn't seen the media frenzy and prefers to remain blissfully unaware, according to Entertainment Tonight.
So, while all the nonverbal cues point to a potential reunion, for now, the two stars are maintaining their friendship status. But, much like Dr. Glass, some can't help but wonder if there was more to that friendly encounter. There are some who align with "team Jen" who thinks she's better off on her own and would rather she not fall back to love mistakes of the past. They may have their wish for now. The rest of us can hang on to that spark of hope, though.