Why Brie Larson Is Probably Samuel L. Jackson's Favorite Avenger
There is nothing greater than true Hollywood friendships. Sure moviegoers can check their drama at the door to act like friends during a film, but it's the real relationships that tug at fans' heartstrings. One such friendship, one that's been flying under the radar since 2017, is the unbelievably adorable bond between Captain Marvel's Brie Larson and the real-life Nick Fury, Samuel L. Jackson. 
Samuel L Jackson and Brie Larson tough it out for 'Kong: Skull Island'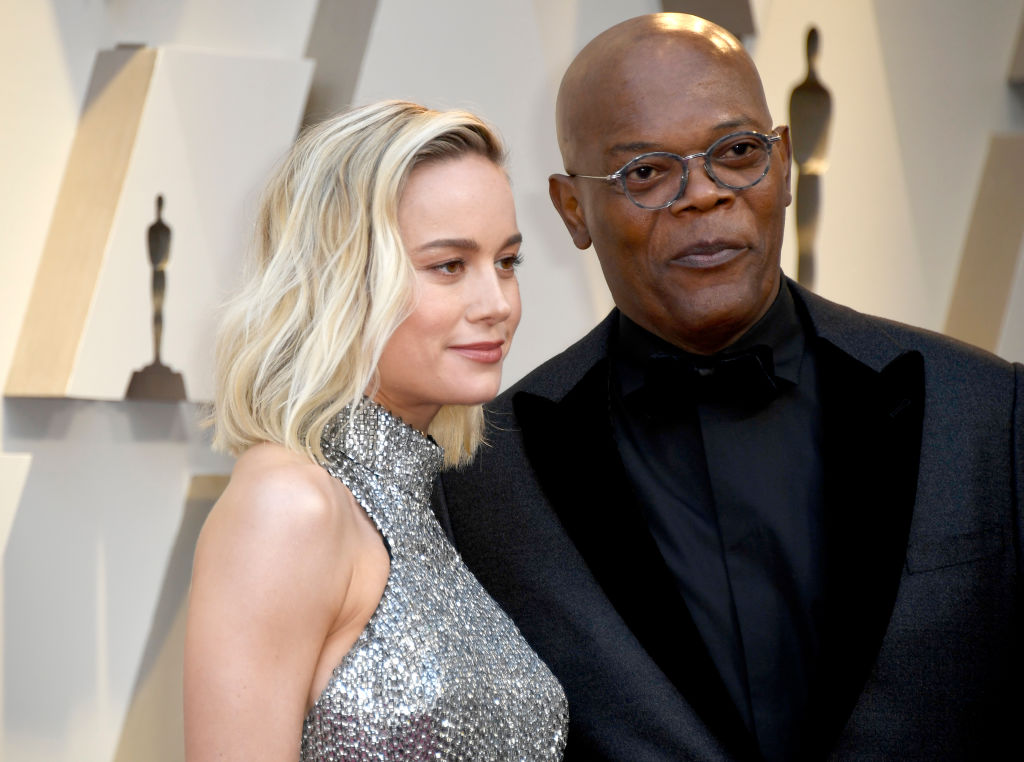 Did you know that the Marvel stars first time working together was in Kong: Skull Island? Jackson credits the tough work they did to nail the film for their bond. Just how tough was the shoot? Well in order to bring Jordan Vogt-Roberts' vision to life the crew flew to some of the most remote locations in the world over six months. They visited the northernmost areas of Vietnam, the beautiful tropics in Hawaii, and even Australia's Gold Coast.
If that wasn't enough, Larson was always taking epic transcontinental flights to juggle her rounds for the Room and her commitment to Vogt-Roberts' dream. Seeing the blonde star handle the hardcore work on set and then board a plane just to return to battle insects and jet lag while nailing her lines impressed Jackson. Not to mention spending six months tackling the most draining film of your career together is bound to forge a wonderful friendship. 
As Jackson said in his interview with Indiewire, "You don't have cell reception, you kind of have to interact with each other and talk, and you hang out, and you fight bugs together. We did that and we really enjoyed commiserating and kind of supporting each other."
Brie Larson directed Samuel L. Jackson in 'Unicorn Store'
While filming Kong: Skull Island, Larson learned that she landed an amazing opportunity —  her directorial debut. The film she would be the big boss was Unicorn Store, a chance she couldn't be more excited for. Ironically enough she was initially denied the job, but after she landed an Oscar for Room, the big-wigs changed their mind.
News of Larson's good fortune began to make its rounds around the set. Of course, people were happy for her, but her bestie Jackson found himself wondering why she didn't ask him to be in the film! How did he breach the subject? In an interview Jackson said, "I was kind of like, 'So you're making a movie, huh, you wrote it and you're directing a movie and you're gonna put this actor in it, and you didn't even ask me?'… She's saying 'No, I was ready to ask you," and I was like, 'Okay, so ask me.' So, I ended up in the movie."
Without Jackson pushing to be in his new friends' film, she already knew she wanted him to take on an unforgettable role. Looks like they had both landed themselves in each other's good graces! The experience also created a vehicle for Larson to get to know Jackson in another way. As far as she is concerned she understands that he knows how to handle himself better than anyone else.
So it makes sense Brie Larson is Samuel L Jackson's favorite!
The hardships endured on the set of Kong: Skull Island and the shenanigans engaged in during the filming of Unicorn Store has produced what is arguably one of the cutest Hollywood friendships. If the adorable photos that pop up on social media and the interview statements that appear on the internet don't sell their love for each other, maybe this will!
On May 4th while Larson was toiling away on set Jackson paid her a visit. May 4th is Star Wars Day, and as an avid fan, it's an important day for her! The Glass actor knew this and had a big surprise waiting in the wings. He waltzed in and dropped a silk bag on her lap. What was inside? His lightsaber from his time in the Star Wars universe. The real-life Captain Marvel broke down in the happiest tears ever. Talk about cute!
So what do have the two Hollywood stars have to say about each other? Well while chatting it up during a BBC Interview Jackson said, "We're very good friends. We work well together. We laugh together. We sing together. We developed a really, really great relationship when we were on 'Kong.' It's fun to be on the saddle with her." Larson's indirect response during an appearance on Jimmy Kimmel Live — "Our love is real." Yes it is Brie, Yes. It. Is.