Why Bruce Willis Is Quarantining with Demi Moore and Not His Wife Emma
Bruce Willis is in a longtime relationship with model and actress Emma Heming Willis. Yet, he's quarantining with his ex-wife Demi Moore. We all paused when we learned this information earlier in April but as it turns out, there's a good reason behind this.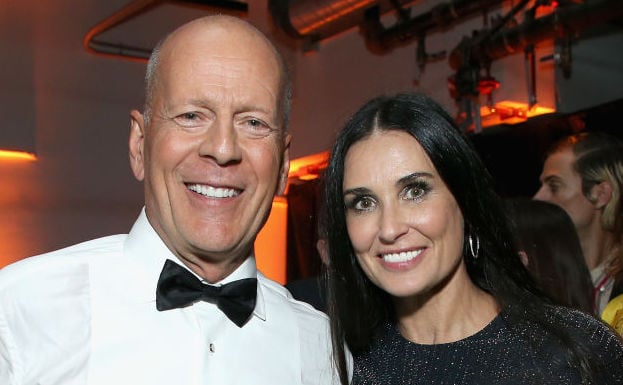 The truth about why Bruce Willis and Demi Moore are quarantining together
On April 17, their daughter Scout Willis went on the Dopey podcast and explained why the former flames are quarantining together amid the coronavirus pandemic.
The pair made headlines about a week earlier when a photo emerged of them spending time together. In the picture, they were seen wearing matching pajamas alongside Scout and others. But there was no sight of Heming Willis or her and Willis' daughters: Mabel, 8, and Evelyn, 5.
Explaining their absence, Scout said that Heming Willis was supposed to be with them but got stranded in Los Angeles with her and Willis' kids.
"My stepmom was going to come up here with my little sisters," she shared (via USA Today). "But my younger sister, who is now actually [8] years old, at a park, had never gotten a talk about not (expletive) with hypodermic needles that she found, so she actually tried to poke her shoe with it and poked her foot."
"So my stepmom had to be in L.A. waiting to get the results from taking her to the doctor so my dad came up here early and then travel got crazy so my stepmom stayed in LA with my little sisters," Scout continued.
Scout went on to talk about the experience of quarantining "in the house where they raised us," telling the outlet it's been a blast.
"(It) has been really cute," she explained. "They're both such nerdy, adorable, '90s parents in a small town where they chose to have their kids and not be in LA. It's been pretty cute."
Demi Moore and Bruce Willis' relationship has come a long way
The movie stars were married from 1987 to 2000 and share three children: Rumer, 31, Scout, 28, and Tallulah, 26. Even though the breakup wasn't easy, Moore and Willis managed to stay friends and forged a lasting bond.
"I think Bruce was fearful at the beginning that I was going to make our split difficult, and that I would express my anger and whatever baggage that I had from our marriage by obstructing his access to the kids — that I'd turn to all of those ploys divorcing couples use as weapons. But I didn't, and neither did he," Moore wrote in her 2019 memoir, Inside Out.
Seven years after their split, Willis began dating Heming Willis. They married in 2009 in front of a crowd that included Moore, her then-husband Ashton Kutcher, and others.
What is the relationship between Demi Moore and Emma Heming Willis like?
If all of this wasn't an indication, these two have a great relationship. Speaking to Us Weekly in April 2019, Heming Willis raved about Moore and how close they are.
"She welcomed me into her family like I welcomed her into ours," Heming Willis said of the Ghost actress. "Again, I have so much respect for her. I have so much respect for how Bruce and Demi worked through their divorce to be able to put their children first. I learned so much from that and grew so much from watching that."
As far as her feelings on this quarantine situation, a source told People on April 15 that Heming Willis has "no issues" with it.
"Demi and Emma are close, and all three get on great as a big blended family. There are no issues at all," the source continued.