Why Did Cameras Avoid George Harrison During His Live 'All You Need Is Love' Guitar Solo?
When The Beatles got the chance to perform on the 1967 Our World broadcast, they weren't particularly excited. Despite the fact it would reach hundreds of millions across the world, John Lennon waited until just before the event to write the song they'd perform.
But John came up with a winner ("All You Need Is Love"), and to make things more interesting he decided he'd sing it live for the June '67 broadcast. That gave the Beatles' production team nervous fits.
After John decided he'd sing live, Paul McCartney said he'd do the same with his bass part. Once Paul was in, they turned to George Harrison to see if he'd play the guitar solo live as well. George agreed.
As Beatles engineer Geoff Emerick put it, George soloing live on a worldwide broadcast was "a tricky proposition" for all concerned. But when the cameras rolled that day, they didn't focus on George for his somewhat shaky solo. According to Emerick, that may not have been an accident.
Emerick said George may have asked the TV director to focus elsewhere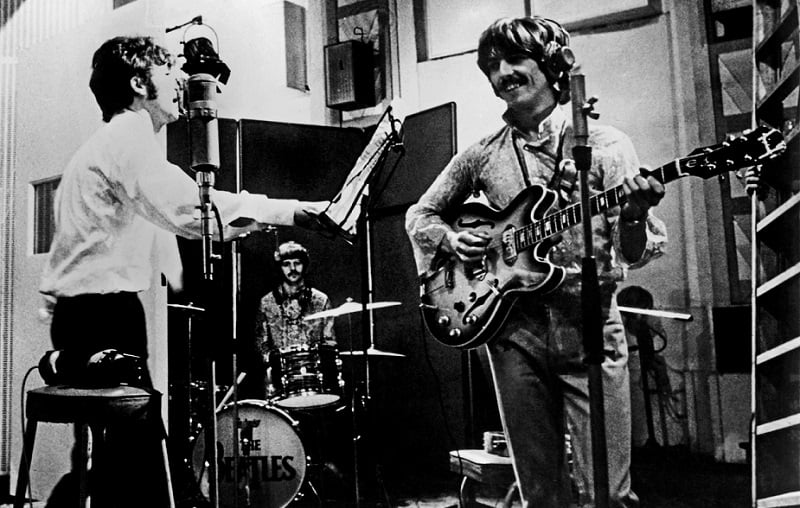 In those years, Emerick had little confidence in George as a lead guitarist. All through Emerick's Here, There and Everywhere, the Grammy-winning engineer remarks how George struggled with solos in the studio. (George himself spoke of how his guitar technique slipped around this time.)
When the BBC cameramen turned up at Abbey Road studios to prep for the shoot, Emerick noticed George pulling aside the program's director "for quite a long time." Emerick didn't overhear the conversation they had, but he did hazard a few guesses as to what was spoken between them.
"I had no idea what they were talking about, but I did notice during the broadcast that the camera was not trained on George during his guitar solo," Emerick said. "Perhaps he requested that specifically, either because he didn't have confidence in his playing or … because it was likely he'd replace the part later."
Though most people know the studio version of "All You Need Is Love," the live Our World version (in the video above) didn't go off without a few mistakes. John flubbed a few line of lyrics and, yes, George's solo had flaws, too.
Emerick said George 'winced' when he heard the solo afterward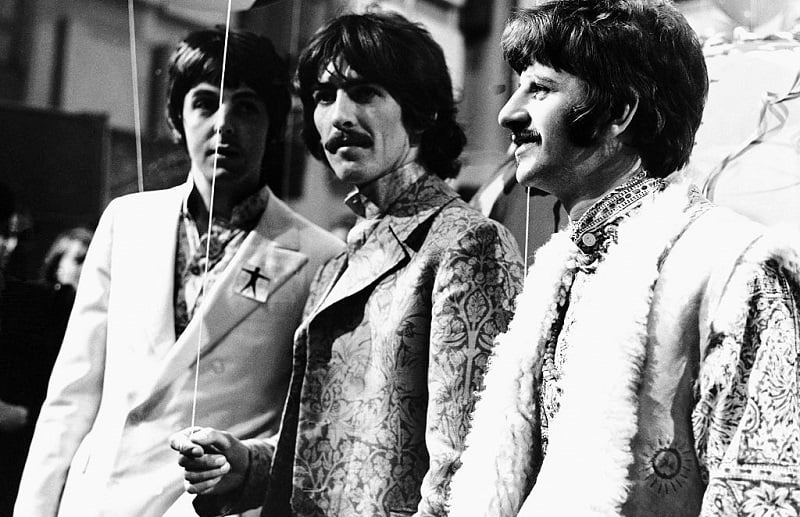 Just as Emerick and Beatles producer George Martin feared, The Beatles didn't get through "All You Need Is Love" without flaws. However, they had gotten the song mostly right. Only some small details needed overdubbing after the broadcast.
"From the very first playback, the four Beatles were knocked out by what they were hearing," Emerick recalled. "Harrison winced a little during his guitar solo, but [Emerick's assistant] reassured him, saying, 'It'll be fine. We'll put a little wobble on it and it will be great.'"
If you listen to the broadcast, you hear George begin strong, hitting the main parts of his short solo without issue. However, in the final second, he audibly stumbles. (The camera and soundtrack featured the orchestra at this point.) And, as promised, with "a little wobble" added, it sounded just fine on the Beatles record issued later that summer.
Also see: Why The Beatles Knocked George Harrison's Guitar Solo Off 'Mr Moonlight'