Why Carrie Fisher Thought Harrison Ford Would Never Be 'Satisfied' With Their Affair
Carrie Fisher opened up about having an affair with Harrison Ford one month before she died in December 2016. The Star Wars actors engaged in the romance while Ford was married to his high school sweetheart. 
Fisher documented the relationship in her journal entries. The passages turned into a memoir, The Princess Diarist.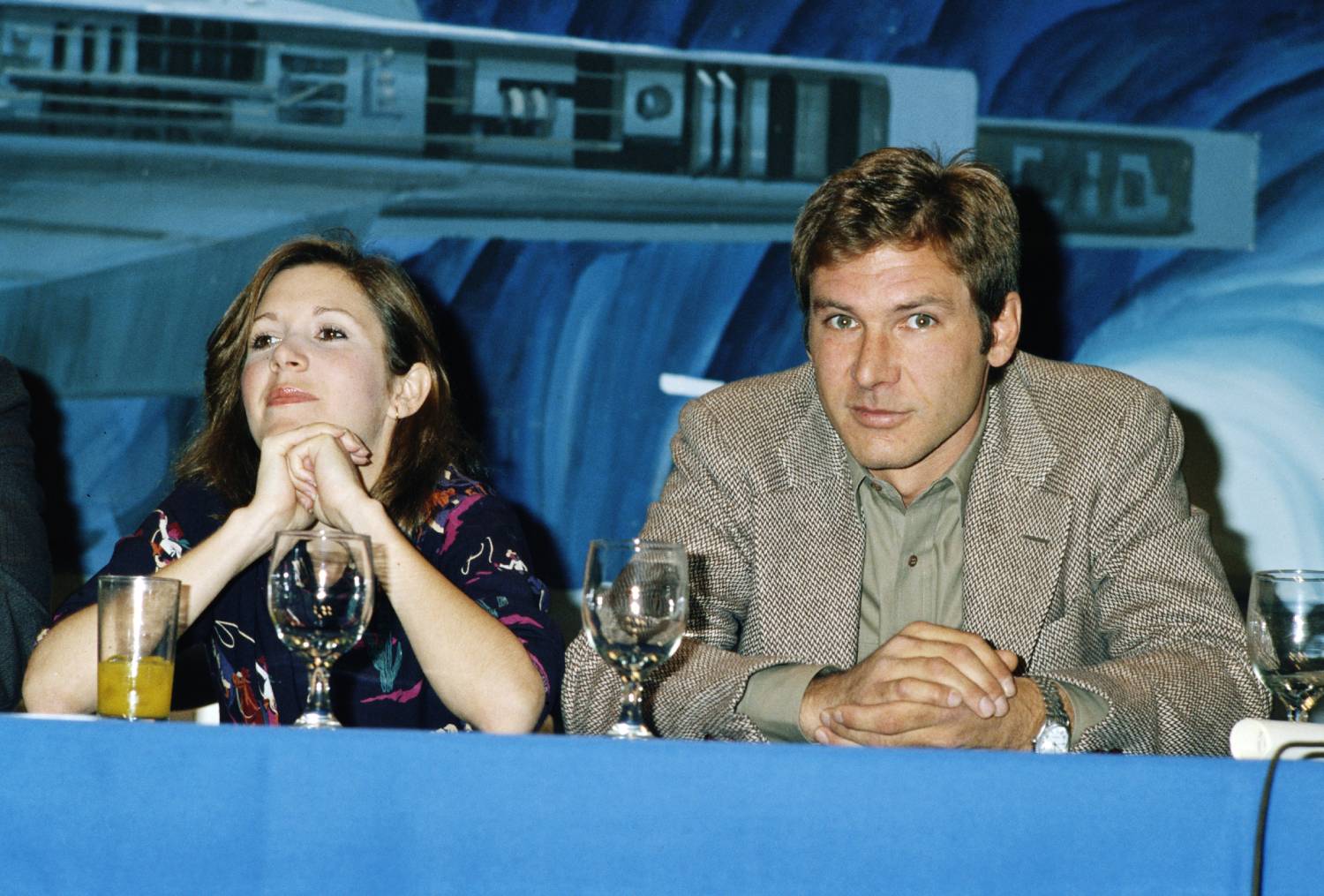 Carrie Fisher was 19-years-old during her affair with Harrison Ford
Filming for the first installment of George Lucas' Star Wars began in 1976. At the time, Fisher's acting credits included a role in a movie called Shampoo. Fisher wanted to book more acting jobs and flee her parents' Hollywood reputations. Once Fisher landed Star Wars, she went to London to start shooting. It was there that the 19-year-old actor met Ford. In her memoir, Fisher recalled being "nervous" around Ford when they first met. Due to her age and insecurities, Fisher didn't think Ford would show any interest in her. 
Shortly after they met, Fisher realized that Ford found her attractive. After spending time at a pub in London together, Fisher said Ford kissed her in the back of his car. Although Fisher knew Ford was a married man with two children at home, them being overseas made the affair more thrilling. 
"There was Harrison, and there was me," Fisher wrote. "Both three months away from home. On location where you were free to do what neither of you would do when surrounded by your all-too-loving family and all-too-observant friends. Where everything and everyone around you was interesting and new. Where you have all sorts of new people now focused on you and how you are feeling." 
Carrie Fisher thought Harrison Ford was a 'shining specimen' who would never be 'satisfied' with her 
After their first encounter, Fisher and Ford kept their affair to themselves. The pair wouldn't hold hands while filming or engage in any suspicious behavior. However, Fisher wrote that she secretly became "obsessed" with Ford. Fisher made Ford her "number one priority" and wrote a poem in honor of her beau. 
While Fisher felt strongly about Ford, she wrote that he couldn't feel the same about her. Fisher said the Indiana Jones actor's intelligence and good looks was something she wouldn't be able to match. 
"I looked over at Harrison. A hero's face — a few strands of hair fell over his noble, slightly furrowed brow," Fisher said, per Us Weekly. "How could you ask such a shining specimen of a man to be satisfied with the likes of me?"
Carrie Fisher wanted this engraved in her engagement ring from Harrison Ford
Although she didn't feel good enough for Ford, Fisher often fantasized about their lives together after Star Wars. In her memoir, Fisher stated that there were moments she imagined Ford leaving his wife so they could be together. After Ford "gently and responsibly" divorced Mary Marquardt, Fisher planned on her and Ford going public with their romance "after a barely noticeable, dignified amount of time." 
Fisher wrote that she also thought of the engagement ring Ford might gift her one day. She even daydreamed about Ford engraving Fisher's band with a combination of their names. 
"That was when he slipped the ring on my finger that I never take off except when I'm waxing my knuckles," Fisher imagined. "A gold band with diamonds spelling out the word he came up with, 'Carrison.' We also use it as a gate code in the home we share in London." 
Ultimately, Fisher and Ford decided to end their affair once filming on Star Wars ended. However, they remained friends and promoted the franchise decades later.