Why Charlie Hunnam Once Had to Run Naked Through the Woods
Charlie Hunnam's fans would have paid to see this one. During an interview on The Tonight Show Starring Jimmy Fallon, Hunnam revealed that he once ran naked through a forest after kicking over a wasp nest. Fortunately, the Sons of Anarchy star escaped without suffering too many injuries — but not before getting stung in a few sensitive areas.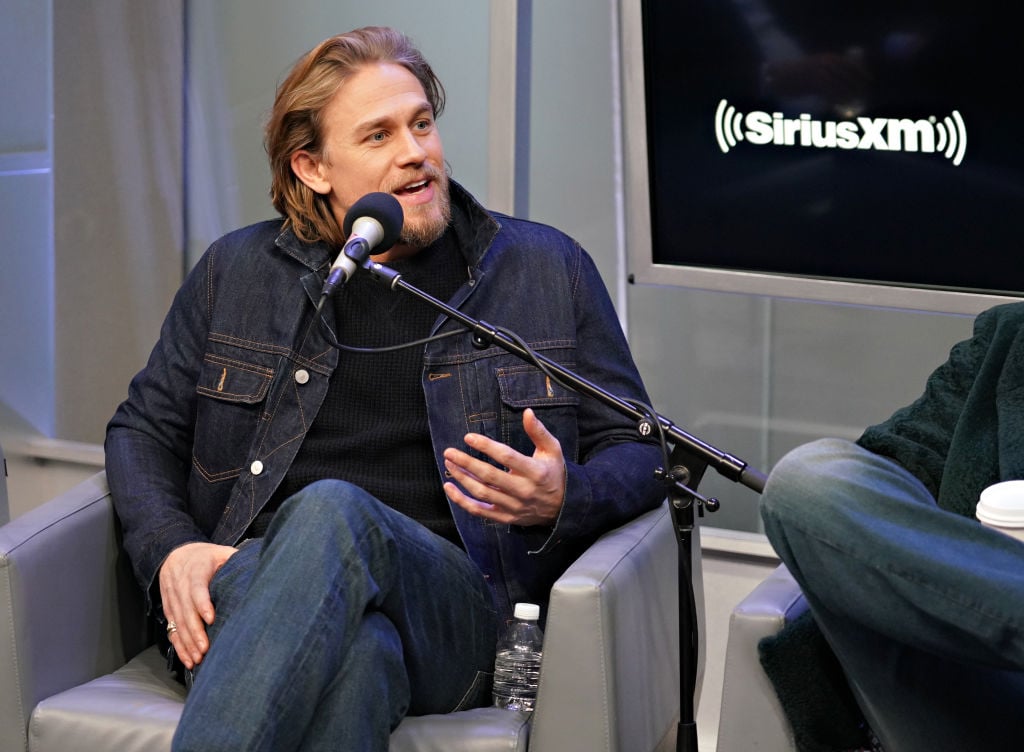 Inside Hunnam's naked run
Charlie Hunnam's naked adventure started when he was gathering firewood for his campsite. He had to walk a good distance before stumbling on what he thought was a firewood gold mine.
But while the actor was gathering the wood, he felt a sting in his "perineum." At first, Hunnam thought that a snake had bitten him. But upon further inspection, he quickly realized that he had accidentally kicked over a wasp nest.
"I looked down and there was no snake, so I was trying to process what could have happened, and bam!" he explained. "Another shrill pain in my a** cheek, then one in the back of my head, and then one under my armpit. And I realized I was under siege from yellow jackets."
According to Entertainment Tonight, Charlie Hunnam quickly gathered his wits and made a run for it. Because the wasps were in his clothes, Hunnam stripped down and sprinted through the forest completely naked.
At that point, The Gentlemen star realized that he was living out his worst nightmare, which is surprisingly running through the forest naked — which might be as bad as it gets.
"And in that moment I was literally living my recurring nightmare. And I haven't had that dream since, so it was something of a prophecy," Hunnam added.
Charlie Hunnam opens up about 'The Gentlemen'
Naked running aside, Hunnam also talked about his new movie with director Guy Ritchie, titled The Gentlemen. The film features an all-star cast with the likes of Hugh Grant, Colin Farrell, and Matthew McConaughey.
For Hunnam, this is the first time he has worked with so many high caliber stars at once, and he had nothing but good things to say about his co-stars.
"Fantastic. Matthew and I had a long period of time to work together so I got to know him pretty well," Hunnam stated. "He's just every bit of weird, wonderful, wacky and lovely as you'd imagine."
As far as Grant is concerned, Charlie Hunnam admitted that he had no idea what to expect at first. But after interacting with Grant for a few days, he was very impressed by his fellow actor. In fact, Hunnam revealed that he has never worked with someone as prepared as Grant, who arrived on set with a book full of notes.
Luckily, Hunnam did not encounter any mishaps while filming The Gentlemen. He did, however, contract dengue fever while filming a new television series in India, which thankfully he got over.
Hunnam previously worked with Ritchie in the 2017 film, King Arthur: Legend of the Sword.
Charlie Hunnam enjoys a busy 2019
Hunnam's latest movie, The Gentlemen, follows the story of a man named Mickey Pearson (McConaughey) who built a marijuana empire in England. After Mickey decides to retire and sell his company, his decision sparks a series of schemes by those who want to take it over.
Hunnam plays the part of Raymond in the film, Mickey's right-hand man, who helps him sell his empire and retire to America.
Apart from The Gentlemen, Charlie Hunnam starred in a number of different movies in 2019. This includes Triple Frontier, True History of the Kelly Gang, and Jungleland.
He also has a film due out later this year called Waldo, starring Mel Gibson and Morena Baccarin. Hunnam is due to make a big return to television as well, with the release of Shantaram.
The series is an Apple production, though it has yet to receive an official premiere date.
What about those James Bond rumors?
With Hunnam building an impressive career on the big screens, there have been a lot of rumors that he might be cast as the next James Bond.
While promoting his film, Jungleland, Charlie Hunnam was asked about all the rumors surrounding potential roles. The actor was well aware that people want him to play Green Arrow on the big screens, but he says the role he really wants is James Bond.
Daniel Craig is currently getting ready for his final film in the James Bond franchise, which is set to hit theaters this spring.
Producers have not started the casting process for who will replace Craig as the iconic spy. There is no telling if Hunnam could actually land the part, but there is little doubt that he would be a popular choice for the role.
In the meantime, Charlie Hunnam's next film, The Gentlemen, is scheduled to open in theaters on January 24.